Stargazing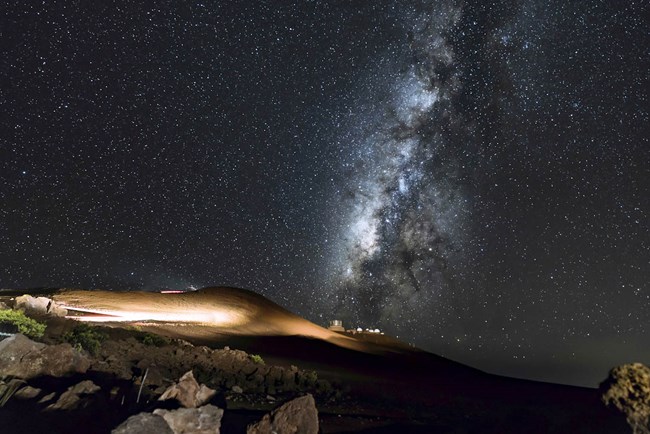 Face to Face with the Milky Way
When you look up at your night sky at home, what do you see? Everyone has a unique view of their night sky. At Haleakalā National Park, visitors can enjoy pristine dark skies from the summit. Due to its high elevation, the atmosphere is often clearer and light pollution is minimal, allowing for ideal viewing conditions. For stargazers coming from more northern latitudes, the stellar views might appear a little different than what you're used to! Check out our tips for stargazing at the summit below.



Know Before You Go
While the summit area can be quite warm during the day, depending on the weather, the temperature can drop quickly when the sun goes down! Proper preparation can make or break a stargazing trip, so keep the following pointers in mind:
Dress warmly. Bring layers, including a hat, coat, long pants, and warm shoes.

Bring something to sit on. To get the most out of the experience, it's best to sit or lay down. Bring a towel, blanket, chair, or mat to insulate you from the ground and keep you comfortable.

Bring your own snacks. Even during daytime hours, there is no food or drinks available in the park. You'll be glad you brought along that hot chocolate!

Drive carefully. As you make your way into the park, be aware that wildlife may become disoriented by your vehicle's lights or land on the road. There are no lights or guardrails on the road up to or through the park. Obey all speed limits on your way into and out of the park.

Staying overnight within Haleakalā National Park is only allowed in a designated camping area. Reservations can be made at Hosmer Grove Campground in the summit district or in Kīpahulu Campground in the coastal district. Staying overnight or sleeping within a vehicle outside of a campground is prohibited.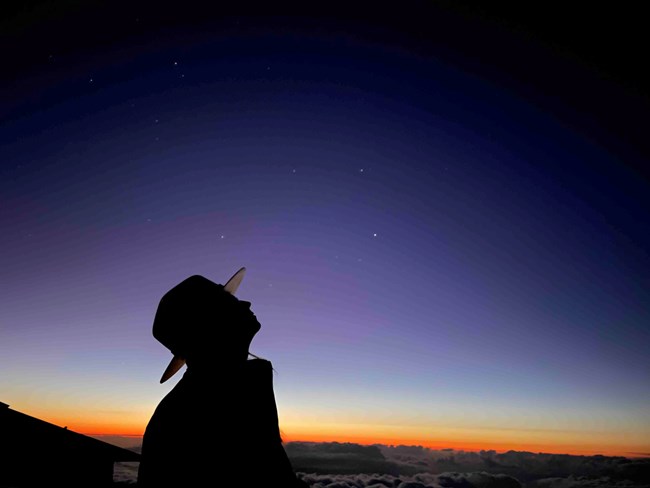 Stargazing Tips and Tricks
Give your eyes time to adjust to the darkness. Turn off all white lights (including phones!) so your eyes can make out even more stars above. If you have red lights, use those instead, but only when necessary.

Bring some star knowledge. Whether you like a printed star chart or a smartphone app, be prepared with the tools you need to orient yourself to the night sky.

Just relax! Stargazing does not have to be an academic venture. Simply look up and let your eyes wander. If you can't remember of figure out your constellations, invent your own! Take time to just watch the stars rising and setting above you.
Respect the Culture and the Wildlife
Remember that Haleakalā is both a sacred and natural place. Native Hawaiians continue to practice their cultural traditions at the summit, and endangered and endemic species like the ʻuaʻu (Hawaiian Petrel) call this place home. Obey all park rules and regulations during your stargazing visit, including:
Staying on paved and established trails

Packing out any trash that you bring in

Refraining from taking home rocks, cinder, or any other natural features

Avoiding being loud or disruptive, out of respect for the Hawaiian culture, fellow visitors, and the parkʻs animals.
Additional Night Sky Resources


Last updated: March 9, 2023