Sunrise
Make a Reservation
In order to view sunrise at Haleakalā National Park, you will need to make a reservation ahead of time.
Reservations can be made online up to 60 days in advance of your sunrise visit on recreation.gov and are only valid for the day reserved. These tickets are released at 7:00 am HST.
A portion of reservations for any given day will be released 2 days (48 hours) in advance
A visitor may only purchase one sunrise reservation per three-day period.
Upon arrival, please have the reservation holder present with valid ID, reservation confirmation email, and your park pass or a way to purchase one.
Please note that calling the park directly, or visiting in-person, will not result in a reservation. Staff at Haleakalā National Park are unable to make reservations for you.
Reservations will not be refunded or exchanged due to weather.
For questions, call the recreation.gov help line at 1-877-444-6777.
Click Sign In or Sign Up to log in to your account or create a new one
Visit the page for sunrise reservations
Click the Book Now button under the first tab labeled Tour Park Details. This will take you to the next tab.
Click the Enter Date button under "Online** availability."
Select the tour date for ticket availability, and enter "1" for number of tickets. Click Find Tour Times.
Select the 3:00 AM - 7:00 AM option.
Enter the number of vehicles as "1" again.
Click Book Tour.
Have the permit holder present a valid ID and reservation upon arrival at the park entrance station.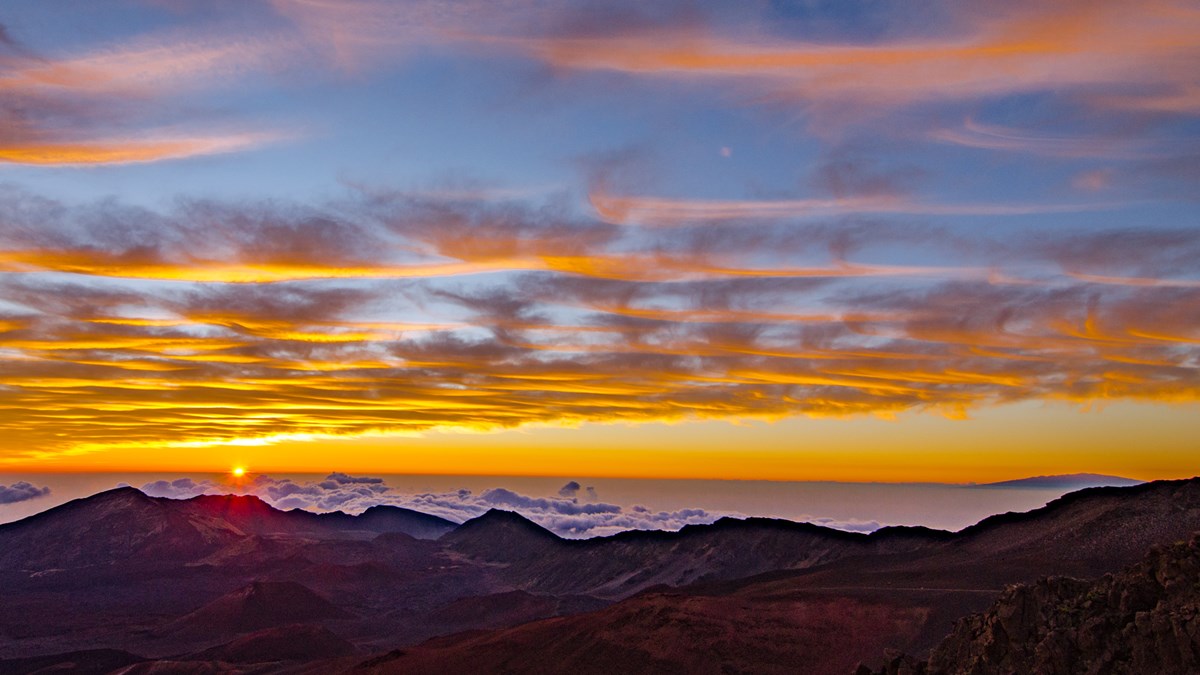 Plan for the Experience
The visitor centers remain closed due to COVID-19 precautions.

Weather

immediately before dawn and immediately after dusk are regularly wet, windy, and below freezing.

There is no food, clothing, or gas for sale in the park.

The road up and down the mountain does not have streetlights or guard rails.

Drive time between the entrance gate and the summit is about 30 minutes.

Parking is restricted to designated lots only.

Parking lots will close when full.

For a more solitary experience, visit Leleiwi or Kalahaku overlooks.
What time is sunrise?
January 1: 6:56 am
January 15: 6:58 am
February 1: 6:55 am
February 15: 6:48 am
March 1: 6:39 am
March 15: 6:27 am
April 1: 6:12 am
April 15: 6:00 am
May 1: 5:50 am
May 15: 5:42 am
June 1: 5:38 am
June 15: 5:38 am
July 1: 5:41 am
July 15: 5:46 am
August 1: 5:52 am
August 15: 5:57 am
September 1: 6:02 am
September 15: 6:06 am
October 1: 6:10 am
October 15: 6:14 am
November 1: 6:20 am
November 15: 6:28 am
December 1: 6:38 am
December 15: 6:47 am

Sunrise/Sunset times calculated from information from the Bishop Museum Planetarium.
Last updated: August 9, 2021