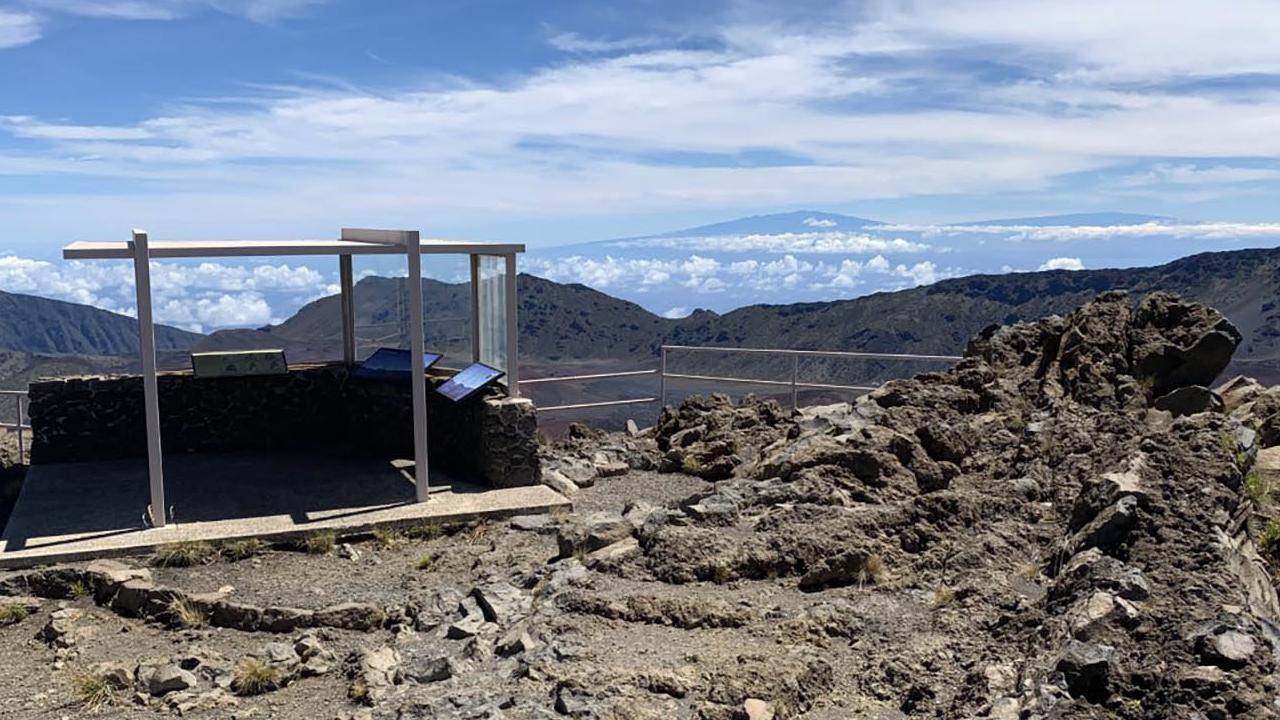 Location:
Haleakalā National Park
Historical/Interpretive Information/Exhibits, Parking - Auto, Scenic View/Photo Spot, Toilet - Vault/Composting
Situated on the edge of the pali (cliff), the Kalahaku Overlook features a simple structure that overlooks the expansive Haleakalā crater including the 14 puʻu (hills), the famous ʻāhinahina (silversword), and maybe even an ʻuaʻu (Hawaiian petrel) if you are lucky. Reached by a 0.1 mile (0.16 km) walk, this perspective differs from that of the visitor center near the summit, providing a unique experience.

Long before modern tourism began, people have been visiting the mountain of Haleakalā for hundreds, perhaps thousands of years. In ancient Hawaiʻi and today, the mountain is a sacred place. It is part of wao akua, or realm of the gods. The kānaka maoli (native Hawaiians) made the voyage for many purposes including practicing ceremonies, making offerings, chanting oli, and harvesting resources such as a special kind of rock used for making tools like the koʻi, or adze. These practices are still alive and well today.

The Kalahaku Overlook structure that is currently on the pali (cliff) is not the only building to have ever existed in this location. The original structure was a rest house built in 1894 by architect Charles W. Dickey that they called Craigielea. A new shelter was constructed by the Maui Chamber of Commerce in 1914 to accommodate more visitors and remedy vandalism that had happened over the years. The only way to access the mountain at this time was by foot or horseback, so the rest house allowed for tired travelers to get much needed rest and protection from the elements. In 1957, the building was yet again rebuilt due to wear and tear from the high volume of use. The overlook shelter that you see today was designed in the "Mission 66" style. The Mission 66 program created the Park Service Modern style, which is what you see in many national park visitor centers and structures throughout the country today. The glass and steel materials allowed the park service to create low-cost structures that they could use for shelter and educational programs to help the increasing number of visitors make meaningful connections with the cultural and natural resources of our national parks.

This area is also nesting ground for a native seabird of Haleakalā, the ʻuaʻu (Hawaiian dark-rumped petrel). They only lay one egg per year, so they are especially vulnerable to disturbances. While this alpine desert landscape may look like just rocks, it provides habitat and a home for native animals, plants, and insects. Please stay only in the designated walking areas to avoid stepping on someone's home. On the makai (towards the ocean) side of the parking lot, there is an area marked as "Silversword Area". Historically there used to be numerous ʻāhinahina (silversword), but in recent years many have died due to an overall decrease in rainfall which could be attributed to changing climatic conditions.
Last updated: November 7, 2021