News Release
Partnership provides military families with day of fishing in Harpers Ferry National Historical Park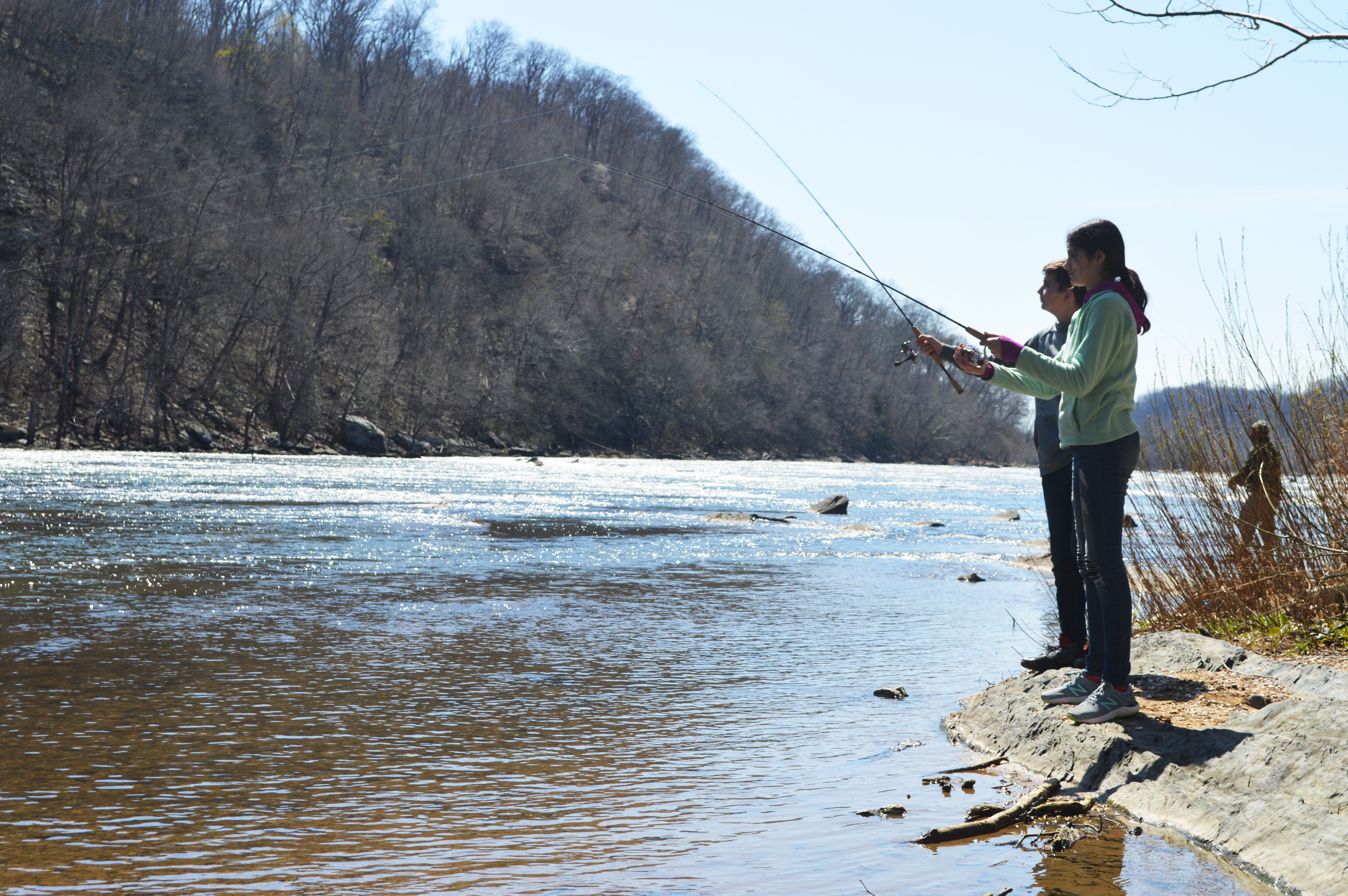 News Release Date:
April 6, 2022
Contact: Leah Taber, Harpers Ferry National Historical Park
Contact: Ivan Levin, National Park Trust
Contact: Michelle Criqui, Our Military Kids
HARPERS FERRY, W.Va.— The National Park Service (NPS), the National Park Trust, Our Military Kids, Trout Unlimited, and KBP Foods partnered this past weekend to bring twelve children of military personnel and their families to Harpers Ferry National Historical Park (NHP) for a day of fishing on the banks of the iconic Shenandoah River.  

The NPS awarded funds for the program to the National Park Trust, which partnered with Our Military Kids to provide military youth and their families with access to recreational fishing opportunities and resources to enjoy together.  

"We are thrilled to be working with strong community partners to bring the sport of fishing to our incredible Our Military Kids alumni and their military parents!" said Kara Dallman, retired U.S. Navy Veteran and Executive Director of Our Military Kids. "These families have served and sacrificed, and this day is about relaxing, enjoying, and soaking in the beauty of one of many national parks." 

The program provided participants with fishing gear, a West Virginia fishing license, and the chance to practice the skills learned during a fishing technique demonstration by Trout Unlimited representatives.  

"This event presented the perfect outdoor recreational opportunity for Trout Unlimited's Service Partnership Program to show our gratitude to those who give selflessly for the nation," said Eric Gregory, Northern Virginia Chapter Service Partnership Coordinator for Trout Unlimited. 

NPS rangers also provided a program on the role of the park in our nation's history, and participants toured the park's museums and exhibits. A hearty breakfast and lunch donated by KBP Foods fueled their full slate of activities.  

"We welcome the opportunity to collaborate and connect our military families with opportunities to recreate in and enjoy their national park," said Harpers Ferry NHP superintendent Tyrone Brandyburg. "This is one small way to thank them for their service." 

"National Park Trust is honored to partner with the National Park Service, Our Military Kids, Trout Unlimited, and KBP Foods to engage military children and families as we work to establish lifelong relationships between this community and parks, public lands, and waters. Teaching each family how to fish and then providing families with fishing equipment that they can take with them will allow participants to continue enjoying this sport and create more family memories in the great outdoors," shared Grace Lee, National Park Trust executive director. 

Celebrated with a visit from Buddy Bison, the military families received their Annual Interagency Military Pass, which provides entrance or access for one year to more than 2,000 federal recreational sites, including all National Park Service sites, for current members of the military and their dependents, veterans, and Gold Star families.  

This event at Harpers Ferry NHP marks the beginning of a year of collaborative programming among the partner organizations, including a series of five fishing events at national park sites across the country.  
 
-NPS-
Last updated: April 6, 2022