Ship Island
Ship Island is a barrier island located about 12 miles off the coast of Mississippi. It is only accessible by boat and features a historic fort, swimming area, beautiful beaches, two pavilion areas, restrooms, and a concession store. Cell phone service is extremely limited on the island.
Passport stamps and guided programs are available at Fort Massachusetts. Download the National Park Service app for a self-guided tour of the fort.
Structures & Facilities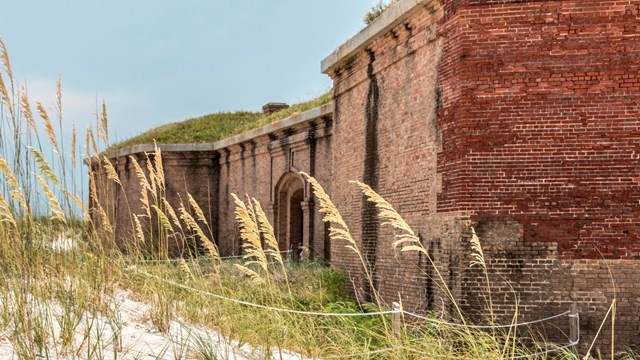 Fort Massachusetts
Learn about the purpose, construction, and features of the fort on Ship Island.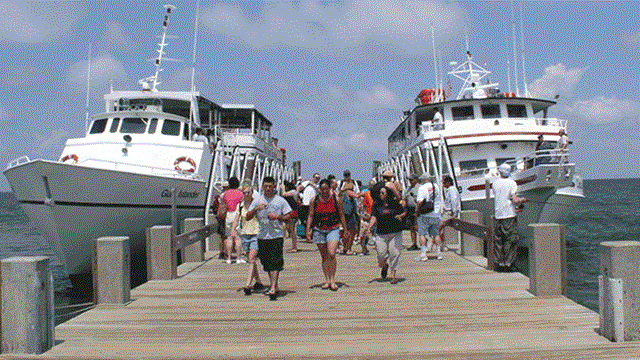 Ship Island Excursions
Passenger ferry service is available seasonally from mid-March through October.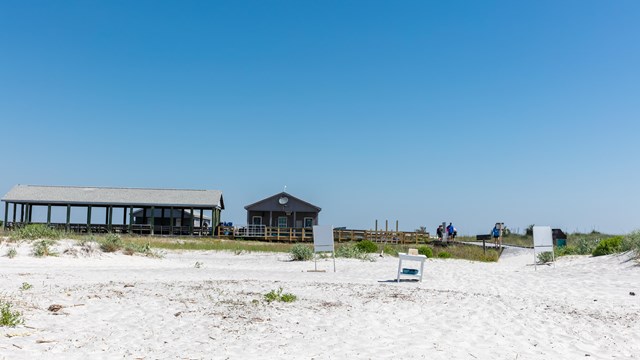 Ship Island Swim Beach
Access to the Gulf, outdoor showers, a concession store, picnic area, and chairs available for rent.
Operating Hours
Ship Island buildings, structures, and Fort Massachusetts are open March through October 10 a.m. to 3:30 p.m.

Ship Island buildings, structures, and Fort Massachusetts are closed from Nov. 1 to Feb. 28, with an extension to Feb. 29 in a Leap Year.
Directions
Ship Island is only accessible by boat. If traveling on your private vessel, consult navigational charts. Operating a vessel greater than 5 mph or creating a wake is prohibited within 500 feet of the Ship Island Pier. Private vessels must dock on the left side of the pier.

A public ferry boat is available between March and October from Gulfport, Mississippi. The ferry departure pier is located at the Gulfport's Jones Park 1022 23rd Avenue, Gulfport, MS 39501.

A public ferry boat is also available between May and August from Biloxi, Mississippi. The departure pier is located at Margaritaville Resort Biloxi 195 Beach Blvd. Biloxi, MS 39530.
Plan Your Trip
Events with groups of 26 people or more must obtain a Special Use Permit issued by the National Seashore.
Fires are permitted in portable gas grills in all areas except the designated swim beach.
No glass or pets are allowed on the island except for service animals.
Bring walking shoes, there is no public transportation on the island.
Download the NPS mobile app for Fort Massachusetts self-guided tours and program times.
Visitors are permitted to bring food. It is also available for purchase.
Respect the wildlife and landscapes. Do not climb on dunes, or structures, or feed birds.
Review rip current and safety tips prior to departure. Flags are located on the swim beach.
Fishing is allowed from the shore on the sound side only. License required.
Private boaters can only use the left side of the pier.
Camping is currently not permitted on Ship Island.
Last updated: August 12, 2022