Ship Island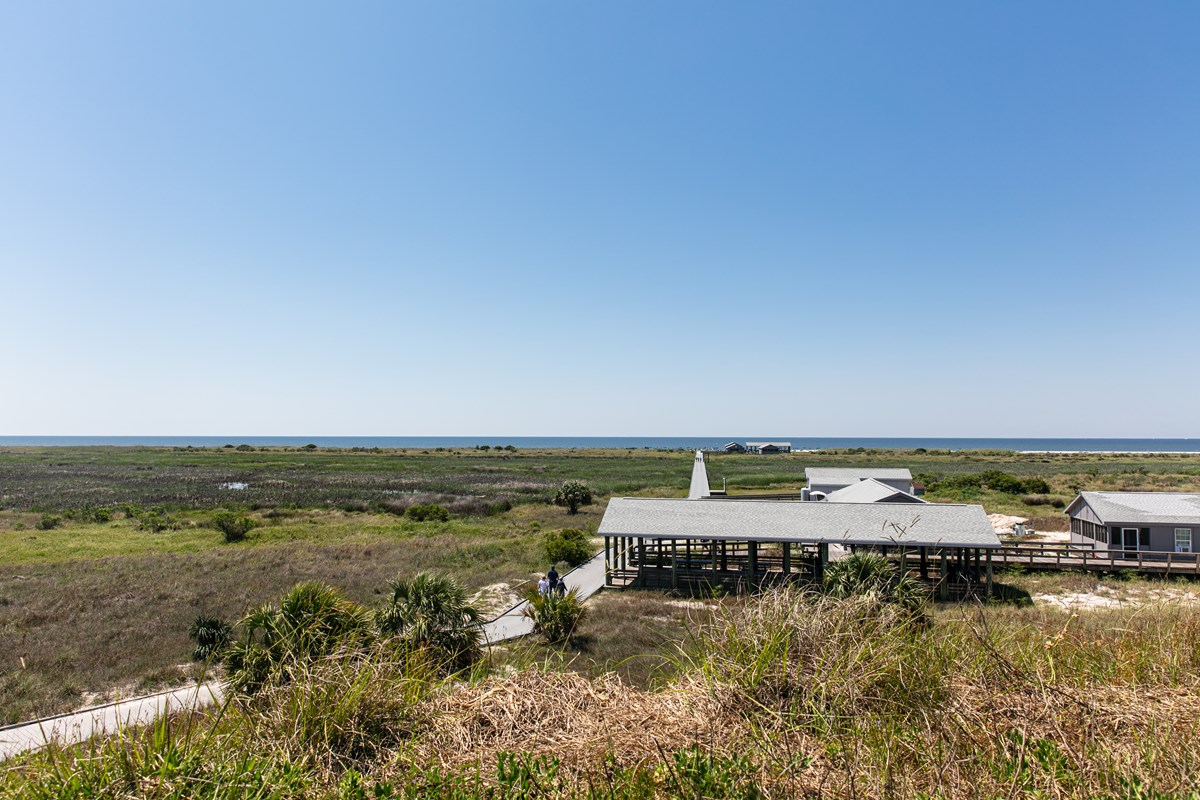 Operating Hours
Ship Island buildings, structures, and Fort Massachusetts are open March through October 10 a.m. to 3:30 p.m.

Ship Island buildings, structures, and Fort Massachusetts are closed from Nov. 1 to Feb. 28, with an extension to Feb. 29 in a Leap Year.
Facilities
Swim Beach: Located on the gulf side of the island, the island concessioner offers chair and umbrella rentals. Lifeguards are on duty at the Ship Island swim beach during the summer months.
Picnic Pavilions: There are two large picnic pavilions with restrooms and outdoor showers nearby.
Snack Bar: The island concessioner operates a snack bar with cool drinks and warm food.
Pier: A left side of the pier is open to loading and unloading from private vessels. Look for signs on the pier to direct you to the appropriate locations. Vessels may not be left unattended at the pier.
Directions
Ship Island is only accessible by boat. If traveling on your private vessel, consult navigational charts. A public ferry boat is available between March and October from Gulfport, Mississippi. The ferry departure pier is located at the Gulfport's Jones Park 1022 23rd Avenue, Gulfport, MS 39501. A public ferry boat is also available between May and August from Biloxi, Mississippi (currently closed). The departure pier is located at Margaritaville Resort Biloxi 195 Beach Blvd. Biloxi, MS 39530.
Plan Your Trip

- Make sure to buy your ferry tickets in advance at www.msshipisland.com.
- Review the concessionaire's carryon policy prior to arrival.
- No glass or pets are allowed on the island except for service animals.
- Bring walking shoes, there is no public transportation on the island.
- Download the NPS mobile app for Fort Massachusetts self-guided tours and program times.
- Visitors are permitted to bring food. It is also available for purchase.

- Pack In, Pack out. Throw away trash in correct waste disposal locations.
- Respect the wildlife and landscapes. Do not climb on dunes, structures, or feed birds.
- Review rip current and safety tips prior to departure. Flags are located on the swim beach.
- Fishing is allowed from the shore on the sounds side only. Bring your own bait.
- Private boaters can use the left side of the pier.
- Camping is currently not permitted on Ship Island.
Last updated: May 16, 2022