USS Massachusetts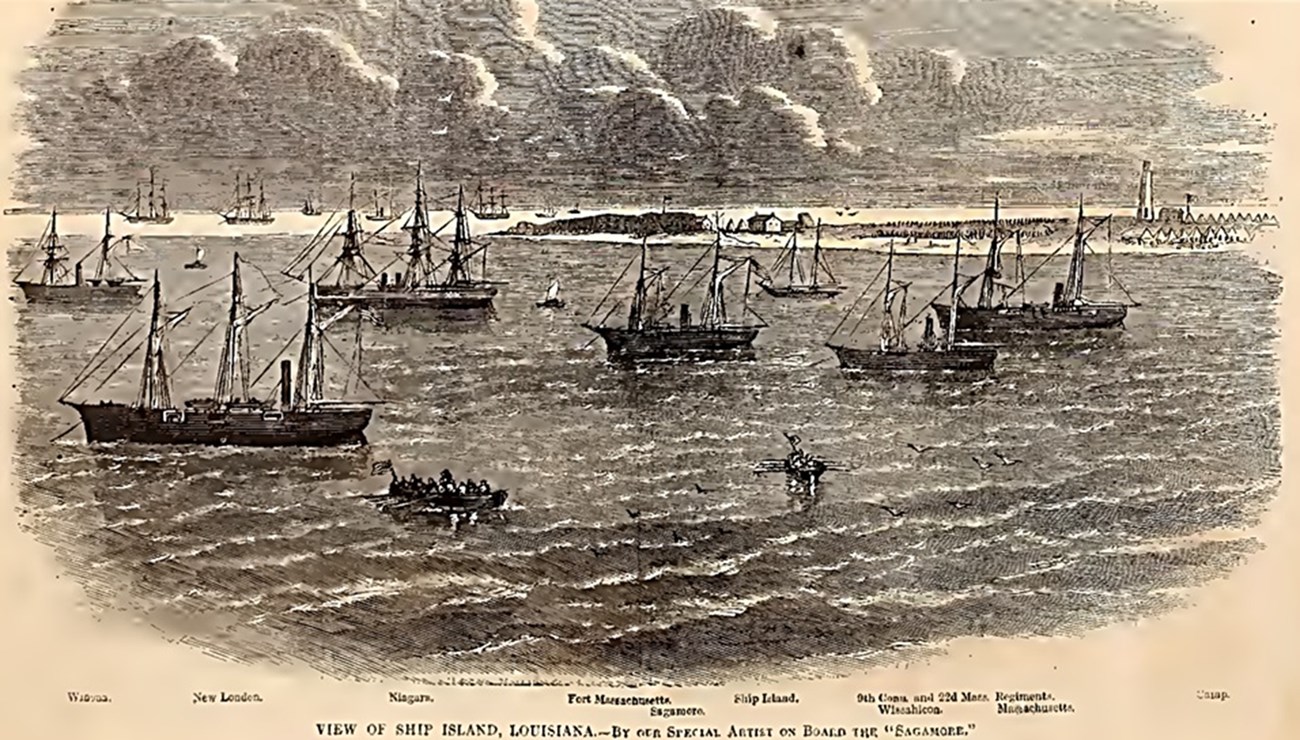 The second United States Navy vessel to bear the name Massachusetts was commissioned on May 24, 1861, in Boston and soon headed south towards Key West and then onward to Pensacola in early June.

Armed with a bow mounted 32-pounder cannon and four 8-inch Dahlgrens, the U.S.S. Massachusetts captured the British vessel Perthsire, on June 9, and quickly gained a reputation among blockade runners and the Confederate Navy as a formidable opponent. The ship captured the Achilles, Naham Stetson, Brilliant, Trois Freres, Olive Branch, Fanny, Basile, Hiland, and the Charles Henry over the next few months.

Fort Twiggs, located on Ship Island, was held by Confederate forces from July 6, 1861 through Sept 17, 1861 and came under fire from the guns of Massachusetts.. On July 9th, Captain Smith commanded the armed steamer against the Confederate defenses of Fort Twiggs. Confederate forces opened fire with an 8-inch columbiad and a 32-pounder cannon. The Massachusetts returned fire with its 32-pounder and 8-inch Dahlgrens. Both volleys were ineffective and the USS Massachusetts withdrew, returning to federal lines on Santa Rosa Island.

By mid-September 1861, Confederate forces had decided that holding Ship Island was indefensible and withdrew their forces back to the mainland. The Massachusetts spotted flames from island buildings as Confederates withdrew, and Captain Smith brought the steamer closer to investigate. Quick action by the naval crews saved a number of the burning structures and supplies of lumber from destruction, and for the rest of the war, Ship Island would remain in Union control.

During the remainder of 1861, the Massachusetts continued operations along the Mississippi Sound keeping Confederate attempts to move freight and supplies through the passage to a minimum. The Massachusetts captured a small fishing boat, and turned back the vessels Pamlico, Florida, Gray Cloud, and Oregon, and continued patrolling until early 1862.

The U.S.S. Massachusetts was retrofitted several times during the rest of the war and was decommissioned for the final time in September, 1865 at New York harbor and sold at public auction in 1867, ending its public service.
Bibliography
Bearrs, E. (1984). Historical Resource Study: Ship Island, Harrison County, Mississippi, Gulf Islands National Seashore, Florida/Mississippi. Denver: National Park Service, Department of the Interior.

Massachusetts II. (2015, August 06). Retrieved January 23, 2018, from Naval History and Heritage Command: https://www.history.navy.mil/research/histories/ship-histories/danfs/m/massachusetts-ii.html
related stories, places, & people
Last updated: April 13, 2018