Article
Second Louisiana Native Guard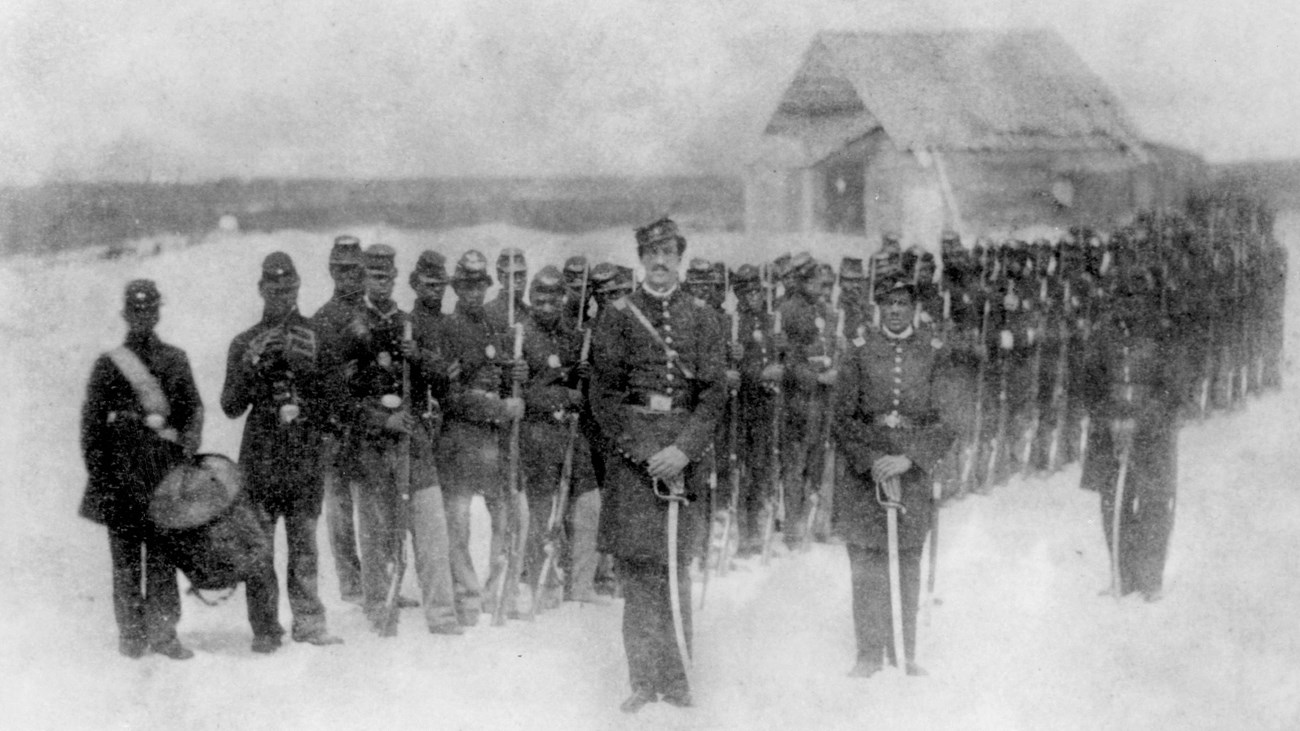 In order to keep New Orleans in Union control and bolster troop numbers, General Benjamin Butler issued General Order Number 63 ordering the enlistment of free men of color in New Orleans. From this order arose three regiments of the Louisiana Native Guards.

Organized in October of 1862, the 2nd Louisiana Native Guards was mustered into service and initially all but one of the company officers were considered men of color. Colonel Nathan Daniels was in command and the enlisted men signed up for three years of infantry service. Recruits varied in age from 17 to 56 and in experience including skilled tradesmen like cigar makers, masons, coopers, printers, slaters, and engineers.

Early on, the regiment guarded railroads and key points in the greater New Orleans and La Fourche areas. The regiment performed patrols and confiscated supplies intended for Confederate forces. In mid-January of 1863, Companies B, C, D, F, G, I, and K were deployed to defend Ship Island while Companies A, E, and H took up station at Fort Pike, Louisiana. Soldiering on the island consisted of guarding prisoners, military drills, working parties, and the maintenance of defenses. Company D, G, and I received additional schooling as heavy artillerists.

On the morning of April 9, 1863, two companies of the 2nd Regiment from Ship Island boarded naval vessels to participate in the raid against East Pascagoula, Mississippi. The Native Guards landed and engaged in combat with Confederate forces and briefly took possession of the town, captured Confederate flags, and unfurled the United States flag from a hotel. A counterattack made by Confederate forces was quickly repelled by the Native Guards later that day. However, by early afternoon, Union troops were recalled and returned to their Ship Island station. The soldiers of the 2nd Louisiana Native Guards were the first black unit on the Gulf Frontier to meet Confederates in combat.

Racial tensions were ever present among the troops and officers on Ship Island. By the summer of 1863, most, if not all, of the non-white officers had been purged by review boards or asked to resign. Military reorganization and consolidation led to the 2nd Louisiana Native Guard to being re-designated the 2nd Regiment, Corps de Afrique, in June of 1863, and again the following April, 1864, to the 74th Regiment of United States Colored Infantry.

In August 1864, Companies G, H, and I of the now 74th Regiment, departed Ship Island as part of the siege of Fort Morgan in Mobile Bay. This fort was surrendered to Union forces on August 23, and the troops returned to Ship Island in September. At the end of the Civil War, massive reductions in the military lead to the mustering out of the men of the 74th Regiment in October of 1865.
Bibliography
Bearrs, E. (1984). Historical Resource Study: Ship Island, Harrison County, Mississippi, Gulf Islands National Seashore, Florida/Mississippi. Denver: National Park Service, Department of the Interior.
Last updated: October 29, 2018