News Release
Tourism to Grand Teton creates $754 million in economic benefits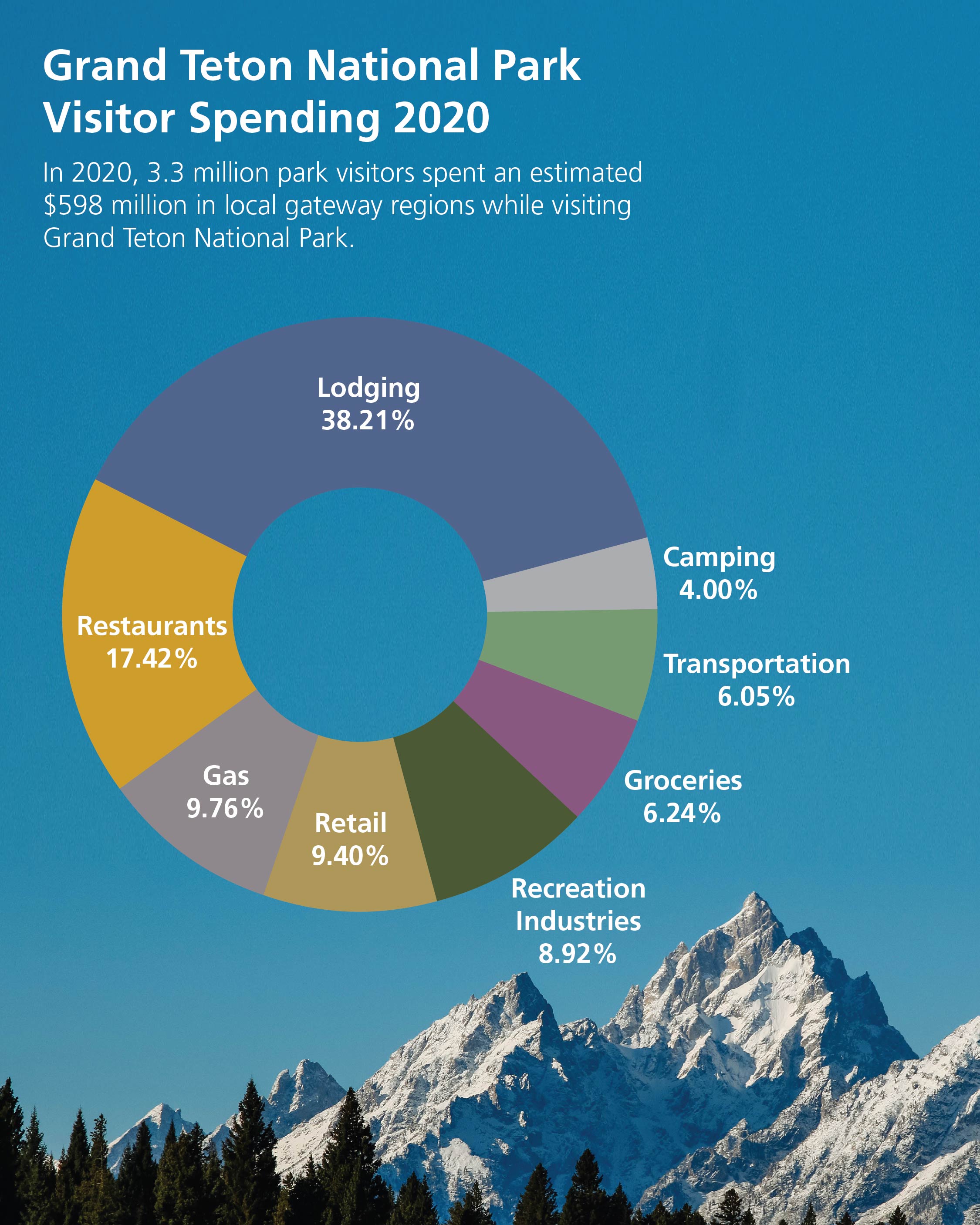 News Release Date:
June 10, 2021
Contact: Denise Germann, 307.739.3393
Contact: C.J. Adams, 307.739.3431
MOOSE, WY— A new National Park Service report shows that almost 3.3 million visitors to Grand Teton National Park in 2020 spent over $598 million in communities near the park. That spending supported almost 8,200 jobs in the local area and had a cumulative benefit to the local economy of $754 million. 
"Grand Teton National Park safely provided a respite for many visitors in light of the pandemic in 2020," said Grand Teton National Park Superintendent Chip Jenkins. He said, "The iconic landscape, wildlife and historic structures supported the physical and mental wellness of our community and visitors, as well as continued to be an economic driver for the state and region."   
The peer-reviewed visitor spending analysis was conducted by economists with the National Park Service and the U.S. Geological Survey. The report shows $14.5 billion of direct spending by more than 237 million park visitors in communities within 60 miles of a national park. This spending supported 234,000 jobs nationally; 194,400 of those jobs are found in these gateway communities. The cumulative benefit to the U.S. economy was $28.6 billion.
Looking at the economics of visitor spending nationally, the lodging sector had the highest direct effects, with $5 billion in economic output. The restaurants sector was had the second greatest effects, with $3 billion in economic output. Visitor spending on lodging supported more than 43,100 jobs and more than 45,900 jobs in restaurants. Visitor spending in the recreation industries supported more than 18,100 jobs and spending in retail supported more than 14,300 jobs.
Report authors also produce an interactive tool that enables users to explore visitor spending, jobs, labor income, value added, and output effects by sector for national, state, and local economies. Users can also view year-by-year trend data. The interactive tool and report are available on the
NPS Social Science Program
page on NPS.gov.There are several sites affiliated or managed by the National Park Service in Wyoming, including Bighorn Canyon National Recreation Area; Devils Tower National Monument; Fort Laramie National Historic Site; Fossil Butte National Monument; Grand Teton National Park; John D. Rockefeller, Jr. Memorial Parkway; and Yellowstone National Park. Visit
www.nps.gov/Wyoming
to learn more about national parks in Wyoming and how the National Park Service works with local communities to help preserve local history, conserve the environment, and provide outdoor recreation.  
Definitions with this report:
Visitor Spending
is the total amount directly spent by both local and non-local visitors in local areas surrounding parks in calendar year 2020.
Jobs
is the total number of full-time, part-time and temporary jobs in local economies resulting from all visitor spending in local areas surrounding parks in calendar year 2020.
Economic output
measures the total estimated value of the production of goods and services resulting from all visitor spending in local areas surrounding parks in calendar year 2020.
Last updated: June 13, 2021