News Release
Preservation efforts underway on Mormon Row historic buildings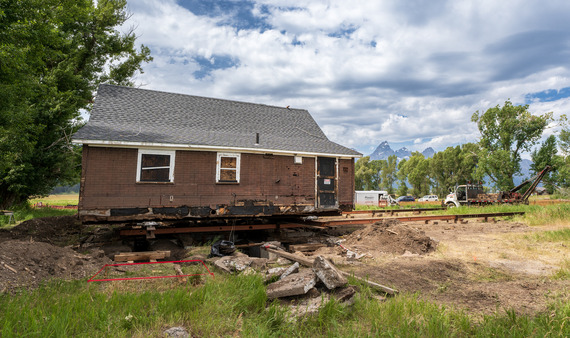 News Release Date:
August 28, 2023
Contact: Valerie Gohlke, 307-739-3393
Contact: C.J. Adams, 307-739-3431
MOOSE, WY—The National Park Service and Grand Teton National Park Foundation are working in partnership to preserve and rehabilitate buildings at the historic Roy Chambers Homestead, which is part of the Mormon Row Historic District in Grand Teton National Park. The Mormon Row Road will be closed from north of Ditch Creek to south of the Roy Chambers site through October for renovation activities. 
The Roy Chambers Rehabilitation Project will give new life to the unutilized buildings by converting them to employee housing. The first phase of this project began this summer and will provide new foundations for the main residence and bunkhouse buildings. The contractor will move two of the buildings off their existing foundations, remove the existing foundations, pour new foundations, then move the buildings back to their original locations on the new foundations. Rehabilitation work will continue on each of the buildings into next year, which includes exterior preservation and interior upgrades to current codes and site improvements.
The Roy Chambers house is a one-and-a-half-story historic home constructed in 1911. It retains a high level of historic integrity with original doors, windows, cabinetry and woodwork. The house is surrounded by a historic garage and bunkhouse, and cultural landscape elements including irrigation ditches, corrals and fencing. 
"This is a win-win-win project for the park as this grant enables us to continue to implement our historic buildings management plan, provide additional seasonal housing and reduce our maintenance backlog," said Park Superintendent Chip Jenkins. "This is an example of the positive impact the Grand Teton National Park Foundation has in meeting multiple park objectives. We are deeply grateful for their support." 
Members of The Church of Jesus Christ of Latter-day Saints established homesteads east of Blacktail Butte beginning in the 1890s. The community of Grovont was created, today known as Mormon Row. The homesteaders clustered their farms to share labor and build community, a stark contrast with isolation typical of many western homesteads.  
The Mormon Row Historic District was added to the National Register of Historic Places in 1997. It offers visitors an opportunity to connect with the history of the park and understand the difficulty and isolation associated with historic settlement in Jackson Hole, as well as experience the scenic beauty of the Tetons. 
Work at the Roy Chambers Homestead marks the continuation of a multi-year public-private partnership project between the National Park Service and Grand Teton National Park Foundation that will preserve the entire Mormon Row Historic District.
"We are pleased to see work underway at Roy Chambers Homestead on Mormon Row," Grand Teton National Park Foundation President Leslie Mattson said. "This portion of the project is especially meaningful to our organization because it is not only preserving a historically significant structure, but it is also going to provide seasonal workforce housing once it is finished - a critical need for our partners in Grand Teton."

The Grand Teton National Park Foundation is a private, nonprofit organization whose mission is to fund projects that protect and enhance Grand Teton National Park's treasured resources. The Foundation initiates improvements, critical research, and projects that improve visitors' experiences, creating a solid future for Grand Teton. Since 1997, the organization has raised over $100 million for work-and-learn programs that connect youth to nature, preserve cultural resources, protect wildlife and natural resources, and capital projects such as construction of the Craig Thomas Discovery and Visitor Center, a $23 million campaign to preserve the 640-acre Antelope Flats parcel, the Inspiring Journeys campaign for Jenny Lake, and the purchase and protection of the last privately-held acre on the Mormon Row Historic District.
Last updated: September 5, 2023