News Release
Grand Teton sees second busiest September for visitation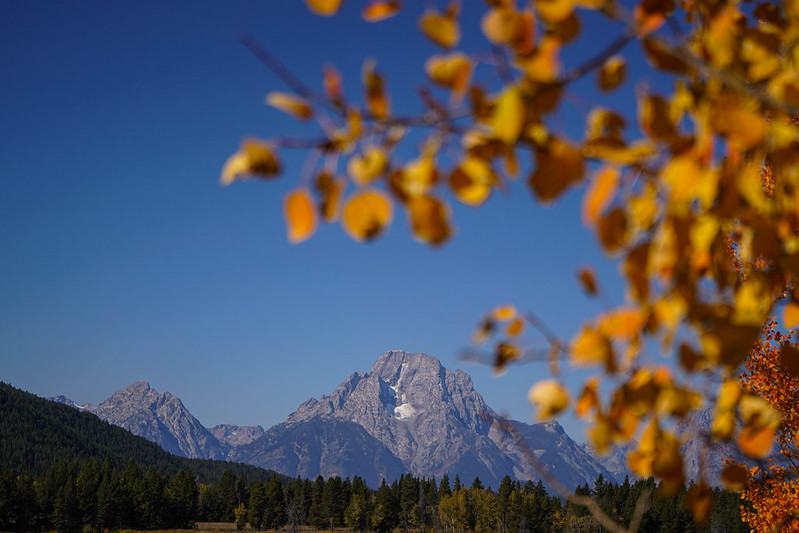 News Release Date:
October 14, 2021
Contact: C.J. Adams, 307.739.3431
MOOSE, WY— Grand Teton National Park statistics on recreation visits show that September 2021 was the second busiest on record for the month of September. The park hosted an estimated 570,584 recreation visits in September 2021. This is a 10% increase from September 2019 and a 5.5% decrease from September 2020.
Camping in the park increased 25% in September 2021 (74,348 overnight stays) compared to September 2019 (59,340 overnight stays). Backcountry camping increased 49% in September 2021 (7,229 backcountry camper nights) compared to September 2019 (4,837 backcountry camper nights). Trail use in the park increased 30% in September 2021 compared to September 2019, on trails that use is counted.
September recreation visits over the last several years:
September 2021              570,584                
September 2020              603,789* COVID-19 pandemic
September 2019              517,265
September 2018              558,788
September 2017              482,661                
September 2016              492,451
Additional data on National Park Service visitor-use statistics is available at
irma.nps.gov/STATS/.
Park staff are analyzing data and studies conducted over the summer to better understand changing visitation trends in Grand Teton. Historically, July and August have been the busiest months of the year at the park. Recent trends include increased visitation in the spring and fall. 
Grand Teton park staff initiated several studies this summer regarding changing visitation, including visitor-use and experience studies at Colter Bay, Taggart and Lupine Meadows trailheads. These studies surveyed visitors in these areas to gain a better understanding of visitor demographics, visitor expectations, and more. 
Researchers also placed a variety of vehicle movement monitoring equipment in the park through mid-August. 
Visitor services at Grand Teton National Park and the John D. Rockefeller, Jr. Memorial Parkway are limited this time of year, as most facilities close each winter. Closing dates for seasonally operated facilities can be found at
www.nps.gov/grte/planyourvisit/hours.htm
. The Craig Thomas Discovery and Visitor Center will remain open through Sunday, October 31. October 31 will also be the final day the Teton Park Road and Moose-Wilson Road are open to vehicle traffic for the season. Beginning November 1, visitors may walk or bike on these roads, as conditions allow, until the status changes to over-snow access.
Visit the park website at
www.nps.gov/grte
to learn more and follow Grand Teton on
Facebook
,
Twitter
, and
Instagram
.  
Last updated: October 14, 2021