Trees and Shrubs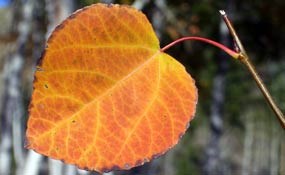 Most of the trees found in Grand Teton National Park are cone-bearing otherwise known as conifers. Lodgepole pines inhabit areas that are periodically burned by forest fires. Their specially-designed serotinous cones open only when heated by fire causing them to drop a huge number of seeds on the newly sunlit and fertile post-fire soil. Whitebark and limber pines produce nuts that are an important food source for many birds, small mammals, and grizzly bears. Spruce-Fir forests consisting of blue spruce, Engelmann spruce, Douglas fir, and subalpine fir take over after other trees like lodgepole pine and quaking aspen have prepared and stabilized the soil.

In the fall, while the conifers are preparing for the long, cold winter to come, the leaves of the deciduous trees of the Tetons begin to change color. Along river corridors and in wetlands, the leaves of the narrow-leaf cottonwoods and balsam poplar turn a golden yellow. These trees thrive in the changing water levels that come with the Teton seasons. Large hillside stands of Quaking Aspens change from bright green to yellow and orange. These trees, connected under the ground by spreading root systems, are all one organism, and therefore all change color at the same time! Many species of willow provide food and cover for moose, sandhill cranes and other wetland inhabitants. Big sagebrush and low sagebrush cover most of the central valley and grow well in water-deficient soil. Although sagebrush is only eaten primarily by pronghorn and sage grouse, these hearty shrubs provide essential habitat by creating shelter from the wind, rain and snow that blows across the flats.

In early summer, the bright pink flowers of the wild rose and spreading dogbane compete for attention with the beautiful white clusters of mountain ash and serviceberry flowers. The fragrant aroma of snowbrush and chokecherry flowers float on the wind, and the yellow flowers of rabbitbush add some variety to the grey-green sagebrush flats.

As summer wanes, flowers turn to fruits and berries begin to appear. Visitors and wildlife alike hunt succulent huckleberries, thimbleberries, and wild raspberries. Other shrubs like bracted honeysuckle, black elderberry, mountain ash and snowberry are poisonous to humans but still appeal to bears, birds, and other animals. The berries found here are an important source of food for animals needing to store up fat for the long winter to come.


Last updated: November 16, 2018