Environmental Factors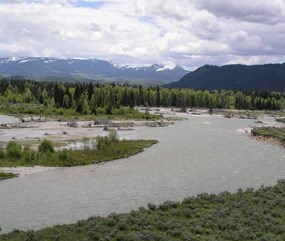 On a sunny day the Tetons seem ageless and constant. Stand by a river during the spring run-off and listen to the clack as one stone tumbles over another. Hike a mountain trail in the summer and see the tops of sub-alpine fir broken by an avalanche the previous winter. Watch the clouds build along the crest as you race a thunderstorm down from Paintbrush Divide on a summer afternoon. Witness the re-growth of grasses, wildflowers, and sapling lodgepole pines following a fire. Soon you begin to realize that the park is constantly changing.

Many of these forces are powerful and their impact is easily and readily observed. Some, however, work on a time-scale that is imperceptible, but change the landscape in no less dramatic a fashion. Some changes are the result of natural processes and some are the result of human actions. It is certain, however, that change is a constant in the Teton Range.
Learn more about environmental factors influencing the park:
Wilderness
Glacier Monitoring
Disturbed Lands
Fire Regime
Geologic Activity
Non-native Species
Weather

Related Information

Greater Yellowstone Inventory and Monitoring Network
The Greater Yellowstone Inventory and Monitoring Network (GRYN) is one of 32 NPS inventory and monitoring networks created to provide oversight, planning, and consistency in monitoring the long-term health of the nation's parks. The parks of the GRYN include Yellowstone National Park, Grand Teton National Park, John D. Rockefeller, Jr. Memorial Parkway, and Bighorn Canyon National Recreation Area.


Last updated: May 10, 2019