Weather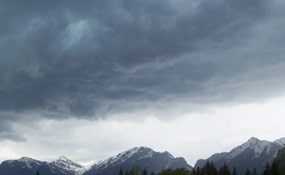 ---
The contrast in Jackson Hole between summer and winter is striking. Moose averages 14 feet of snowfall in the winter and often reaches into the 80s in the summer. As you climb into the mountains, temperatures drop 4°F for every 1,000 feet in elevation gain.

Winter may not officially start until December 21, but the first heavy snows often fall by November 1. Between winter storms the days are sunny and the nights are frigid. From December through February the average high temperature is 28°F and the average low temperature is 2°F. Stop at the Craig Thomas Discovery & Visitor Center in Moose for road information.
During spring, mild days and cool nights frequently come with rain or snow. The spring months average 11 days with measurable precipitation. Temperatures typically range from a low of 22°F to a high of 49°F during April. Valley trails remain snow-covered until late May or early June.
Between the months of June through August the average daily temperature is 77°F, but some high-elevation hiking trails don't melt out until late July. Nighttime temperatures can reach the upper 30s. Most of the year's rainfall occurs during the summer months; afternoon thunderstorms are common.
Sun and occasional rain and snow fill the short fall days. From September through November, the average daily maximum is 54°F while the minimum average is a cool 23°F. The fall months average 23 days that drop below freezing. For a comfortable trip, bring plenty of layered clothing.
For more information about weather in Grand Teton National Park, please visit our trip planning section on weather.
To learn more about summer weather safety, watch our video podcast.


Last updated: December 8, 2016