Nonnative Species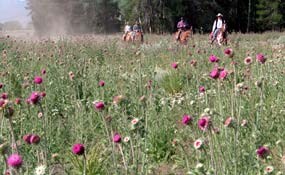 ---
Grand Teton National Park is home to a large number of plant and animal species, unfortunately some of these species do not occur here naturally. Non-native species out-compete the native plants and animals for resources leading to a decrease in habitat for native species and biodiversity.
Park scientists fight noxious weeds with mechanical (hand or tool control), chemical, biological and cultural controls. Biological controls involve using native predators of the weed (usually insects) to control its spread. Cultural controls include educating people about the dangers of noxious weeds and changing their behavior to avoid further weed spread. The park is also involved with local agencies, groups, and individuals to help control the spread of non-native weeds in the Jackson Hole valley. Visit http://www.jhwma.org for more information on this cooperative effort.
The park also hosts non-native aquatic species such as the New Zealand Mud Snail. Many varieties of non-native fish such as lake and brown trout are found in many of the park's streams and lakes. The park is actively working to control the spread of all types of exotic species and are having some success, especially with a few of the plant species. These control efforts will be ongoing for many years.


Last updated: December 8, 2016