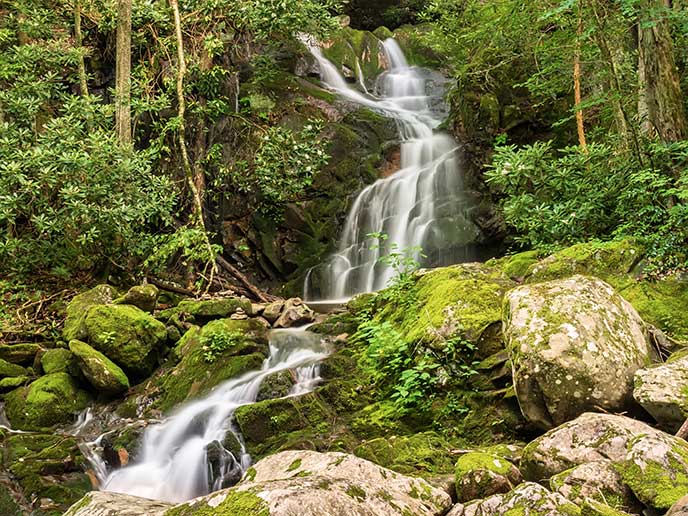 Every year over 200,000 visitors hike well-worn trails to view Grotto, Laurel, Abrams, Rainbow, and other popular waterfalls in the park. Large waterfalls attract the crowds, but smaller cascades and falls can be found on nearly every river and stream in the park.
The Great Smoky Mountains abound with the two ingredients essential for waterfalls-ample rainfall and an elevation gradient. In the Smokies high country, over 85" of rain falls on average each year. During wet years, peaks like Mt. Le Conte and Clingmans Dome receive over eight feet of rain. This abundant rainfall trickles and rushes down the mountain sides, from high elevation to low, sometimes dropping more than a mile in elevation from the high peaks to the foothills at the park's boundary. Watch the brief video,
Waterfalls in the Great Smoky Mountains National Park
, for a overview of some of the park's favorite waterfalls.
The following are brief descriptions of the Smokies most popular waterfalls. Please pick up a copy of the park's official
trail map
from any visitor center before hitting the trail to these waterfalls. Additional information about hiking to waterfalls can be found in various publications available at
bookstores
in the park.