Traffic & Travel Tips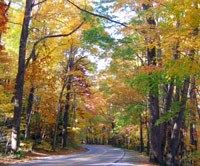 There are 384 miles of road in the Smokies. Most are paved, and even the gravel roads are maintained in suitable condition for standard passenger cars. But driving in the mountains presents new challenges for many drivers. Roads in the park are narrow and winding with blind curves and low shoulders. Speed limits are generally 35 mph or less.

Motorcyclists must be especially cautious while driving in the park. Click to read important information for motorcyclists.
Don't Drive Impaired!
The park's mountainous roads are narrow, winding and heavily traveled. They are unforgiving for a careless driver;or worse, for a driver whose mental state is compromised by alcohol or drugs. Every year, several alcohol-related fatalities occur within the park.
Weather Related Closures
Road conditions can change rapidly during periods of inclement weather, sometimes forcing the temporary closure of park roads. These closures are usually short in duration and are dictated by the current weather conditions. At times travel may be restricted to four-wheel drive vehicles or vehicles with tire chains. Some of the smaller secondary roads are closed during the winter months. Click for information about Current Road Closures.

Restrictions on Large Vehicles
Trailers, RVs, and buses are prohibited on some secondary roads in the park, including Balsam Mountain Road, Greenbrier Road past the ranger station, Heintooga Ridge Road, Rich Mountain Road, Roaring Fork Motor Nature Trail, and the road exiting the park at Metcalf Bottoms Picnic Area. Caution is also advised when traveling on Little River Road between the Townsend entrance to the park and Elkmont Campground, and on the road leading into Cataloochee Valley.
Overheated Engines and Brakes
When traveling uphill on hot days, watch your engine temperature carefully to make sure it is not overheating. If overheating occurs, stop at a pullout to allow your vehicle to cool down before continuing.

When driving downhill on steep mountain roads, it is important that you shift to a lower gear to use the braking power of your engine to prevent your brakes from over heating and failing. If your vehicle has an automatic transmission, use "L" or "2." (Overheated brakes smoke and give off an acrid smell.) Keep an extra cushion of distance between you and the vehicle in front of you as protection against sudden stops.
Avoid Collisions with Animals
Watch for animals crossing roads, especially at night. Scores of bears and other animals are killed by motorists every year. Following posted speed limits will reduce your chances of hitting wildlife.

Use Pullouts if Driving Slowly
As a courtesy to other park visitors, slow moving vehicles should use pullouts to let other cars pass. Pullouts are located every mile or so on most park roads.

Road Markers
Numbered posts along park roads are keyed to the book Smokies Road Guide or to booklets on specific park areas (Cades Cove, Roaring Fork Motor Nature Trail, etc.). These publications are available at park visitor centers or by calling (888) 898-9102.

Gas Stations
There are no gas stations or other related services available in the park. Complete services are available in Cherokee, NC, Gatlinburg, TN, and Townsend, TN.

Emergency Number
In the event of an emergency, call 911. For non-emergency calls to park headquarters, dial (865) 436-1200.
Don't Trust Your Vehicle Navigation System/GPS
Vehicle Navigation Systems and GPS units may provide inaccurate information in the mountains—sending drivers the wrong way on one-way roads or leading them to dead ends in remote areas. Free park road maps are available in park visitor centers. Mobile device users can download a free application and detailed 2017 topographic maps for accurate navigation in areas without cellular service.


Last updated: February 23, 2018