Smokemont Campground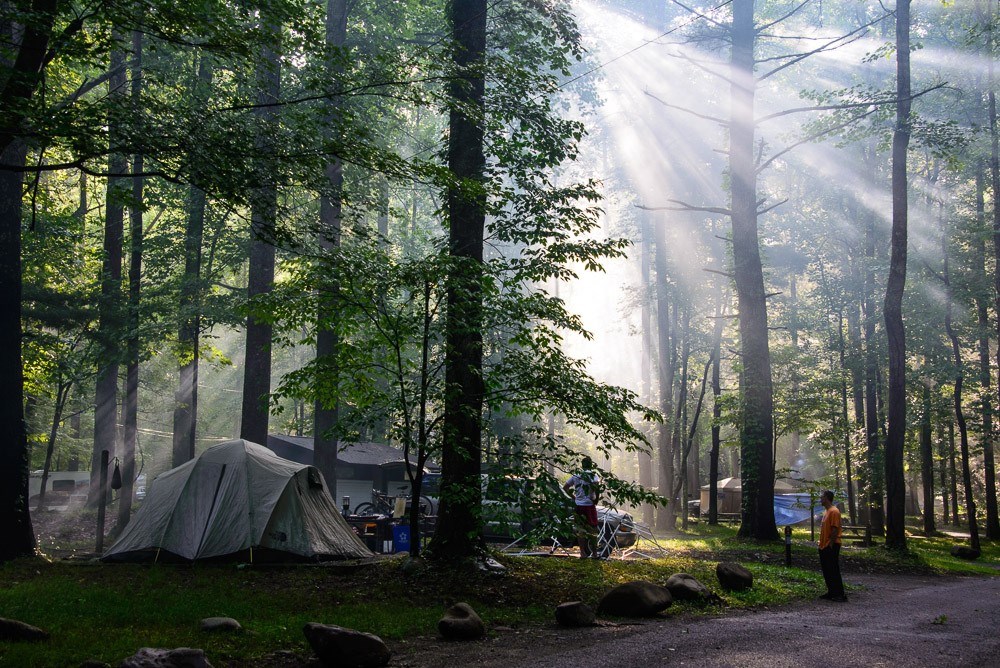 Smokemont Campground Map
Campground Rules and Regulations
Smokemont Group Campground Information
Need to Know
Price per night $25

Tent and RV campground

Check out is 12:00pm

Heat-treated firewood or Dead and down wood collected within the park.
Approved Firewood is avialable at the following locations

Smokemont Campground Store - 135 Smokemont riding stable rd. Cherokee, NC
Shell Gas Station - 510 Paint Town Rd. Cherokee, NC.

Reservation Online via Recreation.gov

Quiet Hours 10:00pm-6:00am
Overview
Situated in the stunning Great Smoky Mountains National Park, this campsite offers an ideal setting to enjoy the outdoors. Ridge upon ridge of forest straddles the border between North Carolina and Tennessee in Great Smoky Mountains National Park. World-renowned for its diversity of plant and animal life, the beauty of its ancient mountains and the quality of its remnants of Southern Appalachian culture, this is America's most visited national park.
Smokemont Campground offers an unforgettable outdoor experience with the added convenience of flush toilets, drinking water and sinks. There are campsites for tents as well as RVs available, and tent pads, grills and fire rings are provided. There is also a flat, grassy area that is perfect for group activities like football, volleyball, or simply soaking up the sun.
Smokemont Campground is surrounded by picturesque mountain ranges, with pristine mountain streams and rivers setting the backdrop for your camping adventure. Whether blanketed in spring wildflowers or vivid fall colors, the scenery at Smokemont never disappoints. At 2,200 feet, Smokemont provides a moderate climate, characterized by mild winters and hot, humid summers. Great Smoky Mountains National Park preserves a rich cultural history of Southern Appalachia. From the prehistoric Paleo Indians to the early European settlements in the 1800s, the park strives to protect its historic structures, landscapes and artifacts that tell the stories of the people who once called these mountains home.
Groceries, Camping Supplies, Food, and Firewood
A limited selection of groceries, camping supplies, visitor convenience items, and food and beverage service are available in the park. Please see listing for additional information.
Bundles of certified heat-treated firewood are available for sale in the communities surrounding the national park. Firewood may not be brought into the park unless it bears the USDA-APHIS-PPQ or state certification that it has been heat-treated. See Firewood FAQs page for additional information. The following campgrounds have on-site firewood sales:

Cades Cove (at Cades Cove Campground Store)
Elkmont
Smokemont (at Smokemont Riding Stables)
Late Arrival Procedures
Park campgrounds are not gated. You may check in after hours. However, please be considerate of your neighbors while setting up camp by keeping noise and light to a minimum. Quiet hours are from 10:00 PM-6:00 AM. If you have forgotten your assigned site, check the Arrival List posted on the bulletin board at the kiosk for your name and site number.
Advance Reservations If you arrive after the campground office closes, please proceed to your assigned site. If you have forgotten your assigned site, check the Late Arrival List posted on the bulletin board for your name and site number.
Return to the campground office the next morning to check in. If you fail to check in your site may be reassigned and your reservation may be canceled. If you do not have advance reservations, check the Late Arrival List. If there are campsites available for campers who do not have a reservation, those available sites will be posted on the list. Set up ONLY on one of the sites listed as available. All other sites are assigned to campers with reservations. Return to the campground office the next morning to check in.

First Come First Serve Camping November-April Locate a vacant site and register immediately at the campground office or bulletin board. Registration involves filling out a registration envelope and depositing the camping fee in the nearby safe.

For additional information about camping at Smokemont Campground call 828-497-9270.
Return to the Great Smoky Mountains National Park Campground page.
Last updated: December 7, 2021