Frontcountry Camping
Firewood Regulations: Only heat-treated firewood that is bundled and certified by the United States Department of Agriculture (USDA) or a state department of agriculture may be brought into the park. Campers may also collect dead and down wood found in the park for campfires.
Certified heat-treated firewood is packaged and clearly marked with a state or federal seal. Heat-treated wood is available from a growing list of private businesses in communities around the park. Concessioners at Cades Cove, Smokemont, and Elkmont will provide heat-treated wood for sale during their operating season (typically March through October at Smokemont and Elkmont and through December at Cades Cove). Visit http://firewoodscout.org for a map of local stores and businesses that sell certified firewood. Additional information about this regulation.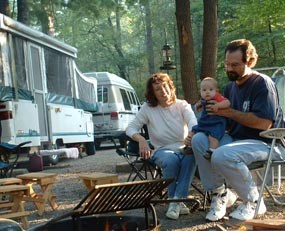 The National Park Service maintains developed campgrounds at 10 locations in the park:

• Abrams Creek
• Balsam Mountain
• Big Creek
• Cades Cove
• Cataloochee
• Cosby
• Deep Creek
• Elkmont
• Look Rock
• Smokemont

Please scroll down the page for information about each of these campgrounds. You can download a park map to find the locations of these campgrounds in the park.

Each campground has restrooms with cold running water and flush toilets. Each individual campsite has a fire grate and picnic table. There are no showers or electrical or water hookups in the park. Shower facilities are available in the communities surrounding the national park. Please inquire about the nearest facilities when you check-in at the campground. (5 amp electric hookups are available at a few sites in Cades Cove, Elkmont, and Smokemont for use only by those with medical needs. Check www.recreation.gov for more information.)
Campsites at Abrams Creek, Balsam Mountain, Big Creek, Cades Cove, Cataloochee, Cosby, Elkmont, and Smokemont may be reserved online or by phone at (877) 444-6777. Advance reservations are required at Abrams Creek, Balsam Mountain, Big Creek, and Cataloochee Campgrounds. All remaining park campgrounds are first-come, first-served. Additional information about camping reservations, including reservation time frames.

In addition to individual campsites, the park offers a limited number of group camping areas.
Please read Campground Rules and Regulations for information concerning food storage, generator use, quiet hours, and other campground regulations.


Campground

Map

Number
of Sites

Fee

Elevation

2019
Open/Close
Dates

Maximum RV Length

Abrams Creek
Reserve Now

16

$17.50

1,125'

4/26 - 10/20

12'

Balsam Mountain
Reserve Now

46

$17.50

5,310'

5/17-10/06

30'

Big Creek
Reserve Now

12

$17.50

1,700'

4/19-10/27

No RVs

Cades Cove

159

$25

1,807'

Year Round

One dump station open
year-round

Trailers-35'

Motor Homes-40"

Cataloochee

See entrance road advisory below.

27

$25

2,610'

4/19 - 10/27

Advance reservations required entire season.

31'

Cosby
Reserve Now

157

$17.50

2,459'

4/19- 10/27

25'

Deep Creek

92

$21

1,800'

4/19- 10/27

26'

Elkmont
Reserve Now

220

$25-$27

2,150'

3/8- 11/24

Dump station at Sugarlands Visitor Center
open 5/23 - 11/1

Trailers-32'

Motor Homes-35'

Look Rock

68

2,600'

Closed

No size limit

Smokemont
Reserve Now

142

$25

2,198'

Year Round

Dump station open year-round

Trailers-35'

Motor Homes-40"

Cataloochee Entrance Road Advisory: The entrance road to Cataloochee Valley is a winding, gravel road that has some steep drop offs with no guard rails. Horse trailer traffic may be encountered on the road. Because the road is narrow, it may be necessary to stop or back up to allow other vehicles to pass.

Groceries, Camping Supplies, Food, and Firewood
A limited selection of groceries, camping supplies, visitor convenience items, and food and beverage service are available in the park. Please see listing for additional information.
Bundles of certified heat-treated firewood are available for sale in the communities surrounding the national park. Firewood may not be brought into the park unless it bears the USDA-APHIS-PPQ or state certification that it has been heat-treated. See Firewood FAQs page for additional information. The following campgrounds have on-site firewood sales:
Cades Cove (at Cades Cove Campground Store)

Elkmont

Smokemont (at Smokemont Riding Stables)
Late Arrival Procedures
Park campgrounds are not gated. You may check in after hours, pursuant to the instructions that follow. However, please be considerate of your neighbors while setting up camp by keeping noise and light to a minimum. Quiet hours are from 10:00 PM-6:00 AM. Generator quiet hours are from 8:00 PM-8:00 AM.
At Cades Cove, Cataloochee, Elkmont and Smokemont: If you have advance reservations and arrive after the campground office closes, please proceed to your assigned site. If you have forgotten your assigned site, check the Late Arrival List posted on the bulletin board for your name and site number. Return to the campground office the next morning to check in. If you fail to check in your site may be reassigned and your reservation may be canceled.
If you do not have advance reservations, check the Late Arrival List. If there are campsites available for campers who do not have a reservation, those available sites will be posted on the list. Set up ONLY on one of the sites listed as available. All other sites are assigned to campers with reservations. Return to the campground office the next morning to check in.
At other campgrounds: Locate a vacant site and register immediately at the campground office or bulletin board. Registration involves filling out a registration envelope and depositing the camping fee in the nearby safe.
Dump Stations for RVs
Dump stations with potable water are located at Cades Cove, Cosby, Deep Creek, Look Rock, and Smokemont campgrounds. In addition, there is a dump station located across the road from the Sugarlands Visitor Center, approximately six miles from Elkmont Campground.
.
Discount Passes

The America the Beautiful - National Parks and Federal Recreational Lands Pass is an annual pass that covers entrance fees at sites managed by the National Park Service, USDA Forest Service, US Fish and Wildlife Service, and Bureau of Land Management. This pass does not provide discounts for camping fees.
If you are 62 or older or receive disability benefits, you may be eligible for the senior or access pass. Great Smoky Mountains National Park visitor centers no longer sell senior passes. Please check at Smokemont, Elkmont, or Cades Cove campground. Get more information about Senior or Access passes at the USGS website. These two passes do provide discounts on camping fees.

Last updated: July 8, 2019