Current Conditions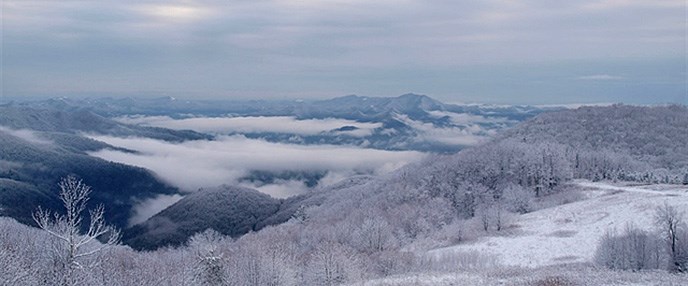 Road, Trail, and Facility Closures and Warnings
Coronavirus-(COVID-19)
Following guidance from the White House, Centers for Disease Control and Prevention (CDC), and state and local public health authorities, Great Smoky Mountains National Park is increasing recreational access and services that aligns with local, state, and national recommendations.
Current COVID-19 Mitigations:
Sugarlands, Oconaluftee and Cades Cove Visitor Centers are open 9:00 am to 5:00 pm daily with capacity limits. The theater and museums are closed. Due to high and substantial levels of transmission in local counties according to the CDC Coronavirus Tracker, all people over the age of 2 must wear a mask indoors regardless of vaccination status.

Special Park Use Permits are allowed per standard guidance.
Updates about NPS operations will be posted on www.nps.gov/coronavirus.
Road, trail, and facility closures may occur due to severe weather events such as winter storms, floods, and tornados. Backcountry campsites, shelters, and trails that are frequented by black bears may have warnings posted or be closed. Check current closures before coming to the park.
For updated road information please call (865) 436-1200. Once you hear a voice, press 1, then press 1 for road information or 2 for a weather forecast.
Follow road status updates on Twitter. Updates are available for Newfound Gap Road (US-441), Little River Road, Laurel Creek Road, and Cades Cove Loop Road.

WARNING: Please be advised that the Metcalf entrance road and bridge is for passenger vehicles only, NO large campers.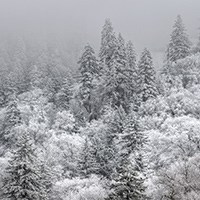 Weather Forecasts
Current weather forecasts are available by phone at (865) 436-1200 extension 630 or online from the National Weather Service:
Gatlinburg, TN forecast
Cherokee, NC forecast
Temperature and precipitation data for past 24 hours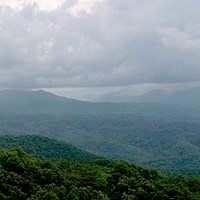 WebCams
Two webcams provide a current view of the park and information about air quality conditions. Images are updated every 15 minutes.
Look Rock (located on the western end of the park)
Purchase Knob (located on the eastern end of the park)
Twin Creeks (PHENOCAM-located on the Northern end of the park)
LeConte Creek (PHENOCAM-located on the Northern end of the park)
Newfound Gap (View of Southeast end of park)
Clingmans Dome (Looking West)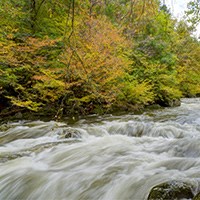 River Levels and Flow
The United States Geological Survey (USGS) maintains water gages that measure flow, river height, and temperature at Little River near Townsend, TN and in Cataloochee Creek in North Carolina. Note that on the discharge chart, the average streamflow is represented by an orange triangle, so that you can compare today's flow to the historic average.
Little River conditions
Cataloochee Creek conditions