Chimney Tops Trail Closure Information
The Chimney Tops Trail is one of the most popular trails in Great Smoky Mountains National Park because of its length and spectacular views. The trail gains 1,400 feet in 2 miles which makes for a steep climb, so be sure to wear sturdy shoes and bring plenty of water. To reach the summit, there is a steep rock scramble that can be slippery when wet or covered in ice.
The trail begins by crossing rushing streams three times before ascending the side of the mountain. A steep climb over a rocky trail leads to a switchback, and the trail then follows along the side of Sugarland Mountain. A ridge offers a view of Mount Le Conte, and the trail descends for the first time as it reaches the rocky pinnacle, the top of which is the first "chimney".
Trailhead: Drive 6.7 miles south from Sugarlands visitor Center on Newfound Gap Road (or 22 miles north from Oconaluftee Visitor Center). Look for a large parking area on the west side of the road between the lower tunnel and "the loop".
Distance: 4 miles roundtrip
Trail Conditions: Elevation change of 1,400 feet, this is a steep, newly-renovated trail with a rocky outcrop at the summit of the mountain.
NOTE: Pets are not allowed on this trail. The only two trails in the park that allow pets are the Gatlinburg Trail near the Sugarlands Visitor Center and the Oconaluftee River Trail near the Oconaluftee Visitor Center. Learn more about pet restrictions in the park.
The trail was recently renovated with the help of the Trails Forever program and volunteers. The Trails Forever program, a partnership between the park and the Friends of the Smokies, allows a skilled trail crew to focus on necessary trail reconstruction projects throughout Great Smoky Mountains National Park.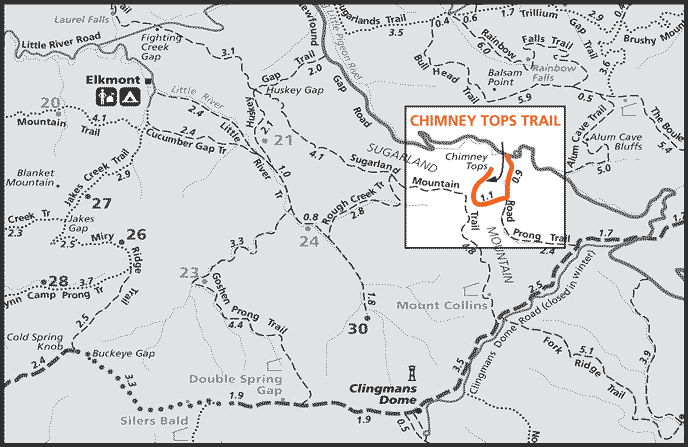 Last updated: August 3, 2015