Cades Cove Vehicle-Free Days
What is Vehicle-Free Day?
Cades Cove access is motor vehicle-free all day Wednesdays from May through September each year to provide opportunities for pedestrians and cyclists to experience Cades Cove without motor vehicles.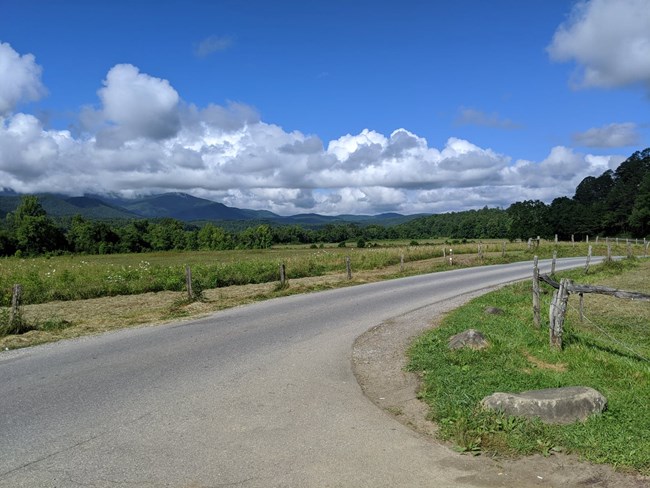 How to get the most out of your Vehicle-Free Day visit
1.
Wear a helmet when riding a bicycle!
Safety is the most important thing, and you don't want your visit to be ruined by an injury that could have been prevented. Children under 16 are required by law to wear a helmet, but everyone on a bicycle should wear one!
2.
Park only in designated parking spots.
Roadside parking poses a safety risk when pedestrians and cyclists are sharing the road with vehicles while trying to get from their parking spots to the Loop Road. Please find a designated parking spot to leave your vehicle while you enjoy your time in Cades Cove.
3.
You don't have to come early in the morning!
There tends to be a rush for parking spaces first thing in the morning. After parking spaces are full, vehicles will be turned away and asked to return later in the day.
4.
Have what you need.
Due to the terrain of the Cades Cove Loop Road, it often takes people longer than they expect to make it back to their vehicle. Make sure you have essentials (such as food, water, and a first aid kit) before you start. You are unlikely to have cell signal so you can't call someone to bring you what you forgot!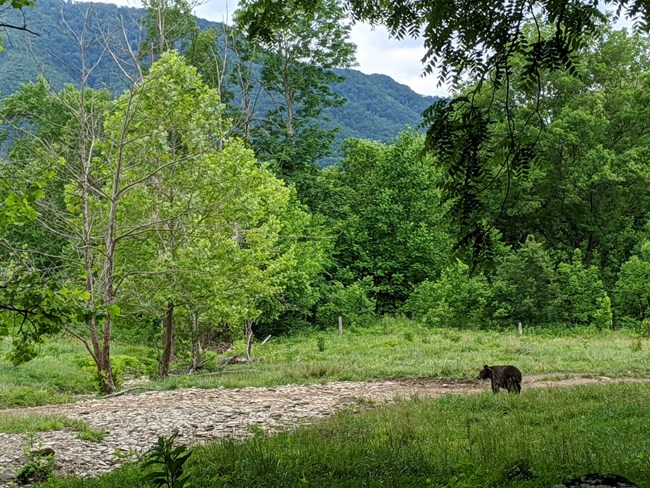 Frequently Asked Questions
How will I know if parking is full?

Park staff will notify visitors when parking is full with signage along Laurel Creek Road.

Can I bring a vehicle with a trailer to vehicle-free day?

Parking is extremely limited for oversized vehicles. While trailers (such as horse trailers) and other oversized vehicles (such as RV's) are not prohibited, parking in designated spaces is required and the number of spaces available is limited on vehicle free days.
Where can I go for a scenic drive if the Cades Cove Loop Road is closed?

Great Smoky Mountains National Park is very scenic! Other options include the Foothills Parkway between Chilhowee Lake and Wears Valley for scenic views; Little River Road for a scenic drive along a river; and the Roaring Fork Motor Nature Trail for a scenic drive with opportunities to explore historic structures.

Are the campground and picnic area still open on vehicle free days?

Yes! The campground (with a reservation) and picnic area are still open on vehicle free days. However, parking in the picnic area is limited, especially in the morning. Other picnic areas in the park include Metcalf Bottoms, Chimneys, and Collins Creek (North Carolina).

Are the horse stables and campground store open on vehicle free days?

Yes! The horse stables and campground store remain open on vehicle free days.

Is there somewhere I can rent a bike in the park?

Yes! There is a bike rental near the campground store. Be prepared to wait as bike rentals are very popular.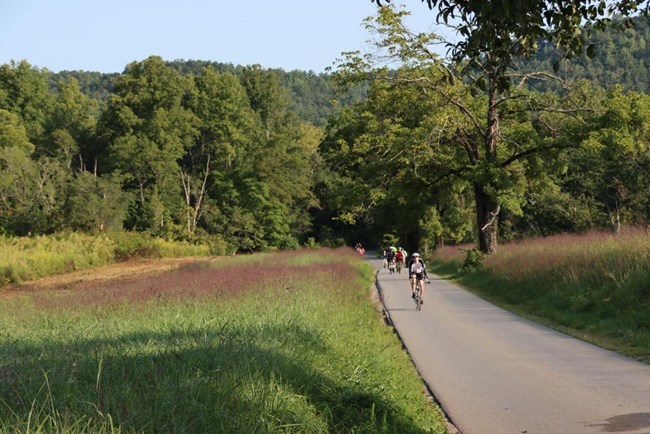 Background
For over 40 years, park managers implemented several vehicle-free opportunities for bicyclists and pedestrians in Cades Cove. Prior to 2020, the road was closed to vehicles on Wednesday and Saturday mornings until 10:00 a.m. from May through September. Under the morning-only closure model, traffic leading to Cades Cove area was often gridlocked by a line of motorists waiting for the Loop Road to open to motor vehicles at 10:00 a.m. In addition, the entire developed area was congested with parked vehicles. After filling the designated parking areas, visitors often used inappropriate areas for parking such as road shoulders and campsites. In 2020, park managers implemented a pilot project for a full-day vehicle-free period. The intent of the pilot project was to test whether visitor use could be effectively spread throughout the day to address congestion, parking, and safety issues associated with the vehicle-free period and to provide improved access to multiple user groups. In 2021, the pilot project was extended with a modified parking plan. In 2022 and beyond, park managers will continue to implement the full-day, vehicle-free Wednesday opportunity for Cades Cove.
Last updated: July 14, 2023