Smokies Rolls Out Two Zero-Emission Vehicles
Date:
June 24, 2008
Contact:
Bob Miller, (865) 436-1207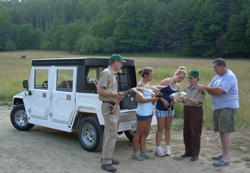 According to Park Superintendent Dale A. Ditmanson, park operations in Deep Creek Campground and at Cataloochee Valley in North Carolina got a little cleaner and a little quieter this month with the addition of two new donated electric vehicles.
The two new vehicles are classified as "Neighborhood Electric Vehicles" which means that they are street legal for use on public roadways where speeds are limited to 35 mph or less. The park has assigned them to highly-visible uses where they serve as tools to help educate visitors about the Park's air quality issues as well as some alternatives to fossil fueled transportation.
Ditmanson said, "The one in Cataloochee Valley is used by our Elk Bugle Corps, which is comprised of teams of volunteers who circulate throughout the Valley each day talking with visitors about elk and about how to view them safely and responsibly. Last year they used a gas-fueled ATV to get around. At Deep Creek our Maintenance crews use theirs as a replacement for a pickup truck as they clean restrooms, pick up litter and clean out fire grills."
"These are the perfect situations for a Neighborhood Electric Vehicle." Ditmanson said. "In both cases there is a lot of low speed driving and lots of stopping for extended periods, so the fact that these NEV's never idle is especially helpful in reducing fuel use and emissions."
The new vehicles which are fully equipped with lights, heaters, wipers, and other auto-type features, were purchased through a $31,900 grant from the Clean Fuels Advance Technology (CFAT) program through the North Carolina Solar Center at NC State University. The Friends of the Smokies provided an addition $11,100 as a required match. The Friends share came from the proceeds of the NC Friends of the Smokies license plate which has raised over $1.2 million for Park projects.
The park received a $33,700 CFAT funding which was used, along with $9,900 from the Friends to purchase and install new tanks to convert all the diesel vehicles and equipment to cleaner-burning bio-diesel.
The Great Smoky Mountains Bugle Corps was created in 2007 in response to spiraling visitor pressure in the Cataloochee Valley. In the first year volunteers donated over 3,500 hours and talked with over 45,000 visitors. This year The Park has signed up 60 volunteers who cruise the valley in their new NEV nightly from May until November.
According to Pete and Gini Post, the park's lead Bugle Corps volunteers, "All of the volunteers are proud to be using and environmentally friendly vehicle and it has fit our needs beautifully. We get as much interest about the vehicle as we do about the elk."
Last updated: April 14, 2015