Tornado Prompts Closure of Seven Park Trails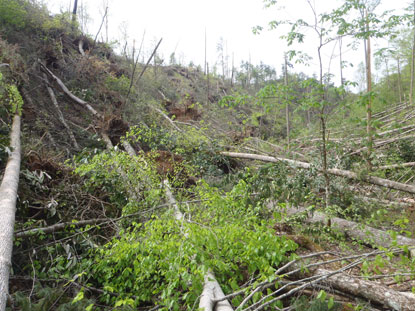 News Release Date:
May 5, 2011
Contact: Bob Miller, (865) 436-1207
Officials at Great Smoky Mountains National Park and the National Weather Service have determined that a severe EF 4 tornado swept across the northwestern corner of the Park last Wednesday causing extensive damage to seven park trails. The popular Abrams Falls Trail remains impassable due to numerous blow downs and over 40 areas where root balls were ripped out of the trail surface leaving hot-tub sized craters. Park managers hope to have Abrams Falls Trail reopened by Memorial Day.
After an inspection of other trails in the affected area, managers have announced the full closure of all or parts of seven trails totaling 27 miles. (5/9/11 update: Additional trails were closed following surveys.) A survey by trail workers shows a total of over 4,500 trees down on the closed sections with some areas resembling jackstraws for over a mile at a time. They also counted over a thousand areas where trees were blown down and their roots tore gaps in the trail. In addition to all of the Abrams Falls Trail, the following facilities are now officially closed to both hikers and equestrians until further notice (5/9/11 updated list below):
Backcountry Campsites 3, 11, 15
Abrams Falls Trail
Ace Gap Trail
Beard Cane Trail
Cooper Road Trail from the Beard Cane/Hatcher Mountain Trails junction to the Cades Cove Loop Road
Hannah Mountain Trail is closed from Rabbit Creek Trail junction to Abrams Falls/Little Bottoms Trails junction.
Hatcher Mountain Trail 
Little Bottoms Trail is closed from Campsite 17 to Abrams Falls/Hannah Mountain Trails junction
Rabbit Creek Trail 
Wet Bottom Trail

Click for map of affected trails (original map of damaged trails)
Updated map 7-13-11
"We have closed the trails because the tangled trees and damaged surfaces make them extremely hazardous." Park Chief Ranger Clay Jordan said, "But to make matters worse, our ability to send rescuers in to extract anybody who is injured is seriously compromised."
Park managers stress that no park roads are affected by the storm damage, and that the remainder of the park's 800 miles of trails remain open. In the Cades Cove area visitors are encouraged to seek alternative trails. Access to Gregory Bald via Parson Branch Road is unaffected. Visitors can stop at any park visitor center for advice.
The park's non-profit partner, the Great Smoky Mountains Association, has posted a video about the tornado on their website.
Last updated: April 14, 2015