CD of Old-Time Smokies Music Nominated for Grammy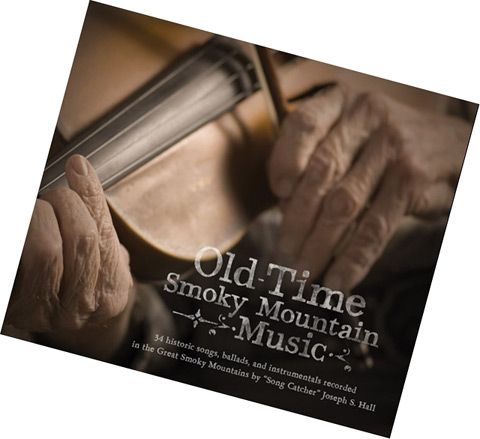 News Release Date:
December 6, 2012
Contact: Public Affairs Office, (865) 436-1207
Great Smoky Mountains National Park is pleased to announce that the CD, Old-Time Smoky Mountain Music, produced by the Park's nonprofit educational partner, Great Smoky Mountains Association, has been nominated for a Grammy Award. The CD includes 34 historic songs, ballads, and instrumentals recorded in 1939 by "song catcher" Joseph S. Hall.
The Recording Academy announced the Grammy nominees on December 5 at a live program broadcast from Nashville and televised by CBS. Great Smoky Mountains Association's executive director Terry Maddox said, "This has been a huge surprise and a huge honor for a small association like ours. We're overjoyed at the nomination and proud that we've played a role in preserving these very special recordings."
The little-known Smoky Mountain recordings were collected when Hall was a young graduate student on a project to collect genuine Smokies speech and music. The creation of Great Smoky Mountains National Park in the 1930s forced hundreds of families to pack up and leave their mountain homes and relocate elsewhere. Hall's mission was to preserve as much as he could before the unique culture had dispersed.
Performers Hall recorded were influenced both by their unique traditions as well as modern inventions like record players and radios. Even though the stereotypical mountain cabin had no such appliances and its residents were thought to be utterly cut off from the outside world, in reality, even in 1939, many folks gathered around their music machines to listen to stars like Jimmie Rodgers, the Carter Family, and Roy Acuff. Their music evolved like music everywhere, blending the old and new, the local with the national. Songs featured on the CD include "My Home is in the Smoky Mountains," "Don't Forget me Little Darling, Mule Skinner Blues, Ground Hog, On Top of Old Smoky, and Up on Pigeon River."
As part of Great Smoky Mountains Association's effort to produce the CD and preserve the cultural history of the area, the producers issued news releases throughout the region to track down any surviving musicians featured on the recordings or their descendants. The response exceeded their expectations. At least 18 relatives of the original musicians featured on the CD responded enthusiastically and sent photographs and anecdotes about their relatives. Two of the musicians recorded in 1939 were still alive. The photos and information were incorporated into the 40-page liner note booklet that accompanies the CD.
Three scholars integral to the development of the CD and its extensive liner notes were Dr. Michael Montgomery of the University of South Carolina, Dr. Ted Olson of East Tennessee State University, and Park Ranger Kent Cave of Great Smoky Mountains National Park. Dr. Montgomery has dedicated decades to preserving Hall's works and publishing materials related to his collections, including the Dictionary of Smoky Mountain English. Dr. Olson is an accomplished banjo player and professor of Appalachian Studies. He is also editor of the Journal of Appalachian Culture. Ranger Cave is a renowned expert on Smoky Mountain history and co-editor of Smokies Life Magazine, History Hikes of the Smokies and many other publications. Others contributing to the project include Lisa Horstman, graphic artist and cover designer, John Fleenor, sound engineer, Betsy Layman, lyrics transcriber, and Steve Kemp, co-editor and co-producer.
Great Smoky Mountains Association is a private non-profit organization whose mission it is to support the preservation of Great Smoky Mountains National Park through education, interpretation, and research. Established in 1953, the Association has since provided over $29 million in support to the national park. To learn more about the association's projects and membership opportunities, please visit http://www.SmokiesInformation.org.
For more information regarding the Grammy Nomination, please visit http://www.grammy.com/nominees.
Last updated: April 14, 2015