Local Teen Wins Expressions of Freedom National Art Competition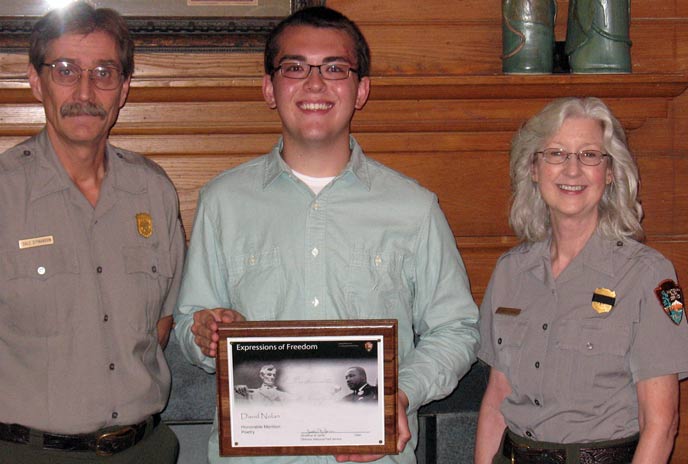 News Release Date:
July 18, 2013
Contact: Public Affairs Office, (865) 436-1207
David Noland of Sevierville, TN received an Honorable Mention in the Expressions of Freedom National Art Competition sponsored by the National Park Service and the National Park Foundation. He was presented a framed certificate and a national park pass for his poem commemorating the 150th anniversary of the Emancipation Proclamation entitled The Children's Crusade.
"Through the Expressions of Freedom competition, students had a chance to share their personal reflections on what freedom really means to them – with truly inspiring results," National Park Service Director Jonathan B. Jarvis said. "The emotions captured in these creative works also reflect the stories of courage and triumph told in America's national parks." Great Smoky Mountains National Park Superintendent Dale Ditmanson and Resource Education Chief Elizabeth Dupree presented Noland with his certificate at Park Headquarters.
"On behalf of the National Park Service, it was an honor to recognize such a talented young man from our community," said Superintendent Dale Ditmanson. "David's poem is a thoughtful tribute and reflection of the faces of freedom."
The nationwide student artistic competition offered youth an opportunity to connect with the many national parks that tell the stories of the nation's journey from Civil War to civil rights – from Stones River National Battlefield to the General Grant National Memorial, from Kennesaw Mountain National Battlefield Park to the Frederick Douglass National Historic Site. Competitors used their art to explore the enduring themes of our nation's struggles for freedom and equality for all.
2013 marks the 150th anniversary of the Emancipation Proclamation, issued by President Abraham Lincoln on January 1, 1863, which spelled out emancipation as the U.S. government's new policy, a vital step on the gradual path to freedom for all Americans.
"Through this unique competition, we honor the American civil rights journey that began more than 150 years ago," said Neil Mulholland, President and CEO of the National Park Foundation. "The National Park Foundation and its African American Experience Fund applaud the outstanding creativity of the youth participants and we are proud to help America's National Park System ensure the important stories of our nation's history are forever told."
 
Nine winners and eight honorable mentions were selected from more than 250 student submissions in three categories: photography, poetry and digital short films. Students between the ages of 13-18 years were challenged to answer the question, "What does freedom mean to you?"
Last updated: April 14, 2015