Emerald Ash Borer Confirmed in Park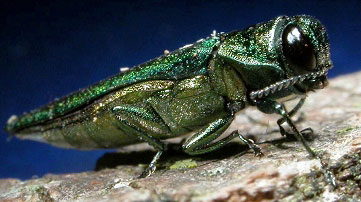 News Release Date:
June 7, 2012
Contact: Public Affairs Office, (865) 436-1203
Great Smoky Mountains National Park officials recently confirmed the presence of
invasive emerald ash borer beetles in the park. Last week, beetles were discovered near Sugarlands Visitor Center and in the Greebrier area, on the Tennessee side of the park. The insects were recovered during routine inspection of traps and sent to a U.S. Department of Agriculture entomologist for confirmation.

The emerald ash borer was first discovered in the U.S. in Michigan in 2002 and has steadily spread from there, damaging millions of ash trees across the country. The ½ inch-long beetle lays eggs in bark crevices on all species of ash. Upon hatching, larvae burrow under the bark, creating feeding tunnels that interfere with the tree's ability to translocate nutrients and fluids. The tree gradually starves and eventually dies.

The park began trapping the beetles in 2008 as part of a broader effort coordinated by the U.S. Department of Agriculture's Animal and Plant Health Inspection Service (APHIS). Under APHIS guidance, traps were placed in a 100-mile-wide band outside the previously known infested area. At the time, the park was considered to be at high risk for new infestation because of the sizable number of visitors who reside in already infested counties.

The spread of emerald ash borer beetles primarily results from transport of infested logs and firewood. January 2015 update: Beginning March 1, 2015, only heat-treated firewood that is bundled and certified by the United States Department of Agriculture (USDA) or a state agency may be brought into the park. Campers may also collect dead and down wood found in the park for campfires. 

Park management is evaluating a range of options in regard to addressing the emerald ash borer's presence in the park. "Protecting the park's biodiversity is of the utmost importance," says Superintendent Dale Ditmanson." We will carefully consider all options available to us before determining the best course of action in dealing with this invasive species."

Last updated: April 14, 2015