Chilogatee Stream Restoration Project in Park Complete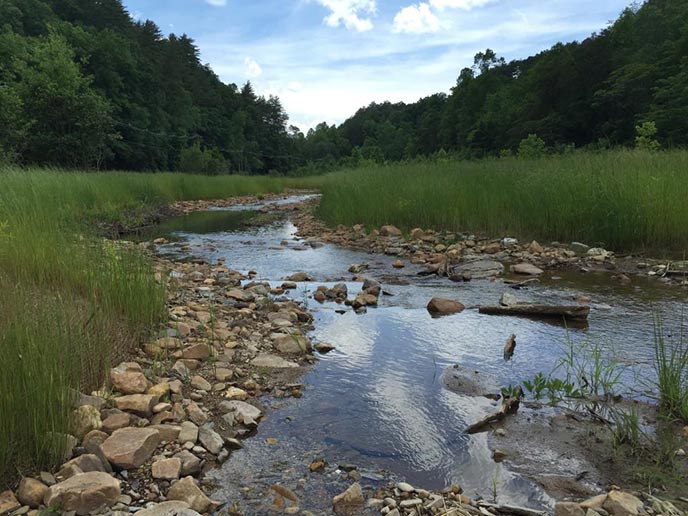 News Release Date:
June 3, 2015
Contact: Public Affairs Office, (865) 436-1207
Great Smoky Mountains National Park officials announced the completion of an enhancement and restoration project of a 4,613-foot section of Chilogatee Branch and four of its tributaries totaling 744 feet within the park. The streams had been degraded by clearing of riparian forest, channel relocations, and unrestricted livestock access prior to the property's inclusion in the park. The project was initiated to restore and improve a natural stream morphology, the streams' hydrology and connectivity with the floodplain, native riparian vegetation, and aquatic habitat as well as reduce sediment input.
"Park resource managers are very pleased with this collaborative effort to restore a unique stream and wetland complex," said Supervisory Forester Kristine Johnson. "The Chilogatee Branch site was transformed from a severely degraded cow pasture to a rich and diverse habitat for native plants and wildlife."
A collaborative team, led by the Tennessee Stream Mitigation Program (TSMP) accomplished this project by reconstructing major portions of the stream on a new alignment, and by significantly re-contouring other sections of the stream in its existing location. The National Park Service provided seeds and seedlings of native plants that naturally occur in riparian areas within the park. Eight hundred fifty tons of large boulders and seventy large logs were utilized in the reconstruction of the stream channel.
"We are especially pleased when we have an opportunity to implement a stream restoration project on public lands," TSMP's Director Joey Woodard said, "In a way, this amplifies the public benefits of a project."
The successful competition of this project is the result of collaboration between TSMP and the National Park Service, with oversight by the U.S. Army Corps of Engineers, the Tennessee Department of Environment and Conservation, the Tennessee Wildlife Resources Agency, the U.S. Fish and wildlife Service, the Environmental Protection Agency, and the Tennessee Valley Authority. The design for the stream restoration project was developed by Wolf Creek Engineering, a small firm specializing in natural channel design, and constructed by KCI Environmental Technologies and Construction.
TSMP is a private non-profit organization housed within the Tennessee Wildlife Resources Foundation. It was established in 2002 through a multi-agency Memorandum of Agreement to improve degraded streams in order to offset unavoidable impacts permitted by TDEC and the Corps of Engineers. The program is able to accumulate fees from multiple small-scale impacts and use them to implement large-scale stream mitigation projects that provide more meaningful environmental improvement than would result from an equivalent amount of small, isolated projects.

Last updated: June 8, 2015