National Park Service Invites Proposals to Operate the Cades Cove Riding Stable Concession in Great Smoky Mountains National Park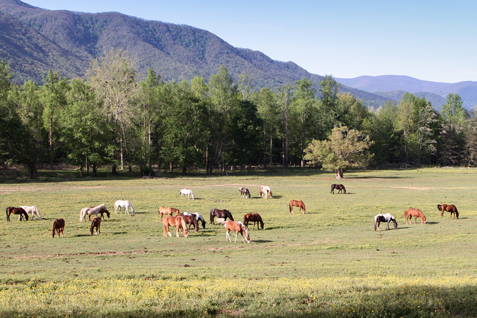 News Release Date:
December 29, 2014
Contact: Dana Soehn, 865-436-1207
Contact: Brent Everitt, 865-436-1203
The National Park Service (NPS) Southeast Regional Office has issued a prospectus seeking proposals from individuals or businesses interested in competing for a 10-year concession contract to provide guided horseback rides and related services at the Cades Cove Riding Stable in Great Smoky Mountains National Park. The new concession contract is expected to begin on January 1, 2016.
The Cades Cove Riding Stable is about 9 miles from Townsend, TN and is adjacent to the Cades Cove Campground and Picnic Area in one of the busiest areas of the park. In addition to offering visitors guided horseback rides, the concession operator will be required to provide hayrides, carriage or wagon rides, and vending services.  The services required under the new contract include guided horseback rides, wagon and/or carriage rides, hayrides, and vending.
The stables have been in operation under National and State Park Concessions Riding Stables, Inc. since 2009. The current contract expires on December 31, 2015. Under the terms of the NPS Concessions Management Improvement Act of 1998 (Act), concession contracts must be awarded through a competitive selection process. The prospectus explains the business opportunities and the terms and conditions under which the NPS will award the concession contract. The NPS Director, pursuant to 36 CFR, Part 51, has determined that there is no preferred offeror for the contract, so the contract is fully competitive.
Any proposal, including that of the existing concessioner, must be received by the Chief of Commercial Services, Southeast Region, National Park Service, 100 Alabama St, SW, Bldg 1924, Atlanta, GA, 30303 by 4:00 p.m. EST on Wednesday, March 18, 2015, in order to be evaluated and considered for award of the concession contract.
The prospectus will be available at https://www.concessions.nps.gov/prospectuses.htm. Hard copies will be available upon request for a printing cost recovery charge. The fee is $50.00 per copy to be delivered via Federal Express or $45.00 per copy if picked up in person. Persons interested in obtaining a prospectus should mail, or bring in person, a check or money order made payable to the NPS (cash will not be accepted). You must include a business address (no post office box) and telephone number to receive a Federal Express package. For personal pick up please contact Molly Schroer, Concessions Specialist, Great Smoky Mountains National Park at (865) 436-1209 or Bill Stevens, Chief of Commercial Services, Southeast Region, NPS, in Atlanta at (404) 507-5636 prior to arrival.
If you have obtained your prospectus from the website, please advise Bill Stevens, Chief of Commercial Services, at (404) 507-5636 of your contact information in order to receive future responses to questions or amendments to the prospectus. Those requesting hard copy or who have been placed on the mailing list will be provided with any additional information specific to the prospectus in writing. Information relative to the solicitation will also be posted to the above mentioned website.
For more information about Cades Cove, please visit the park's website at 
https://www.nps.gov/grsm/planyourvisit/cadescove.htm
.
Last updated: April 14, 2015