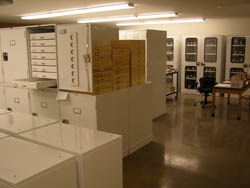 ---
Collections:
Great Smoky Mountains National Park
The park's collections of vertebrates, invertebrates, plants, lichens, fungi, and other natural history objects now reside in a new and spacious facility at the Twin Creeks Science and Education Center. There are currently 50,000-60,000 catalogued specimens and a backlog of three to four times that number of uncatalogued material. The collections are especially rich in insects, with material dating back before the formation of the park to much more recently accessed material from the All Taxa Biodiversity Inventory. The park also maintains an extensive historical and cultural collection and management archives. To arrange access to the collections for research purposes, please contact the park curator, Baird Todd, at (865) 448-2245.

University of Tennessee Herbarium
This herbarium, located on the Knoxville Campus of the University of Tennessee, houses extensive plant and fungi collections from Great Smoky Mountains National Park, as well as from Big South Fork, Obed, and the surrounding area. For research access, please contact the Herbarium Director, Dr. B. Eugene Wofford, at (865) 974-2256.

North Carolina Museum of Natural Sciences
Much of the natural history collections for the Blue Ridge Parkway are housed at the museum's collections in Raleigh, NC. For general inquiries about the Museum of Natural Sciences' research and collections division, please contact Director of Research and Collections, Jason Cryan, at (919) 707-9933. For inquiries about specific collections, please contact section curators or collection managers.


Georgia Museum of Natural History
Over 20,000 mammals and amphibians, from 1905 to present, currently reside in Coweeta's GNMH Mammal/Amphibian Collection. Listed at the following web site are the individual species represented in this particular collection, currently housed at the Georgia Museum of Natural History.