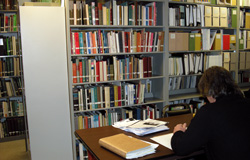 Research Library
The Great Smoky Mountains National Park Research Library serves park staff and volunteers, but is also made available to the visiting public by appointment. The library and the park's archives comprise a very large and valuable resource of materials relating to local history.
Located in Sugarlands Visitor Center, the library is open Monday through Friday from 9:30 AM - 4:30 PM. It is closed on weekends and federal holidays.
Policies for use of the library and its materials will be explained when scheduling an appointment.
To contact the library, please email or phone (865) 436-1296.