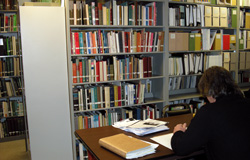 Collections Preservation Center
Construction of the National Park Service Collections Preservation Center in Townsend, TN was completed in 2016. This center will house the cultural related museum collections for five NPS units: Andrew Johnson National Historic Site, Big South Fork National River and Recreation Area, Cumberland Gap National Historical Park, Great Smoky Mountains National Park and Obed Wild and Scenic River. Materials stored at the center will vary by park but include: archeological artifacts, artwork, textiles, furnishings, and other historic items relating to the parks' history.

The collections will be moved to the center over the next several years. Great Smoky Mountains NP began the process of moving and re-housing their collection in late 2016. Big South Fork NRRA and Obed WSR plan to move in 2017. Cumberland Gap's collection is scheduled to move in 2018. The Andrew Johnson NHS collection is also scheduled to move in 2018. These plans are subject to change based on the speed at which the collections can be safely moved.

In addition to the park's cultural museum collections, archives from Great Smoky Mountains NP are also housed at the Collections Preservation Center. The park's archives contain information about the history of the park, and the people who have called the park area home. Collection highlights include: lands records, genealogical information, historic photographs, park management reports, and maps. To make an appointment to access the collections please refer to the information below. Please note, archives from the other four parks will not be moved to the center. For information on researching those records please contact the individual park directly.