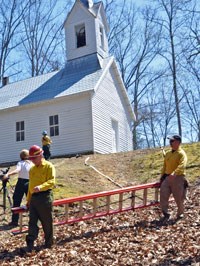 A cool breeze sifts into the open windows of the car as we climb along the winding road to Little Cataloochee. We're part of a park service caravan of fire engines, a law enforcement patrol car, and vans holding eager fire management crew members from the Smokies, Everglades, and Mammoth Cave. The goal today: restore fire to an area of dry, rolling, pine-oak hills where it used to be common.
The Canadian Top burn, as it's called, is the culmination of many months of planning. Each controlled burn in this and other national park units involves a lot of different people to monitor the health of the ecosystem being burned, collect all the tools and safety equipment, and plan the best day to actually put fire on the ground.
All of the Fire Management team members—about 30 people on this day—pulled off the road in front of the Little Cataloochee Church and began to unload gear. Already, by 9:00, the temperature had started to climb, and the few clouds lingering on the horizon had disappeared. While some crew members placed a "hose-lay" (fire hose and nozzles) around the historic church, others headed into the woods to clear logs away from the road with chainsaws. The burn boss, Dave Loveland, stood frowning at the sky. The day was getting too hot too quickly, and the air lacked its usual stickiness.