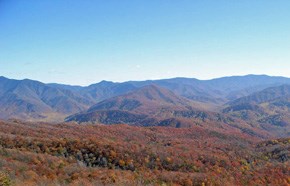 There are seven main Resource Management programs in Great Smoky Mountains National Park:
Air Quality
, Cultural Resources, Fire, Fisheries, Inventory and Monitoring, Vegetation, and Wildlife.
When you gaze off of a summit at Great Smoky Mountains National Park, what do you see? On a clear day, you may see rolling hills unfurled like blue and purple ribbons reaching all the way to the horizon. Or, on the same cloudless day, you may see a whitish haze that blurs far away mountains. Air pollution—the source of haze—not only obscures views, but can cause public health problems and makes the Smokies' streams and soil acidic, as well. We need a long-term air quality program to understand what causes pollution, what pollution does to ecosystems (and visitors), and what we can do to reduce it.