NPS Profile: Air above & beyond the Smokies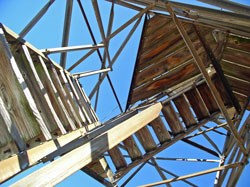 Jim Renfro, Air Quality Specialist, and Ethan McClure, Air Quality Technician, are in charge of monitoring the air at Great Smoky Mountains National Park. Every day, they drive, hike, and climb to air quality monitoring and research stations throughout the park. Their program tells us how clean our air is each day and how it has changed over many years.
McClure treks eleven miles round trip to the Cove Mountain Tower on the northern boundary of the park. Once he gets there, he ascends four flights of narrow stairs, and swings open three wide hatches to climb to the top 80 feet in the air. The tower shudders slightly in the wind. From its highest deck, he can see the forests on the mountainsides unfurled below. To the north, the land tapers to Gatlinburg and Pigeon Forge in the Tennessee Valley, and to the south, the mountains climb successive ridges of the Smoky Mountains and Blue Ridge beyond.
But Ethan isn't here just to admire the view. At the top, he carefully checks each of the sensors to make sure they are operating correctly:
Wind speed & direction
Temperature
Relative humidity
Barometric pressure
Precipitation amount
Ozone (ground-level, different from the protective, high-elevation stratospheric ozone layer)
Once that's done, Ethan steps down the ladder to the second level of the tower. Here in a tiny room are humming instruments busily recording air quality and weather conditions. Ethan recalibrates each of the instruments to ensure that they are giving accurate readings.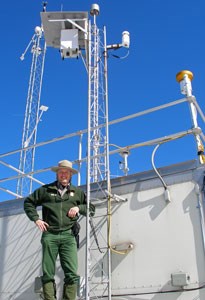 Jim Renfro and Ethan McClure must visit all of the air quality monitoring stations at least once a week, and more often if something goes wrong. Often, what goes wrong is a cold snap, an ice storm, or a particularly windy day, which cuts off power or communications to the stations. Jim and Ethan have only a few hours to reset the instruments when that happens, which makes for some long days. At the Clingmans Dome tower this summer, a bird perched on the funnel rim of the mercury instrument and dropped its prey—a live salamander—down the tube. Jim Renfro was surprised to find this hungry creature starting up at him, still wedged there when he came to collect the mercury sample. He let it scamper away and took the sample of bottled water—the rain and cloud water that has dripped there all week—back to the office. A laboratory in Seattle analyzes these mercury samples and reports how much falls on our park's sensitive ecosystems over time. Scientists at the University of Illinois Urbana-Champaign analyze other air data.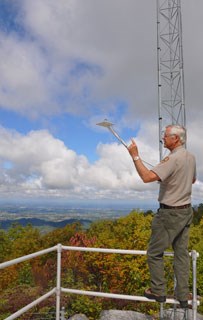 Look Rock - holds the park's IMPROVE monitoring station, in addition to many other air quality monitoring instruments. IMPROVE stands for Interagency Monitoring of PROtected Visual Environments, and measures both the amount and chemical composition of particulate matter. After knowing these measurements, the park can determine how much pollution particles scatter light, a major determinant of the haze.
The Look Rock station also collects measurements of ozone, sulfur dioxide, sulfate, carbon monoxide, nitrogen oxide, nitrogen dioxide, wind speed & direction, temperature, humidity, precipitation, solar radiation, continuous PM 2.5, and black carbon.
See the live WebCam view from Look Rock.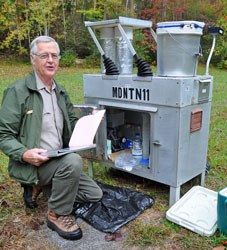 Elkmont – water bottles collect samples that go to the University of Illinois Urbana-Champaign. That lab tests the water for calcium, magnesium, sodium, potassium, acid, and pH levels, in addition to other metals. Data from this site is added to the National Atmospheric Deposition Program. Samples of precipitation (rain, condensed fog, and melted snow) are sent to Seattle, where a lab tells the park the concentration of mercury in a month's precipitation. (In June, 2009, for example, we had 8.3 ng of mercury per liter of water.)In the photo to the left you can see a funnel at the top that collects rain and snow, which run into a collection jar inside the metal box.
Cades Cove
– a small tower collects ozone, wind speed & direction, temperature, humidity, solar radiation, and precipitation information.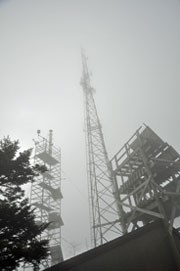 Clingmans Dome – collects ozone, wind speed & direction, temperature, humidity, solar radiation, and precipitation measurements. Also serves as the highest elevation monitoring station for cloudwater (condensed fog), which are tested for acidity levels. As at Elkmont, a mercury station also collects precipitation that will be sent to a lab in Seattle for high elevation monitoring.
Purchase Knob – collects ozone, wind speed & direction, temperature, humidity, and precipitation amounts.
See the live WebCam view from Purchase Knob.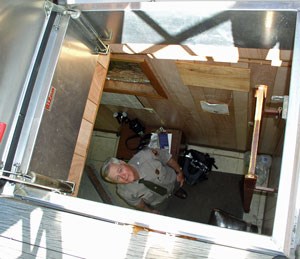 Cove Mountain Tower
- collects ozone (O3), wind speed & direction, temperature, humidity, barometric pressure, & precipitation amount.
Over time, the snapshots of conditions on individual days add up to a very valuable long-term data set. Scientists look at these trends to determine if acid deposition is getting worse over time, and to compare our views now with those a decade ago.
And watch podcasts on the National Park Service Air Web page.

Light pollution monitoring is also conducted under the park's Air Quality Monitoring program. Learn about light pollution in the Smokies and other National Park sites.

Return to park Air Quality Monitoring main page.

Return to Air Quality main page.
Last updated: November 7, 2019