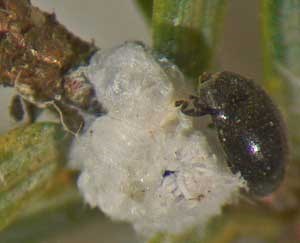 Using biocontrol to stop the spread of hemlock woolly adelgid
The hemlock woolly adelgid (HWA), an invasive insect from Asia, has wreaked havoc on many of the hemlock forests in the eastern United States. Large populations of adelgids can kill a tree within two to four years.
What are we doing to treat the hemlocks? Scientists first discovered hemlock woolly adelgids in Great Smoky Mountains National Park in 2002. Since then, Park Foresters have worked to save hemlocks using these three methods:
soil drenching or stem injecting (treating the tree with an insecticide that protects the tree for five to seven years)
spraying the canopy and branches or smaller trees, and
releasing biocontrol beetles, predators that feed primarily on HWA.
They have released over half a million biocontrol beetles to treat 250,000 trees in 100 hemlock conservation areas. Watch the PODCAST of a beetle release in Cataloochee.
You can also read more about the history of the adelgids and chemical treatments in the Park, then use the back arrow to return to this page.