Focus On... Dying giants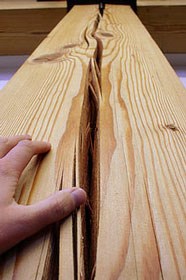 The loss of hemlocks in Great Smoky Mountains National Park
We know the Smoky Mountains as steep slopes furred with a thick forest. Ridge upon ridge blur into the distance in an unbroken sea of hazy green. Yet less than 100 years ago, up to 80% of this landscape was clearcut. Settlers, loggers, and farmers cleared all but the steepest slopes and intensively used the land. It was only after the Great Smoky Mountains became a National Park in 1934 that most of the logging stopped and forests began their gradual regrowth. Today, even though many of the trees look very large, they are not as big as the trees in the "old-growth" stands that once grew here.
An exception to this is the Eastern hemlock (Tsuga canadensis). According to NPS foresters, many of the larger hemlocks you see today germinated (grew from seed) as long ago as the 1750s. Many stands within reach of clearing escaped logging because they had what Appalachian residents call "windshake." Their large crowns shook and twisted at the whim of the wind, causing the wood grain to twist as the tree grew. As a result, hemlock boards split easily and weren't sought after as highly valuable timber. While some hemlocks were cut to act as "peelers" (logs sent downstream in huge log floats to protect other floating trees from damage) or so their bark could be used in the leather tanning business, settlers rarely used this twisted wood for home construction or railroad ties.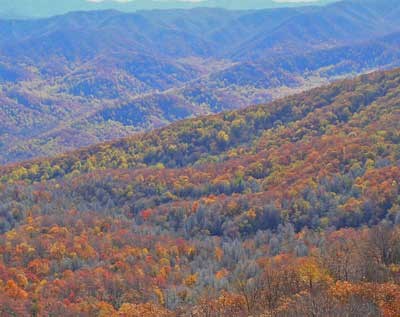 In the last decade, we have started to see swaths of grey among the green forests, the standing ghosts of hemlocks dying from the hemlock woolly adelgid. We're just beginning to understand how these die-offs drastically change the forest.
The hemlock fills a place in the forest—an ecological niche—that no other tree species can. Hemlocks germinate in low-light conditions, unlike pines, and can grow slowly for many years, biding their time in the shady understory where light levels are as low as five percent. Because the hemlocks can stay small for many decades, and because even the tallest keep their low branches, they create a stratified forest with many levels of branches. This provides habitat and a "ladder" that animals use to scamper into the crowns of taller trees.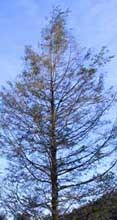 Hemlocks also provide important shade. Scientists estimate that streams can be 2-4 degrees (F) cooler under hemlock canopies than they are in other forests, and that temperatures don't vary as much day to day. This cooler, more constant-temperature water supports trout and other sensitive animals, and keeps dissolved oxygen levels high and clogging algae levels low.
Some scientists think that hemlocks also maintain rare native plants by slowing the spread of rhododendrons along the forest floor. While the rhododendron is a native species, it crowds out some rare native ferns and wildflowers that we find only in the dappled shade of old growth hemlock stands.
Read more in this issue about NPS and partner efforts to understand and save these important trees.
Read about the biocontrol beetles vs. the adelgid and watch NPS Resource Managers' efforts to protect hemlocks. Read about the hemlock wooly adelgid.

Return to Forests main page.
Last updated: May 18, 2021