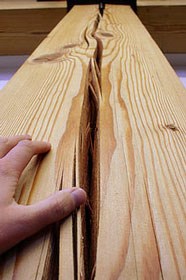 The loss of hemlocks in Great Smoky Mountains National Park
We know the Smoky Mountains as steep slopes furred with a thick forest. Ridge upon ridge blur into the distance in an unbroken sea of hazy green. Yet less than 100 years ago, up to 80% of this landscape was clearcut. Settlers, loggers, and farmers cleared all but the steepest slopes and intensively used the land. It was only after the Great Smoky Mountains became a National Park in 1934 that most of the logging stopped and forests began their gradual regrowth. Today, even though many of the trees look very large, they are not as big as the trees in the "old-growth" stands that once grew here.
An exception to this is the Eastern hemlock (Tsuga canadensis). According to NPS foresters, many of the larger hemlocks you see today germinated (grew from seed) as long ago as the 1750s. Many stands within reach of clearing escaped logging because they had what Appalachian residents call "windshake." Their large crowns shook and twisted at the whim of the wind, causing the wood grain to twist as the tree grew. As a result, hemlock boards split easily and weren't sought after as highly valuable timber. While some hemlocks were cut to act as "peelers" (logs sent downstream in huge log floats to protect other floating trees from damage) or so their bark could be used in the leather tanning business, settlers rarely used this twisted wood for home construction or railroad ties.