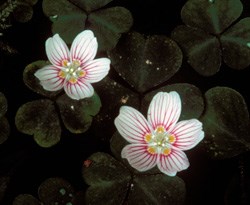 There are over 1,500 kinds of flowering plants that grow in Great Smoky Mountains, more than in any other American national park. These are just a few of the summer-blooming wildflowers and flowering shrubs commonly seen in the park during the summer months:

Wood Sorrel - Oxalis montana

Wood sorrel has small flowers with pink stripes on each petal and has shamrock-like leaves. It looks similar to the spring beauty wildflowers, but has a different blooming season. Wood sorrel is commonly found in the higher elevations of the park.