Blooming Shrubs
The park's flowering shrubs put on a colorful show in spring and summer. Eleven species of native shrubs in the Rhododendron genus live in the park: rosebay rhododendron, Catawba rhododendron, Carolina rhododendron, Piedmont rhododendron, flame azalea, smooth (or sweet) azalea, Cumberland azalea, pink azalea, early azalea, clammy (or swamp) azalea, and minniebush. One non-native Rhododendron species, hiryu azalea, is also found in the Smokies. Together they cover thousands of acres in the national park.

Although azalea shrubs are grouped in the Rhododendron genus (members of the heath family), most people think of rosebay or Catawba when they consider rhododendron. Mountain laurel is often confused with rhododendron, but is in a different genus, Kalmia. Its white and pink flowers bloom from early May through June on trails and roadways throughout the park.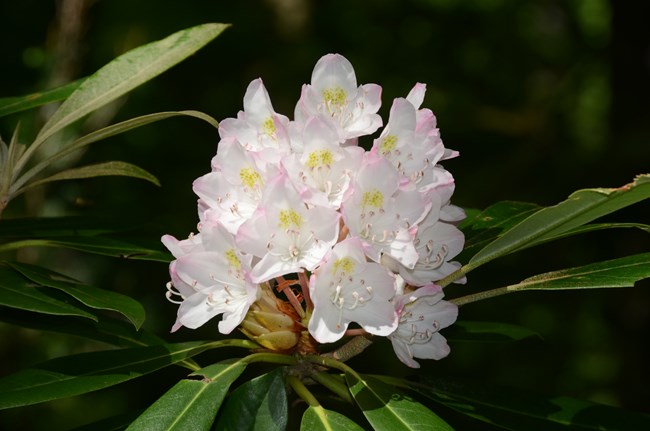 Rosebay Rhododendron
Rosebay rhododendron is the most common rhododendron in the Smokies. It thrives around streams and in ravines at elevations below 5,000 feet (1,524 meters). Rosebay's big clumps of whitish flowers appear in June at the lower elevations and from July into August at the middle altitudes.

Not every rosebay rhododendron in the park blooms every year. "Big blooms" occur every 2-4 years when a higher percentage of the shrubs bear flowers, but researchers are not certain exactly when or why these happen. Despite these off years, many rosebays will bloom annually throughout the park, especially those along roadsides that receive ample direct sunlight.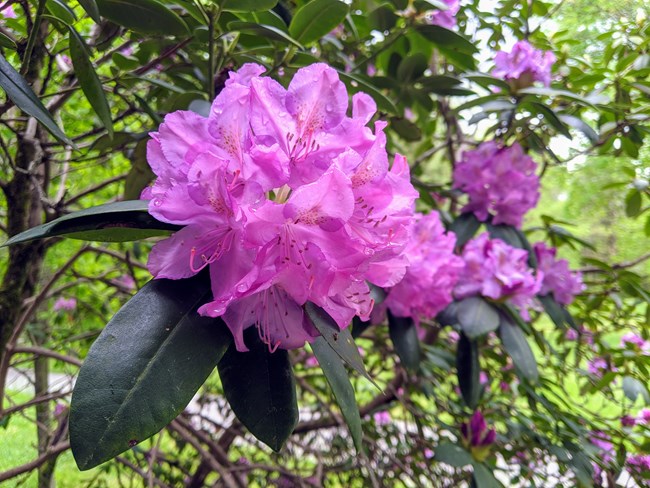 Catawba Rhododendron
Catawba is the rhododendron of the Smokies' high mountains. It is found only at elevations greater than 3,500 feet (1,067 meters) in the park, often alongside other rhododendrons on treeless shrublands call heath balds. Catawba's leaves are thick, shiny, and evergreen, much like those of rosebay rhododendron. However, Catawba leaves are not as long and hold a more rounded shape. Catawba rhododendron's magenta flowers appear to paint rhododendron-covered ridges with a beautiful, purple wash.

Catawba usually reaches its peak of bloom along the Newfound Gap Road in the first half of June. Along the highest peaks it flowers in late June. Good places to see it include Andrews Bald, Alum Cave Trail, the Blue Ridge Parkway, and above the Chimney Tops Trailhead.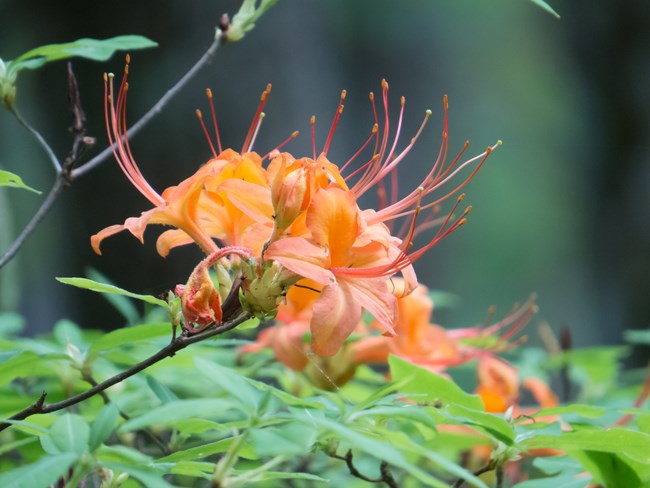 Flame Azaleas
When pioneer botanist William Bartram discovered flame azaleas in 1791, he described the plant as "certainly the most gay and brilliant flowering shrub yet known."

In the Smokies, flame azalea flower colors range from white to peach to orange, yellow, or red. Blooming time is April and May in the pine and oak forests at low to mid-elevations, but not until June or early July on the mountain tops. The famous displays on Gregory Bald bloom in mid to late June and on Andrews Bald in late June. Flame azalea can also be seen on Balsam Mountain Road.
Last updated: October 21, 2022