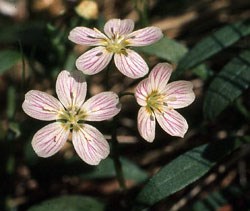 There are over 1,500 kinds of flowering plants that grow in Great Smoky Mountains, more than in any other American national park. These are some of the wildflowers and flowering shrubs commonly seen in the park during the spring months:

Spring Beauty - Claytonia virginica

Spring beauty is an early spring wildflower. The blossom has 5 pink-striped petals that are white or a pale pink. The plant is only 3 to 4 inches tall, and has a pair of oval, dark green leaves halfway up the stem. Spring beauty is commonly seen over a wide range of the park.