Research Education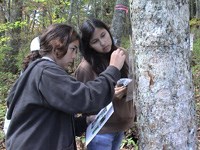 Education Programs at the Appalachian Highlands Science Learning Center
The Appalachian Highlands Science Learning Center offers educational opportunities for middle, high school and college students. Pre-service teaching internships and educator training workshops are also available. All education programs focus on involving groups in hands-on learning while providing valuable data for actual park research projects. If you are interested in participating in any of our education programs, contact the education coordinator.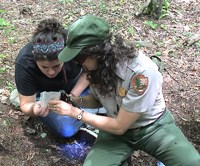 On-Site Programs
The programs below are geared towards middle school and high school students but can also be adapted for use with college groups. All programs are aligned with the North Carolina Standard Course of Study and the National Science Education Standards.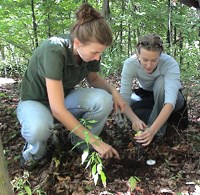 Focus on Soil Health - Grade 6, High School Biology, Earth Science, AP Biology, AP Chemistry
Students study soils, the associated soils food chain and threats to this system during their field experience. Using a detailed data sheet, students work in small groups to analyze soil properties. In addition, students use a variety of techniques to do an inventory of soil macro-invertebrates. A special attempt is made to search out abandoned snail shells as part of an on-going inventory to monitor their populations. Snail numbers are of concern to scientists because of diminishing levels of calcium in soil resulting from acid deposition. All data collected is posted on the internet via an on-line database. Follow this link to see the soil macroinvertebrate study.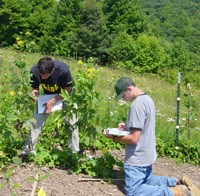 Focus on Air Quality - Grade 7, High School Biology, Chemistry, Earth Science, AP Biology and AP Chemistry
Students visit an ozone bio-monitoring garden, located at Purchase Knob, that has been planted with species sensitive to ground-level ozone. Students develop and use estimation techniques to determine the amount of damage on leaves of the plants. In another activity, students participate in a lichen monitoring study, collecting data on the type and amount of sulfur sensitive lichen they observe on specific trees. Once back in the classroom, students analyze their data that has been entered into two websites. Follow these links for more information on the ozone bio-monitoring study and the lichen monitoring project.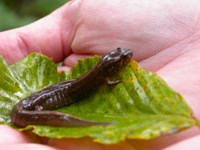 Focus on the Scientific Method and Aquatic Biology - Grade 8, High School Earth Science, Biology, Chemistry, AP Biology and AP Chemistry
Students work their way through the scientific method as they collect data on two long-term monitoring projects. One group of students will go to a creek to collect water quality data and recapture information for a salamander mark and recapture study. The other group of students will visit a permanent monitoring plot to sample for spiders using a variety of exciting techniques. Data is taken back to the classroom where students analyze it to create a scientific paper. Follow this link to view data collected on the salamander mark/recapture study. Maximum group size is 40.
Additional programs are available on topics such as tardigrades, tree phenology and climate change. For more information, see the Park's ranger-led field trip webpages for middle school and high school.
---
Frequently asked questions:
Is this just another field trip? No, the educational program offered at Purchase Knob involves students in real scientific research. Various researchers have worked with park staff to develop ways students can collect meaningful data while still meeting teachers' classroom needs. All programs are correlated with the National Science Education Standards and North Carolina curriculum standards of the targeted grade. The program utilizes park rangers as the subject experts and primary instructors. The park becomes an outdoor "classroom". In addition to the field experience, all units contain a pre-visit packet with logistical information and pre- and post-site lessons for use in the classroom.
How can my class participate? Programs are offered weekdays in the spring and fall from 10:00-1:00 (we can be flexible on time). Class size: minimum 10, maximum 60, unless otherwise noted. School groups are required to be accompanied by teachers and chaperones, with at least one per ten students. Teachers and chaperones are responsible for discipline and must remain with the group during the program. Portions of the program are conducted rain or shine.
Is there a fee for the program? No, the costs for programs at Purchase Knob are covered through donations from Friends of Great Smoky Mountains National Park and the Great Smoky Mountains Association.
---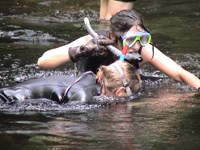 Educator Training Opportunities
Professional development seminars are offered on a variety of topics in partnership with a variety of organizations. New training opportunities are added occasionally so check back periodically for upcoming opportunities.
2016 Workshops: All workshops qualify for North Carolina state environmental education criteria I, II or III credit and continuing education unit (CEU's) depending on the workshop length.
Workshops are listed below but more information on each can be found at our Professional Development page.
Last updated: August 20, 2021