Accessibility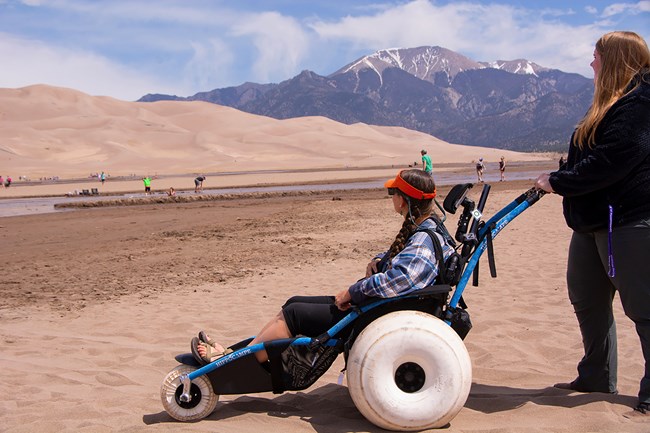 Great Sand Dunes is continually working to improve access so that everyone can experience this unique landscape. If you have special needs or particular questions, please contact a staff member at 719-378-6395, or e-mail us.
Access to the Dunes
The closest parking to the dunefield is the Dunes Parking Area, located 1 mile north of the Visitor Center. There is an accessible mat from the dunes parking area to the edge of the Medano Creek and the sand. However, beyond the edge of the dunes, loose sand and the creek make access into the dunefield itself nearly impossible for those with traditional thin-wheeled chairs.
Visitors can reserve the free use of special balloon-tire wheelchairs to access the dunes. You'll need a strong helper to push the chair through sand. When you make a reservation, you can choose a newer style wheelchair with three wheels and sleek design, or a traditional upright dunes wheelchair. The seat dimenions of each are listed below each photo.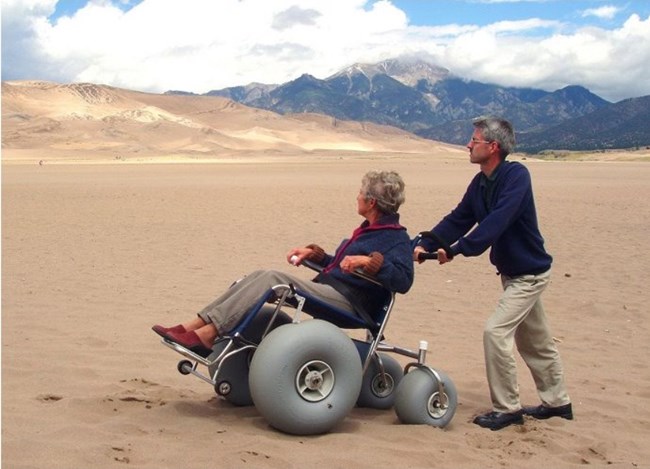 Please keep these guidelines in mind when using sand wheelchairs:
The adult chairs are not suitable for very large adults, or for an adult holding a child. The balloon tires can only support standard adult weight limits.
Chairs should be borrowed only by those who need a chair for access.
You'll need to leave an ID at the visitor center to ensure that the closet key is returned. Return the chairs at least 1/2 hour before the visitor center closes.
Sand wheelchairs should only go on sand or smooth pavement, never on rocks or cactus which may pop the balloon tires.
While the chairs are fairly easy to push in the wet, firm sand along Medano Creek, pushing the chairs through dry, soft sand takes some strength and perseverance, even with balloon tires. During dry times of the year, the sand may become especially soft.
Reserve a wheelchair in advance by calling the visitor center at 719-378-6395.
Visitor Center
Open daily, the building and rest rooms are fully accessible. A 20-minute captioned introductory film is shown daily during the summer months and on request during the winter months. Learn more about the Visitor Center.
Picnicking at the Dunes Picnic Area
There is one accessible site with a hardened trail to a nearby accessible restroom. The site is shaded and close to a small seasonal creek. Learn more about picnicking at Great Sand Dunes.
Free Ranger Programs
Most programs are accessible. Daily programs take place at the Visitor Center. Evening programs are offered many nights in the amphitheater from late May through early September. A paved, lighted, and mostly level trail leads from the campground to the amphitheater. For programs in the sand, you may check out a dunes wheelchair. Check with park staff for other offerings that may be accessible.


Last updated: April 20, 2023