Picnicking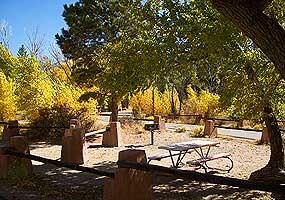 The picnic area at Great Sand Dunes NPP stretches along the edge of the dunes and seasonal Medano Creek. Most sites have some shade from cottonwood and/or conifer trees. Each site has a picnic table and charcoal grill (no wood fires). In summer months, a restroom is available in the middle of the picnic area. Restrooms are available year round near the picnic area at the adjacent Dunes Parking Lot.
Picnic sites are day-use only; visit our camping page for overnight camping stays, or lodging page for nearby motel and other accomodations.
Group Picnic Sites
There are two picnic sites for larger groups: North Ramada (first-come, first-served), and South Ramada (by reservation only). View photos of the group picnic sites:
North Ramada Picnic Area View #1
North Ramada Picnic Area View #2
South Ramada Picnic Area View #1
South Ramada Picnic Area View #2

South Ramada Picnic Area (by reservation)
Visitors can reserve the picnic area over the phone at 719-378-6395, or in person at the visitor center.
Reservations are accepted as long as there is availability.
Each reservation must have a start and end time.
Reservations can be made for morning, afternoon, and/or evening hours. However, different restrictions may apply depending on your reservation time.
Reservations are for groups of 15-70 people. Reservations for more than 70 may be approved on a case by case basis. Talk to a park ranger for more information.
Restrooms, trash and recycling cans, and drinking water are nearby.
Limited parking is nearby; additional parking can be found at the Dunes Parking Lot.
Last updated: April 8, 2021