Pets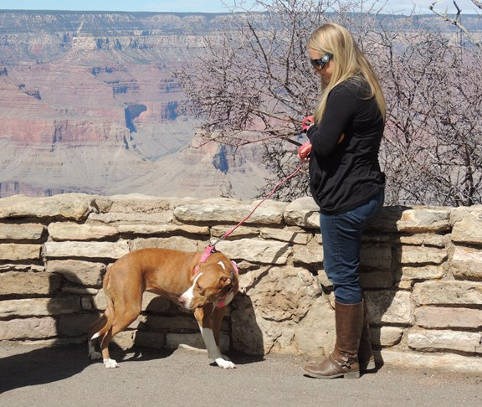 Grand Canyon National Park was established:
"To preserve an amazing variety of landscapes, plants and wildlife and to provide a place for people to enjoy wilderness."
Pets are not allowed below the canyon rim.
Inner canyon trails are narrow and well-travelled. Pets can be unpredictable on a trail. They can jump at hikers or runners, spook them, and cause an accident.

Pets can harass or harm wild animals by making noise, chasing them or catching them.

Pets can damage the ground and plants by digging or rolling.

Pets can attract predators such as cougars or coyotes looking for easy meals.
Where can I visit with my pet?
To help everyone enjoy the park and for the safety of you, your pet, and park wildlife, the following regulations apply in Grand Canyon National Park. Rules differ on neighboring national forest, state, and tribal lands.
Pets must be leashed (up to 6 feet) at all times.
On the South Rim
Leashed pets are allowed on trails above the rim, Mather Campground, Desert View Campground, Trailer Village, and throughout developed areas.
Yavapai Lodge is the only in-park lodge that has pet friendly rooms.
Pets may also be boarded at the South Rim Kennel.

NOTE: The Kennel remains CLOSED AT THIS TIME (3/24/2021)
Pets are not permitted:
Below the rim (on inner canyon trails).
On park shuttle buses.
In park lodging, with the exception of those staying with their owners in a pet friendly room.
On the North Rim
Leashed pets are only allowed on the bridle trail (greenway) that connects the North Kaibab Trail, and the portion of the Arizona Trail north to the park entrance station. There is no Kennel on the North Rim.
At Tuweep
Leashed pets are only allowed on established roads and in the campground.
Tips for a great visit with your pet
Do not leave pets tied or unattended outside or in your vehicle.
Pet excrement must be immediately collected and disposed of in the nearest trash can.
During the summer, high temperatures and elevation can affect your pet. Ensure that your pet has enough water, snacks, and paw protection from the hot rim pavement.
Grand Canyon Kennel (South Rim) 928-638-0534
NOTE: The Kennel remains CLOSED AT THIS TIME (3/24/2021)
Operated by Xanterra Parks & Resorts.
Open Daily: 7:30 am - 5 pm 365 days a year
Owners dropping off or picking up outside of business hours, must go in person to Maswik Lodge to make arrangments

Pets are not permitted in most guestrooms in the lodges on the South Rim and must be boarded at the kennel. The kennel accepts dogs and cats only, from 7:30 a.m. to 5:00 p.m. daily and reservations are recommended (especially for the summer months and holidays). Pets are accepted for day or overnight boarding and food is included.
Proof of vaccination must be provided upon entering the kennel.
Dogs need proof of current inoculation against rabies, DHLP, bordetella, and parvo.
Cats need proof of current inoculation against rabies, feline leukemia, and distemper combo (FDVR).
* Feline leukemia vaccination proof not required for indoor cats, with a doctor's note.
The park kennel is located on the South Rim near Maswik Lodge.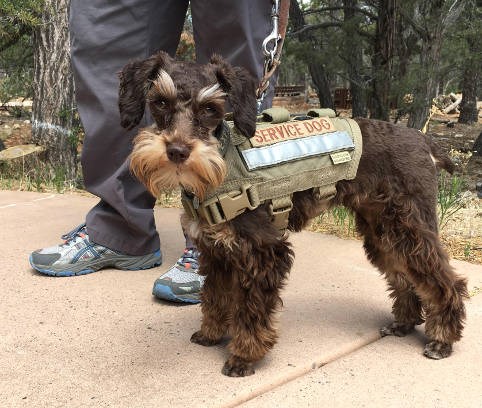 What Are Service Animals?
"Service animal means any dog that is individually trained to do work or perform tasks for the benefit of an individual with a disability, including a physical, sensory, psychiatric, intellectual, or other mental disability. Other species of animals, whether wild or domestic, trained or untrained, are not service animals for the purposes of this definition.

The work or tasks performed by a service animal must be directly related to the handler's disability. Examples of work or tasks include, but are not limited to, assisting individuals who are blind or have low vision with navigation and other tasks, alerting individuals who are deaf or hard of hearing to the presence of people or sounds, providing non-violent protection or rescue work, pulling a wheelchair, assisting an individual during a seizure, alerting individuals to the presence of allergens, retrieving items such as medicine or the telephone, providing physical support and assistance with balance and stability to individuals with mobility disabilities, and helping persons with psychiatric and neurological disabilities by preventing or interrupting impulsive or destructive behaviors.

The crime deterrent effects of an animal's presence and the provision of emotional support, well-being, comfort, or companionship do not constitute work or tasks for the purposes of this definition."
- The Americans with Disabilities Act
Last updated: March 28, 2021