Tuweep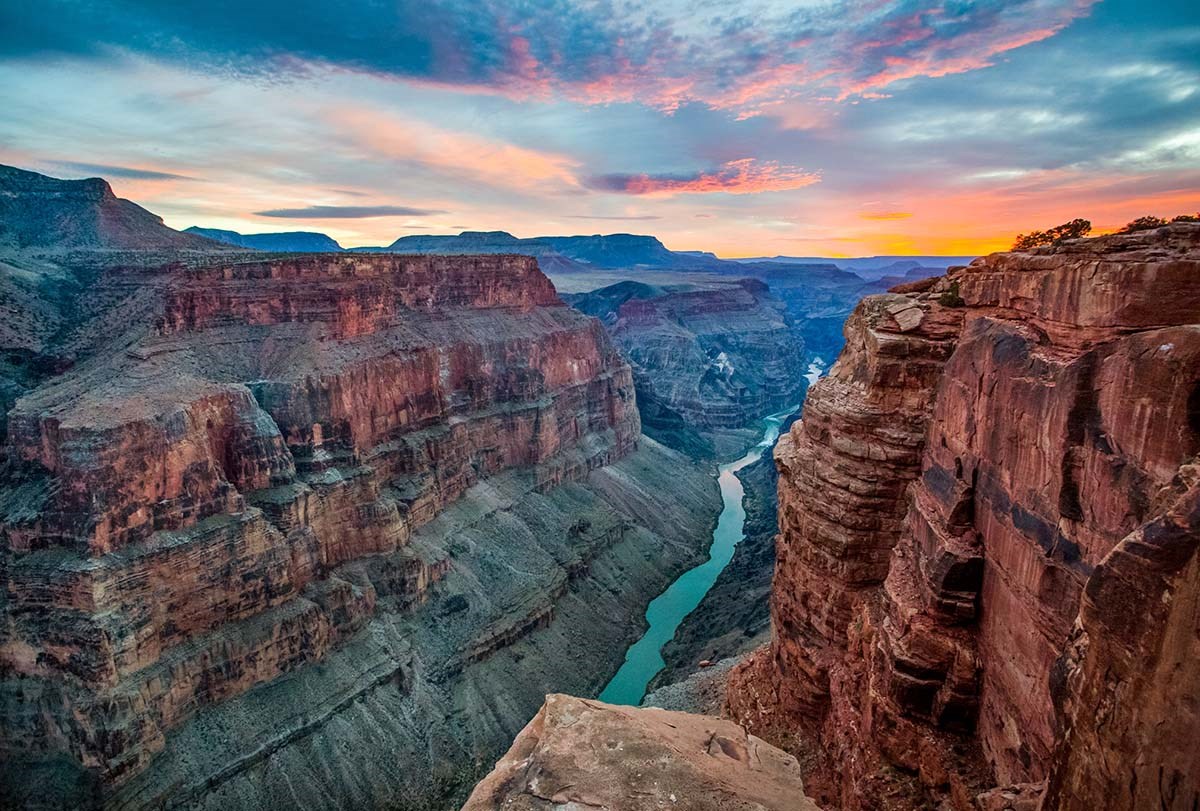 Advance Permit Required
These are not available on site and must be purchased prior to trip.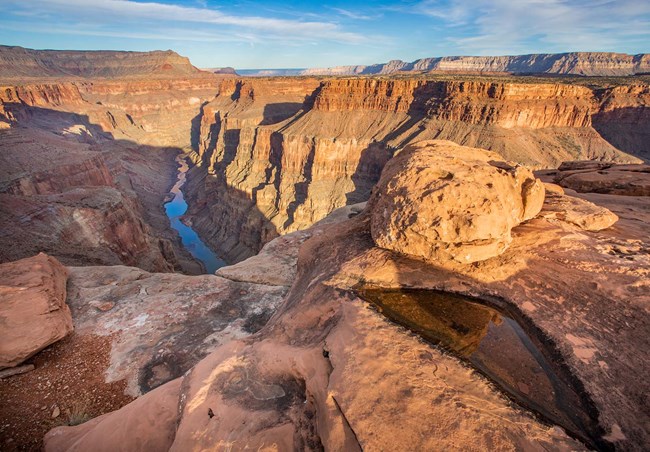 Welcome to Tuweep
The Tuweep area of Grand Canyon National Park is remote and getting there is challenging. There is no water, gas, food, lodging, Wi-Fi, or cell service.

The ancestral home of the Southern Paiute people, "Tuweep" refers to the broad volcanic valley and surrounding western park lands.

Today, based on an extensive public process, the area is managed for an uncrowded, rustic, wilderness experience dominated by nature and solitude. In 1995, public comment led to the development of a park general management plan outlining an entry reservation system for Tuweep.
Toroweap Overlook offers a dramatic view of the Colorado River with a sheer drop of 3,000 vertical feet (915 m). Go to the edge for a breathtaking view. Explore the slickrock and admire the native plants. But watch your step – fragile biological soil crusts abound!

Getting there is challenging and requires skill at negotiating high-clearance dirt roads from St. George, Utah, or Fredonia, Ariz. Summer brings torrential rain and lightning. Winter includes rain, snow, and freezing temperatures. Be flexible and prepared for rapidly changing conditions!

Download and print the Tuweep Site Bulletin (4.1 MB PDF) for offline information.
Check the Weather
Tuweep, AZ forecast

Summer: Monsoon season (July–September), complete travel before midday storms. Isolated flooding occurs with forecasted precipitation as low as 10%.
Winter: In muddy conditions, travel on frozen roads (nightly temps forecasted 20°F / -7°C). Sun thaws roads by 9 am.
Traveling
Travel with no more than 4 total vehicles and 11 people.

Highway license plate and insurance required.

Maximum total length end-to-end is 22 feet (6.7 m).

Noise limit = normal conversation; 60 dBA at 50 feet (15.2 m).

Driving muddy roads prohibited.

Travel under 30 mph (50 kph) and reduce tire pressure to avoid flat tires; tow service, if available, $1,000+.

Pets (leashed), bikes, and vehicles restricted to roads.

No drones, paragliders, or wingsuits.
Preparedness
Be prepared! No gas, water, food, lodging, WiFi, or cell service.

Have adequate fuel and repair items like tire plugs and bike pump.

Day use: gate open sunrise to 30 minutes past sunset; arrive 1 hour prior to sunset.

Overnight use: obtain advance Backcountry Permit; arrive by sunset.

Fires and charcoal prohibited; fossil fuels allowed.

Most filming requires advance permit.

Photography requires advance permit if uses props or impacts resources.

No hunting or collecting.

Pack out all trash.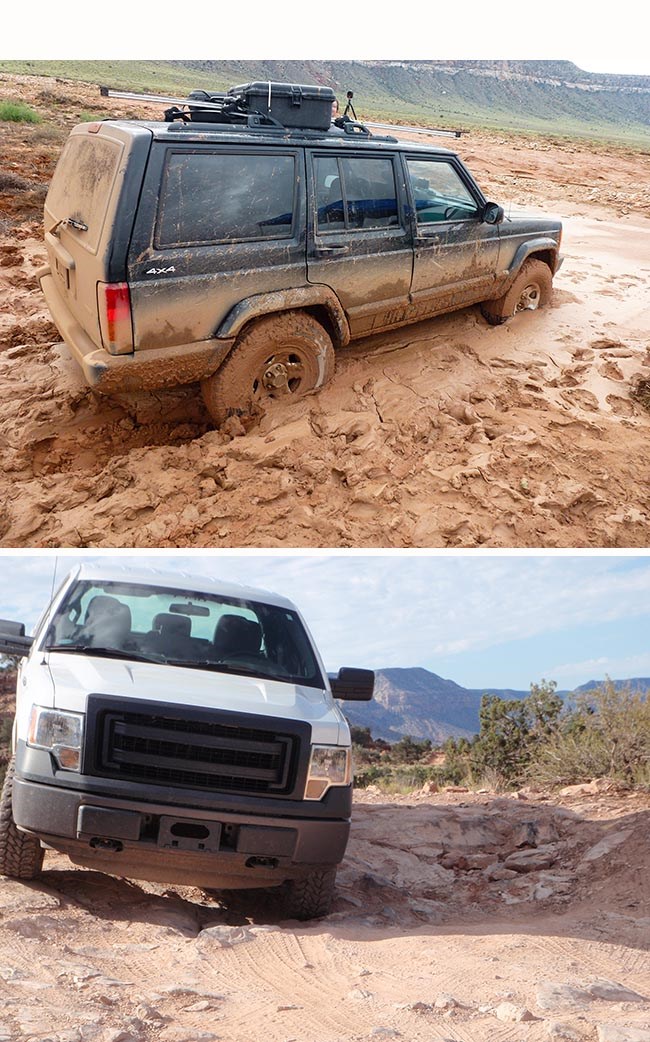 Access
Access the three main routes to Tuweep from AZ 389 between Fredonia, AZ, and St. George, UT. Allow 3+ hours driving time one way on dirt roads. GPS navigation to remote locations can be unreliable. Muddy conditions exist during summer monsoons and from winter precipitation.

Sunshine Route (County 109, 5, and 115)
Leaves AZ 389 8 mi (13 km) west of Fredonia, AZ, or 6 mi (10 km) east of Pipe Spring National Monument. This 61 mi (98 km) road features sharp rocks, washboarding, and dust. Do not stop on tribal land.

Main St Route (BLM 1069, County 5 and 115)
Leaves St. George, UT. It is 90 mi (145 km) to Tuweep. Impassable in winter due to snow/mud.

Clayhole Route (County 5 and 115)
Leaves AZ 389 at Colorado City, AZ. It is 56 mi (90 km) to Tuweep. Impassable when wet.

Tuweep Airstrip: Closed.
Most routes to Tuweep travel through Grand Canyon-Parashant National Monument.
Camping and Overnight Use
Staying at the campground offers the perfect opportunity to experience sunsets, sunrises, and the amazing stars in-between. Enjoy the silence.

Backcountry permits are required for camping and overnight use at Tuweep Campground and in all backcountry use areas. Complete a Backcountry Permit Application using "TCG" for the use area, entry, and exit location codes and mail or fax the completed form to the address at the top of the form. A "TCG" permit costs $10 per permit plus $12 per group per night. Permits cannot be issued at Tuweep. Camping is prohibited on the land adjacent to the park and at the airstrip.
Tuweep Campground
There are nine campsites for one to six people with a maximum of two vehicles, including motorcycles, and one group campsite for seven to eleven people with a maximum of four vehicles, including motorcycles.
Must arrive by sunset.

Fires and charcoal prohibited; fossil fuels allowed.

Picnic tables and composting toilets provided.

No water available.

Store all food and garbage in a vehicle; pack out all trash.

Seven night limit; affiliated groups are limited to one campsite.

Stock animals not permitted.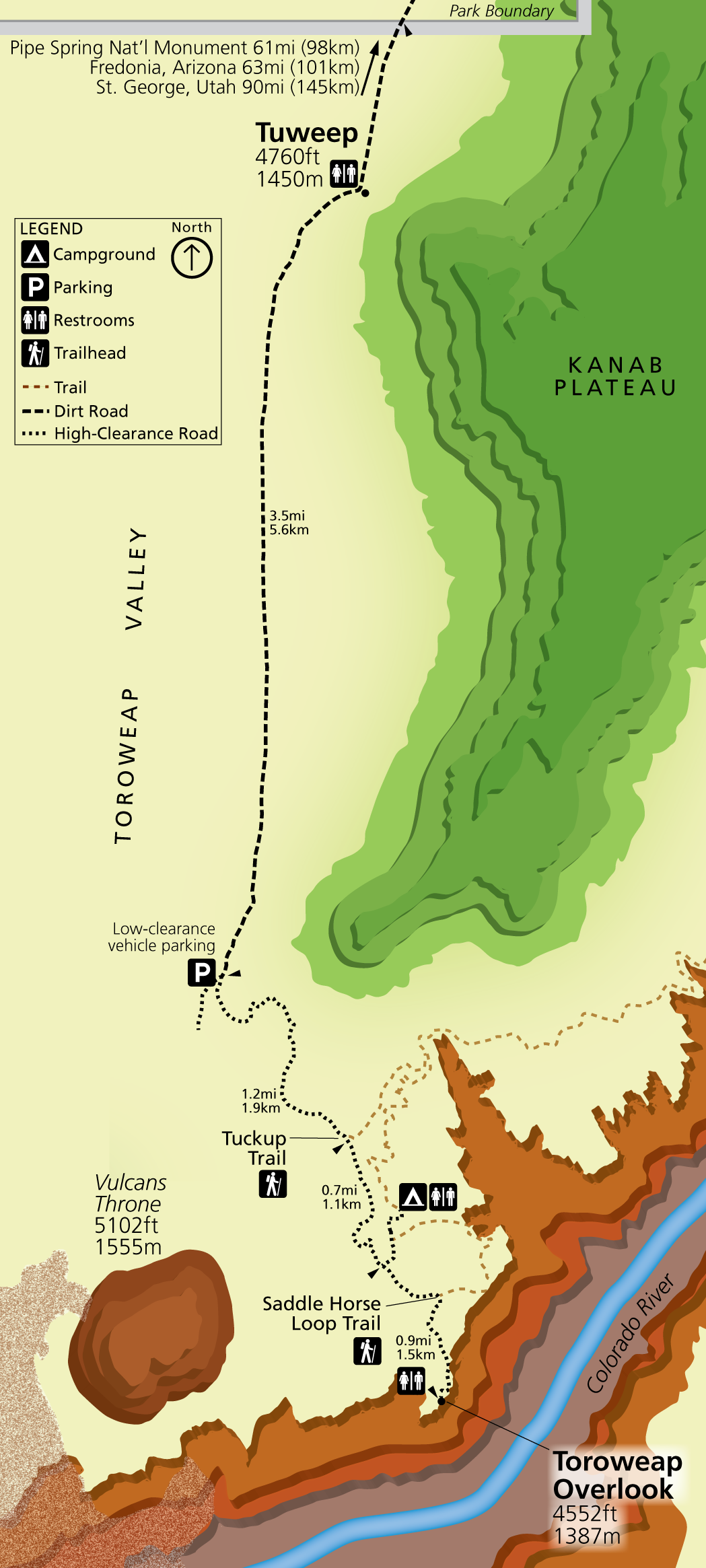 What to Experience
Watch Your Step! For your safety, as well as the protection of a delicate ecosystem, be careful where you step and drive. A 3000-foot (915 m) drop is one concern. The less obvious micro-biotic crusts are another; they hold soil and plant nutrients in place and can be easily damaged. When exploring on foot, please stay on trails, roads, washes, or rock surfaces to protect the crusts and avoid damaging native plants. When driving, passing another vehicle, or parking, stay on the road or in delineated parking areas.

Toroweap Overlook
Dramatically different than other Grand Canyon viewpoints, Toroweap Overlook peers out over an abrupt gorge set in a broad corridor 3,000 feet (915 m) below the rim. Eight, million-year-old lava flows and conical black cinder cones stud the landscape. Walk to the edge for a breath-taking experience. To the west, view the largest rapid on nearly 300 miles (485 km) of the park's Colorado River. Listen carefully for the roar of the river or the faint sounds from boaters below. To the east, enjoy dramatic views.

Tuweep Hiking Trails
Two established hiking trails can be accessed from Tuweep. Their trailheads are signed and cairns (piles of rock) mark their path. Plan ahead for your hike and remember that shade is scarce and water non-existent. All trails are closed to pets, bicycles, and vehicles.
Tuckup Trail: The Tuckup Trail gives hikers a spectacular taste of Esplanade slick-rock on a former prospector's path. Follow the trail 3 miles (5 km) to Cove Canyon and experience an inner-canyon day hike rewarded with endless views. Access the Tuckup Trailhead north of Tuweep Campground or, if camping, from site 10.

Saddle Horse Loop Trail: This 45-minute loop offers spectacular views of the Colorado River, as well as a colorful walk through the native plant gardens protected and nourished by beautiful displays of micro-biotic crusted soils. Every inch of crusted toppings signifies 10-years of growth and erosion. Imagine what the landscape would look like without these living organisms doing their job. Access the trail along the road between Toroweap Overlook and Tuweep Campground or from a trailhead near campsite 5.
Adams Leaning Wheel Grader
Down the road from Tuweep you will see evidence of the area's history—an antique pull grader. This 1921 relic from the Toroweap Valley takes us back to the resourceful nature of those who made a living here.
Geology
The geologic history of the Tuweep area is similar to the rest of Grand Canyon, but includes a more recent chapter of volcanism. The Toroweap Fault underlies the valley, crosses the Colorado River, and continues south up Prospect Canyon. Volcanic activity began along this fault around seven million years ago. Over time, lava issued from more than 60 vents. Beginning about 1.2 million years ago, lava flowed into Toroweap Valley, forming the flat-bottomed valley we see today. Vulcan's Throne, Mount Trumbull and the Uinkaret Mountains are all the result of volcanic activity.

More than a dozen times, lava spilled over the canyon rim, damming the Colorado River. Remnants of these flows and dams are visible just west of the overlook. Sediments clinging to the canyon walls high above the river indicate the formation of large lakes. The river eroded the lava dams and continued its downward cutting. It is now 50ft/15m deeper than the base of the dams. Despite its name, Lava Falls Rapid was formed from debris washed down Prospect Canyon, not from remains of the lava flows.

It is less than one mile across the canyon to the Hualapai Indian Reservation on the South Rim, making this one of the narrowest and deepest segments of the inner canyon. The colorful red-rock of the Hermit Shale and Supai sandstones to the east contrasts with the black, basaltic lava flows to the west.

For more information, download the Tuweep Geology Bulletin (1.6 MB PDF).
Ecology
Tuweep sits at an elevation of 4500ft /1400m on a landform known as the Esplanade which forms a flat shelf situated about halfway between the coniferous forests of the North Rim and the hot canyon bottom. This is a high desert area with mild winters and light snows. Summers are hot with thunderstorms from July to September.

In Toroweap Valley a chaparral community exists with juniper and pinyon pines, sagebrush and saltbush, Mormon tea and other woody shrubs, and various grasses. Near the Esplanade, succulent cacti, yucca, and agave predominate. In years of abundant winter moisture, wildflowers proliferate. Some life forms, like the crusty black biological soil crust, are rare and sensitive. Please avoid stepping on these fragile living organisms!

Wildlife includes coyotes, mule deer, jackrabbits, rodents, and numerous species of birds and reptiles. An often-overlooked and little-understood biotic community exists seasonally in the slick-rock potholes on the Esplanade. Fairy and horseshoe shrimp, tiny frogs, and microscopic organisms emerge from the muddy bottom when moisture fills these pools.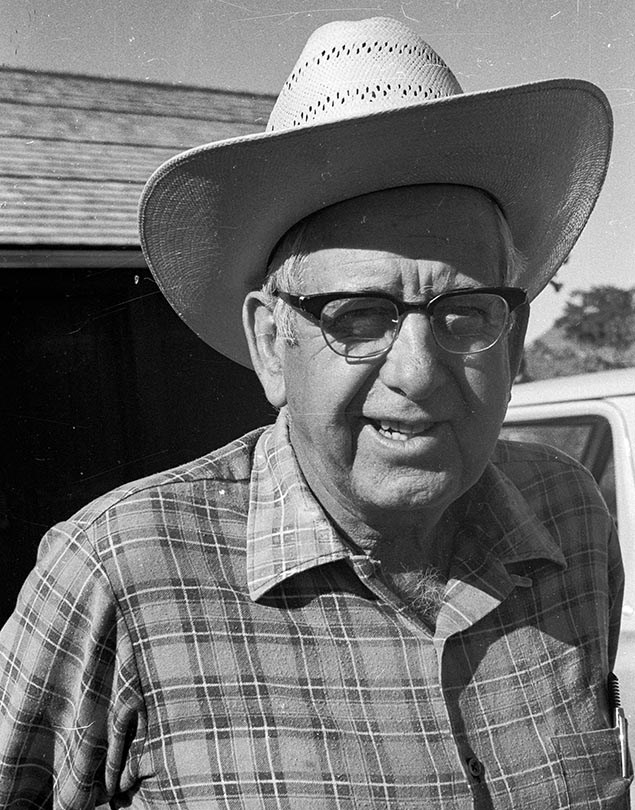 Human History
Toroweap, a Paiute term meaning "dry or barren valley," refers to local features, including the valley and the overlook. Tuweep came into use to describe the local white settlement and later the park area. Tuweep in Paiute (pronounced Tu-VEEP) refers to "the earth".

The first humans in the Tuweep region were ice-age hunters who lived a nomadic hunting-gathering existence in what was a milder climate. The Ancestral Puebloans, arriving about 2000 years ago, farmed in this area. They migrated eastward around A.D.1300. The most recent native Americans living here were the Paiute. They now live to the north.

John Wesley Powell, led by a Paiute guide, visited Tuweep in 1870. He mapped and named many of the local features. More recently, European-Americans ranched, mined, and settled in the area. While ranchers used this valley seasonally in the early 1900s, the first year-round homestead was the Lower Kent Ranch, built in 1927, located just north of the park. Other pioneers in the region included the Schmutz, Cunningham, Craig, and Bundy families. Henry Covington herded sheep and mined on the Esplanade for over 20 years. There are still many sites that speak of his determination to live and prosper in this arid region.
Last updated: September 30, 2023