Grand Canyon Star Party 2023, June 10-17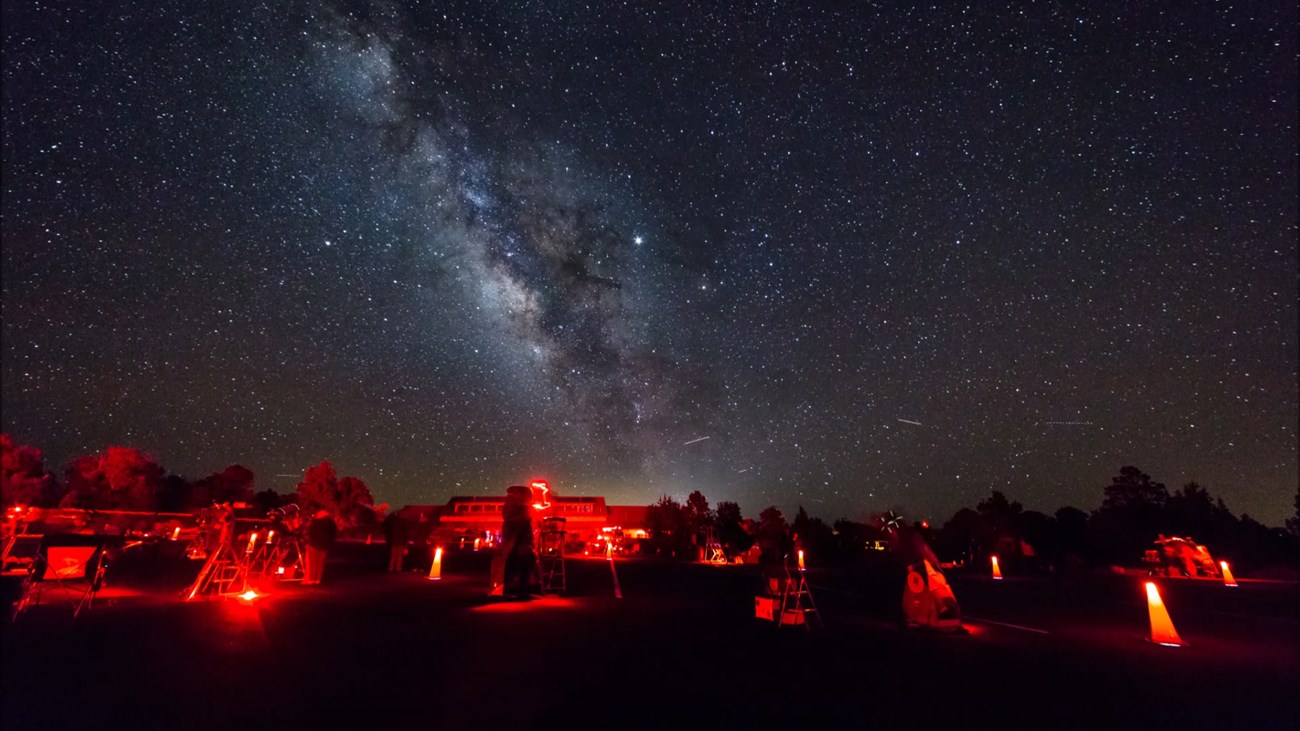 Things to Know about the 2023 Star Party
Attend this free, open to the general public, event. The park entrance fee, is good on both South and North rims for 7 days. No additional tickets or sign-up is required.

The event begins at sunset, although the best viewing is after 9 pm and many telescopes come down after 11 pm; however, on nights with clear, calm skies, some astronomers continue sharing their telescopes into the night.

Campground or lodging reservations are recommended.
Dress warmly. Temperatures drop quickly after sunset—even during summer months.
View an assortment of planets, double stars, star clusters, nebulae and distant galaxies by night, and perhaps the Sun or Venus by day.
Skies will be starry and dark until the moon rises the first night. It rises progressively later throughout the week of the Star Party.
Bring a Red Flashlight
Make your way safely: use a red flashlight; white flashlights and cell phone lights are discouraged on the telescope lot. Make a red flashlight by:
Covering any flashlight with red cellophane, a limited supply of cellophane and rubber bands are available prior to the evening presentations at the Grand Canyon Visitor center)

Painting the flashlight lens with red nail polish or a red magic marker.
For more on why red flashlights are helpful, and how the human eye works after dark, click here.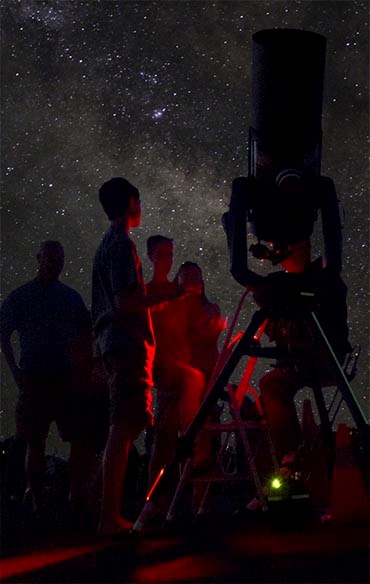 South Rim Star Party 2023

Events include an outdoor evening program nightly, just outside Grand Canyon Visitor Center — at 8 pm, followed by telescope viewing in the large lot behind the Visitor Center.

To attend the evening programs, arrive before 8 pm to be sure of getting a good view of the screen, or arrive after dark and head straight to the telescope lot.

Park rangers offer constellation tours at 9, 9:30, and 10 pm. The slide show, constellation tours, and at least one telescope are wheelchair accessible.

The closest accessible parking is in lot 4. Lots 1 through 3 offer additional parking.

During the Star Party, the Village Route (blue) shuttle bus runs every half-hour until 11 pm sharp.

The South Rim Star Party is sponsored by the Tucson Amateur Astronomy Association.

Amateur astronomers from across the country volunteer their expertise and offer free nightly astronomy programs and telescope viewing.
Star Party Evening Programs (South Rim)
South Rim Visitor Center. Doors open at 7:40 pm. Presentations start at 8 pm. (Limited-capacity seating)
Sat June 10 – Ravis Henry
Park Ranger
Canyon De Chelly National Monument
Seeing the Skies Through Diné Eyes
Discover the stars as seen through Navajo culture.
Sun June 11 – NASA's Dr. Julie McEnery
Senior Project Scientist
Nancy Grace Roman Space Telescope
NASA
Science Behind NASA's Nancy Grace Roman Space Telescope
Hear from NASA scientist, Julie McEnery, about the next NASA flagship telescope, the Nancy Grace Roman Space Telescope. Scheduled to launch before May 2027, Roman is designed to settle essential questions in the areas of dark energy, exoplanets, and infrared astrophysics.
Mon June 12– Dean Regas
Outreach Astronomer,Cincinnati Observatory
Co-Host of PBS's Star Gazers
Tour of the Universe: You Are Here
Rocket through space and sail among billions of stars and galaxies as you contemplate the mind-blowing scale of the universe.
Tue June 13 – Kevin Schindler
Lowell Observatory Historian
Lowell Observatory, Flagstaff AZ
From the Canyon to the Moon: Apollo Astronauts at Grand Canyon
Learn about the historic Apollo astronaut training that occurred at Grand Canyon in the 1960s.
Wed June 14 – Dr. Vishnu Reddy
Professor of Planetary Sciences
University of Arizona
Planetary Defense: Surveying the Sky for Killer Asteroids
Learn about our knowledge of meteors and what astronomers do to mitigate the threats of meteor impacts.
Thurs June 15 – Kenny Bowekaty
Zuni Spiritual Leader, Archaeologist, Tour Guide
Zuni Pueblo
Zuni World View
Discover the ways the Sun, Moon, and stars are woven into the Zuni world view, as revealed through spiritual leaders and Zuni prayer.
Fri June 16 – Gerald Dawavendewa
Hopi Artist
Exploring the Hopi Cosmos
Discover the Hopi peoples' cultural connections to the cosmos through artwork.
Sat June 17 – Aaron Yazzie
Mechanical Engineer
American Indian Science and Engineering Society
NASA Jet Propulsion Laboratory
Mars Perseverance
Learn about the revolutionary new rover that landed on Mars from someone who helped build it. Discover the connections between Mars and the Navajo Nation from someone intimate with both lands.
Night Sky Photography Workshops (South Rim)
Night Sky Photography Workshops meet at Grand Canyon Visitor Center at 9:30 pm, then take place out under the stars. Workshops are free and open to the public.
Schedule Coming soon
Constellation Talks (South Rim)
Constellation talks happen every night of the event: 9, 9:30 and 10 pm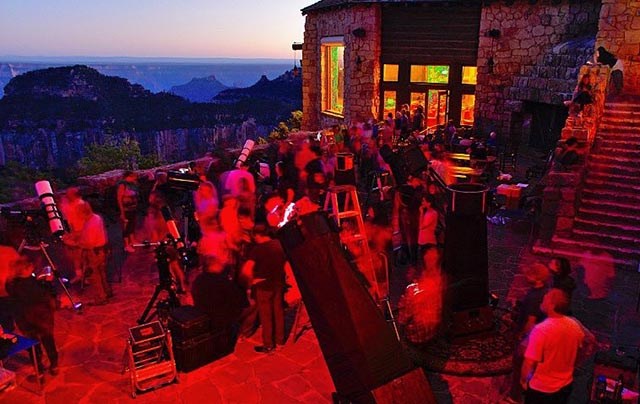 North Rim Star Party 2023

Telescopes are set up on the porch of the Grand Canyon Lodge every evening. An astronomy related evening program will be presented at 7:30 pm at the Bright Angel Point Amphitheater. Check park bulletin boards for the evening program schedule.

Constellation talks are also given throughout the evening.

By day, look for solar telescopes set up at various locations.

The North Rim Star Party is sponsored by the Saguaro Astronomy Club of Phoenix, Arizona.
Become a Volunteer in 2023
All amateur astronomers interested in sharing the skies with visitors are invited to participate. Whether you can volunteer for a few days or the whole event, you can help to enrich the lives of people from all over the world.

Find volunteer opportunities for day and night telescopic outreach, visual and imaging, laser guided constellation tours, demonstration toolkits and auditorium presentations. Register through the astronomy clubs sponsoring the event, links provided.
Rader Lane, Night Sky Park Ranger
Grand Canyon National Park
(928) 638-7641
Future Star Party Dates
2023: June 10–17
2024: June 1–08
2025: June 21–28
2026: June 6–13
Visit our keyboard shortcuts docs for details
Duration:

10 minutes, 4 seconds
Experience the mystery and wonder of Grand Canyon National Park's night sky with Astronomer Tyler Nordgren and Park Ranger Rader Lane. Explore the beauty of the night sky and learn what you can do to help preserve it.
Last updated: May 26, 2023