Grand Canyon Star Party, June 13–20, 2020
National parks protect some of the last remaining dark skies in the United States and embraces night skies as one of the many scenic vistas to preserve. Due to its remoteness and clean air, Grand Canyon National Park is one of the best night sky observation sites.

For eight days every June, park visitors explore the wonders of the night sky on the South Rim with the Tucson Amateur Astronomy Association, and on the North Rim with the Saguaro Astronomy Club of Phoenix, Arizona.
Learn and Explore
Things to Know about the Star Party
Attend this free, open to the general public, event. The park entrance fee, is good on both South and North rims for 7 days. No additional tickets or sign-up is required.

The event begins at sunset, although the best viewing is after 9 pm and many telescopes come down after 11 pm; however, on nights with clear, calm skies, some astronomers continue sharing their telescopes into the night.

Campground or lodging reservations are recommended. 
Dress warmly. Temperatures drop quickly after sunset—even during summer months.
View an assortment of planets, double stars, star clusters, nebulae and distant galaxies by night, and perhaps the Sun or Venus by day.
Skies will be starry and dark until the moon rises the first night. It rises progressively later throughout the week of the Star Party.
Bring a Red Flashlight
Make your way safely: use a red flashlight; white flashlights and cell phone lights are discouraged on the telescope lot. Make a red flashlight by:
Covering any flashlight with red cellophane, a limited supply of cellophane and rubber bands are available prior to the evening presentations at the Grand Canyon Visitor center) 

Painting the flashlight lens with red nail polish or a red magic marker.
For more on why red flashlights are helpful, click here.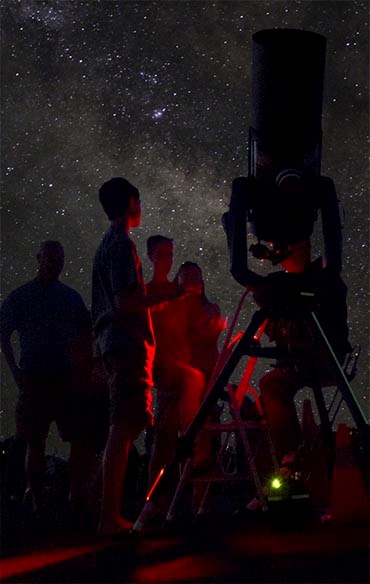 South Rim Star Party

Events include an evening program nightly in the Visitor Center Theater at 8 pm, followed by telescope viewing behind Grand Canyon Visitor Center.

Theater capacity is limited. Arrive well before 8 pm to be sure of getting in, or come after dark and head straight to the telescope lot.

Park rangers offer constellation tours at 9, 9:30, and 10 pm. The slide show, constellation tours, and at least one telescope are wheelchair accessible.

The closest accessible parking is in lot 4. Lots 1 through 3 offer additional parking.

During the Star Party, the Village Route (blue) shuttle bus runs every half-hour until 11 pm sharp.

The South Rim Star Party is sponsored by the Tucson Amateur Astronomy Association.

Amateur astronomers from across the country volunteer their expertise and offer free nightly astronomy programs and telescope viewing.

Star Party Evening Programs (South Rim)
South Rim Visitor Center. Doors open at 7:40 pm. Presentations start at 8 pm. (Limited-capacity seating)
Program Schedule Coming soon
Night Sky Photography Workshops (South Rim)
Night Sky Photography Workshops meet at Grand Canyon Visitor Center at 9:30 pm, then take place out under the stars. Workshops are free and open to the public.
Schedule Coming soon
Constellation Talks (South Rim)
Constellation talks happen every night 9, 9:30 and 10 pm
Schedule Coming soon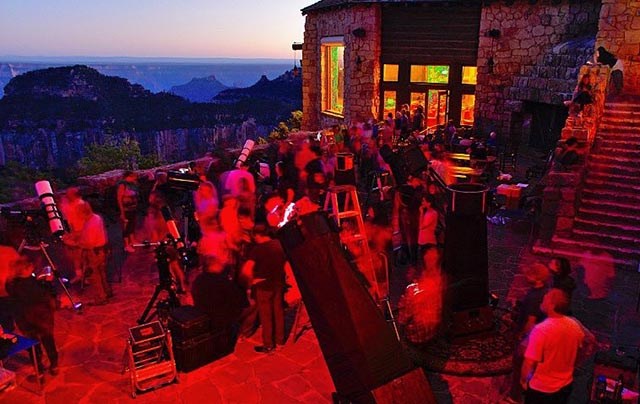 North Rim Star Party

Telescopes are set up on the porch of the Grand Canyon Lodge every evening. An astronomy related evening program will be presented at 8 pm in the auditorium of Grand Canyon Lodge. Check park bulletin boards for the evening program schedule.

Constellation talks are also given, throughout the evening.

By day, solar telescopes are set up at the lodge, the Visitor Center and the general store (by campground.)

The North Rim Star Party is sponsored by the Saguaro Astronomy Club of Phoenix, Arizona.
Learn and Explore
Be a Volunteer
All amateur astronomers interested in sharing the skies with visitors are invited to participate. Whether you can volunteer for a few days or the whole event, you can experience the lives of people from all over the world.
Find volunteer opportunities for day and night telescopic outreach,visual and imaging, laser guided constellation tours, demonstration toolkits and auditorium presentations. Register through the astronomy clubs sponsoring the event, links provided.
 
Rader Lane, Night Sky Park Ranger
Grand Canyon National Park
(928) 638-7641
Future Star Party Dates
2021: June 5–12
2022: June 18–25
2023: June 10–17
2024: June 1–08
2025: June 21–28
2026: June 6–13
Star Party and Night Sky Videos
Visit our keyboard shortcuts docs for details
Duration:

10 minutes, 4 seconds
Experience the mystery and wonder of Grand Canyon National Park's night sky with Astronomer Tyler Nordgren and Park Ranger Rader Lane. Explore the beauty of the night sky and learn what you can do to help preserve it.
Dark Adaptation of the Human Eye and the Value of Red Flashlights
By Jim O'Connor of the Tucson Amateur Astronomy Association
Humans only need eight hours of sleep, maybe less, each night but there are more hours of night in most latitudes for much of the year. We tend to live a diurnal life, so we need eyes that can fill our needs both in light and dark environments.

To do so, the eye has two types of cells; cones are used mainly for color vision, rods for black and white in low light levels. In daytime we need detail to live our lives, but at night our primary need is threat detection.

The rods work best at detecting motion, for night survival. Since threats tend to sneak up from the side or behind, the rods are placed at the periphery of our eye while the cones occupy the central part of our vision. The effect is that at night we can detect motion at the edge of our view. Near the front we don't see so well at night, but if we look a bit to the side objects ahead of us can pop into view. Astronomers call this averted vision, and it is used to find faint objects in an eyepiece.

Rods don't work on their own; they are inert. Their type of nerve cell need a chemical to enable their function. The body does not produce this chemical in daytime. It takes a very low light level sensed by the eyes to produce this chemical called rhodopsin, or visual purple. When the light is detected at a low level for 20 minutes or so, the body starts producing rhodopsin and night vision starts setting in.

The other contributor to night vision is the pupil opening, but that goes to maximum within a few minutes of dark exposure.

The big player in night vision is rhodopsin, and that takes from 20 to 40 minutes for humans to start benefiting from it. A key trait of this feature is that rhodopsin is photoreactive. It only takes a few seconds of bright light to cause the rhodopsin to decay into two parts with a photosensitive reaction, and the rods stop working. Then the cycle starts again. It is an interesting trait that deep red lights do not trigger the neutralization of the rhodopsin, so astronomers and safety officials use red lights for night lighting to allow night vision to continue. Since, unless the light is monochromatic like a laser, even red light has elements from other colors, even a bright red light can reduce the rhodopsin so a dim red light is best for maximizing after-dark eye behavior.
Last updated: January 6, 2020