Hike Smart PC 03 - Heading Down Trail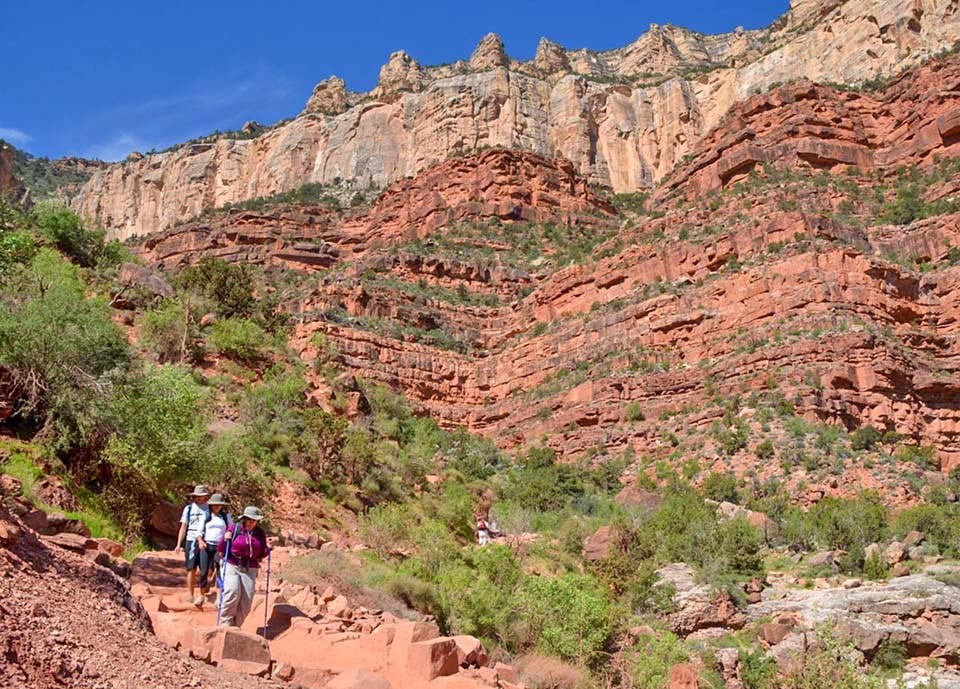 Grand Canyon Hike Smart Podcast 03: Heading Down the Trail

You know, it's all about planning... Before we start down the trail, there are a few to consider. First, are you in good physical condition? If you have a medical condition, talk to your doctor before visiting. Make sure you are healthy enough to hike steep and difficult trails.

Credit / Author:

Sarah Shier, Patrick Gamman

Date created:

05/12/2021
Heading Down the Trail: It's All About Planning
Sarah: Hi, this is Sarah with Grand Canyon National Park Preventative Search and Rescue. In the last podcast we talked about the ten essentials you should always bring with you on a hike. Before we start down the trail though, there are a few more things to consider. First and foremost, are you in good physical condition? If you have any medical problems talk to your doctor before visiting the Grand Canyon to make sure you are healthy enough to hike steep and difficult trails. You can see beautiful views of the Canyon from the Rim Trail, or you may want to limit your hike to 15-30 minutes down trail. Remember it takes most hikers one and a half to two times the amount of time it took to hike down to hike back up. So a 30 minute hike down the trail may take 1 hour to come back up.
Today we are going to patrol down to 3 mile Resthouse on the Bright Angel Trail. The weather forecast is calling for temperatures on the South Rim of 95 degrees Farenheit (35 Celsius) and 115 Farenheit (46 Celsius) at the Colorado River at bottom of the canyon. It's gonna be another hot one! On days like this hikers are advised to avoid hiking between 10 am and 4 pm because of the heat. So we're going to get on the trail early.
It's about 5 am, just after dawn. This is my favorite time of day in the canyon. The air is cool, the birds are chirping. If we're lucky we might see a bighorn sheep or a condor. You're more likely to see animals on the trail in the morning. What a great sunrise! The clouds are fushia pink and tangerine orange and the whole canyon has an orange red glow. Sometimes I see folks hiking the trails as fast as they can so they can cover more distance but they're so busy watching their feet they miss all these great views. When they get home their friends will ask "Hey, did you see anything cool at the Grand Canyon?" and they'll say "Uh…I saw my feet."
Sarah: Here's our first group of hikers. Let's go talk to them. Hi folks! My name is Sarah I'm a PSAR Ranger. Where are you headed today?
Hiker 1: We're just gonna go down to the river, check out Phantom Ranch and come back this afternoon.
Sarah: Do you know how far that is?
Hiker 1: It looks like about 2 or 3 miles, maybe 4 at the most.
Sarah: It's actually 9 ½ miles to Phantom Ranch. If you come back the same way it will be 19 miles round trip.
Hiker 1: Really?! Well, we'll be okay. We've all been hiking in the Alps. We know what we're doing.
Sarah: Hmm…so how long do you think it will take you to hike to the river and back?
Hiker 1: Well, 19 miles is a ways but we are in good shape. We should be back by 5 or 6 tonight.
Sarah: We're about 1 mile down the trail. How long did it take you to hike to here?
Hiker 1: Mmm… about 30 minutes.
Sarah: So at that pace it would take you about 4 ½ hours to get to Phantom Ranch and about 6-8 hours to get back up. That would put you back to the rim about 6 pm tonight. The air temperature at the bottom of the canyon is supposed to be about 115 degrees today, but when the rock cliffs along the side of the trail get hot in the sunlight and radiate that heat back on the trail, the trail temperatures could get to 140 or 150 degrees. You will need to get out of the afternoon heat and wait for cooler temperatures. So if you don't leave Phantom Ranch until 5 or 6 tonight with an 6 to 8 hour hike you're looking at getting done around 1-2 in the morning. That's why the Park recommends that you only go to the bottom of the canyon if you have a permit to stay there overnight. It's too far and takes too long for a day hike.
Hiker 1: Oh! Well, we really wanted to hike down into the canyon and see the river.
Sarah: How about this. It's 5:30 am. At your pace you could get to Indian Garden by 9:00. Indian Garden is halfway down into the canyon and has beautiful shade trees and a small stream. You could wait out the heat of the day, eat lunch by the stream, look at all the native plants growing there and then start your hike back up when you are well-rested at about 3 pm. By around 4 pm the trail above 3 mile Resthouse will be in shadow and will be much cooler. You will probably get back to the rim a little before sunset at 8:30 and you can catch the red line shuttle bus to the west rim by the Bright Angel Trailhead. Most of the lookout points on the west rim have views of the river. You will be able to see the river, get some great photos of the Canyon when the colors are changing at sunset, and still be able to say you did a long hike in the Grand Canyon.
Hiker 1: That's good. I like that. What's the best place for sunset?
Sarah: Lots of photographers like Hopi Point but Mohave Point, the Abyss and Hermit's Rest all have stunning views too.
Hiker 1: Ok, thanks!
Sarah: Enjoy your hike!
Sarah: A lot of hikers don't think about the fact that when you hike in a canyon the easiest part of the hike is at the beginning and the hard uphill climb is at the end of the day when you are already tired. All hikers need to know where they going, how long the trip will take, how far it is and they need to make sure the trip is reasonable for any health problems they may have. Hikers coming from low elevations need to keep in mind that the last portion of their hike to the rim will be at a much higher altitude and may take more time.
Well, let's keep heading down the trail and check on some more hikers. In the next podcast we'll talk about what to do when things go wrong, and how to rescue yourself. Did you remember to drink some water while we were stopped? (gentle laugh) You know that water's not going to do you any good if you leave it in the bottle. (FADE OUT)
Last updated: May 12, 2021