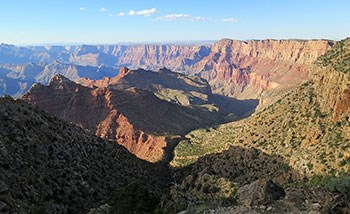 Desert View is the eastern entrance into Grand Canyon National Park
. It is located on the South Rim 25 miles east of Grand Canyon Village; allow 45 minutes driving time.
.
The Desert View area has been used as a gathering place for thousands of years. Visitors can see a glimpse of the ancient past at the Tusayan Ruin and Museum. Architect Mary Colter modeled Desert View's centerpiece, the Watchtower, after the architecture of the Ancestral Puebloan people of the Colorado Plateau.

Today Desert View represents the physical and cultural gateway from Grand Canyon National Park to the Navajo and Hopi reservations.