News Release
Safety First at the Rim - Tips for Viewing Grand Canyon National Park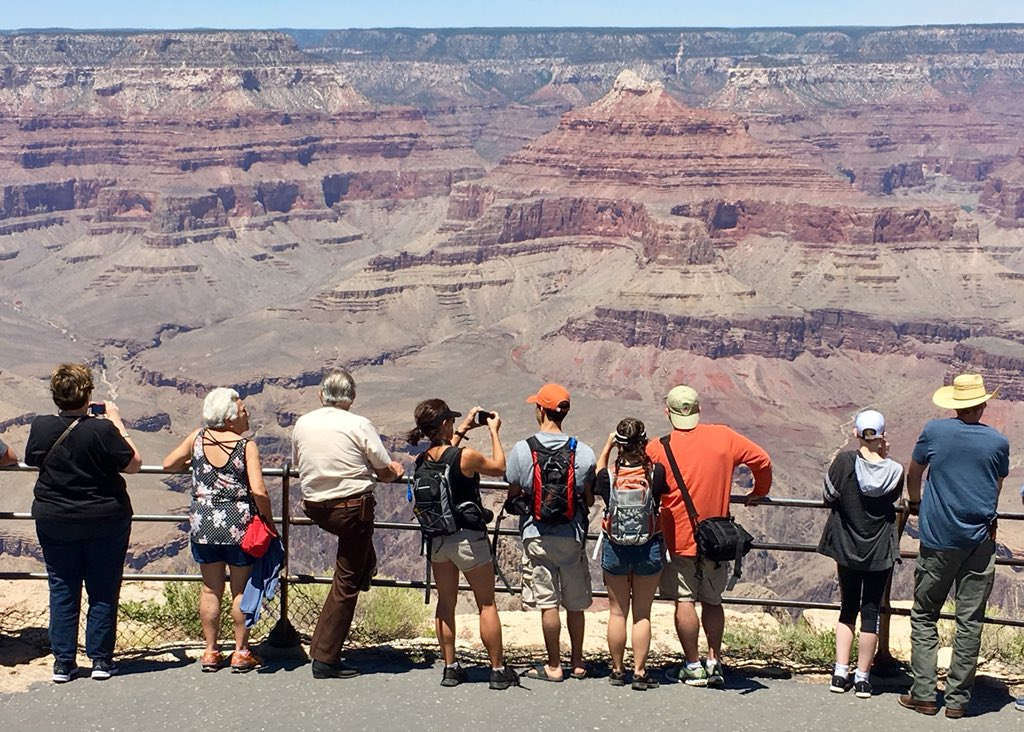 News Release Date:
July 3, 2018
Contact: Kirby-Lynn Shedlowski, 928-638-7958
Grand Canyon, AZ
- Grand Canyon National Park rangers are encouraging visitors to have a safe and memorable vacation to one of the Seven Wonders of the World. A trip to Grand Canyon can be both fun and safe by keeping these few tips in mind.
Stay on designated trails and walkways and always keep a safe distance from the edge of the rim. In areas where there is a railing or fence, do not climb over the barrier.
Keep an eye on all of the people in your group, especially small children. Make sure that your travel companions have both feet firmly planted on pavement or developed trails at all times.
Know where the edge is. Watch foot placement and look for trip hazards. Do not run, jump, or perform physical stunts when near the rim.
Know the altitude, the South Rim sits at 7,000 feet and the North Rim sits at just over 8,000 feet. Individuals coming from sea level or with health conditions should take time to acclimate to the elevation. Drink plenty of fluids, rest frequently, and do not overexert yourself.
Check the weather! Monsoon season is quickly approaching and afternoon lightning and heavy rain become daily occurrences. Remember, when it roars go indoors.
Stay a safe distance away from wild animals. A good rule is two bus lengths or if you can cover an animal with your thumb. Remember, do not feed or water wildlife.
Rangers want all visitors to have a safe and enjoyable trip. Each year, visitors suffer from slips, trips and falls that can result in serious injury or even death. On Wednesday, July 3rd rangers responded to reports of a visitor that had climbed over a railing at Mather Point, lost footing, and fell approximately 500 feet. The fall was fatal. At this time, an investigation is underway and no further information is available.
Grand Canyon National Park expects increased visitation over the Independence Day holiday and following weekend. Plan to arrive early and pack your patience. Parking lots can fill as early as 10 am.
Prior to arriving at the park you can purchase a 7-day pass on your mobile device by visiting
https://www.yourpassnow.com/ParkPass/park/grca
.
Visitors are also encouraged to use the free shuttle bus system including the option to park in the gateway town of Tusayan and ride into the South Rim Village. 
https://www.nps.gov/grca/planyourvisit/sr-tips.htm
-NPS-
Last updated: January 4, 2021