News Release
North Rim to reopen June 2 with limited services available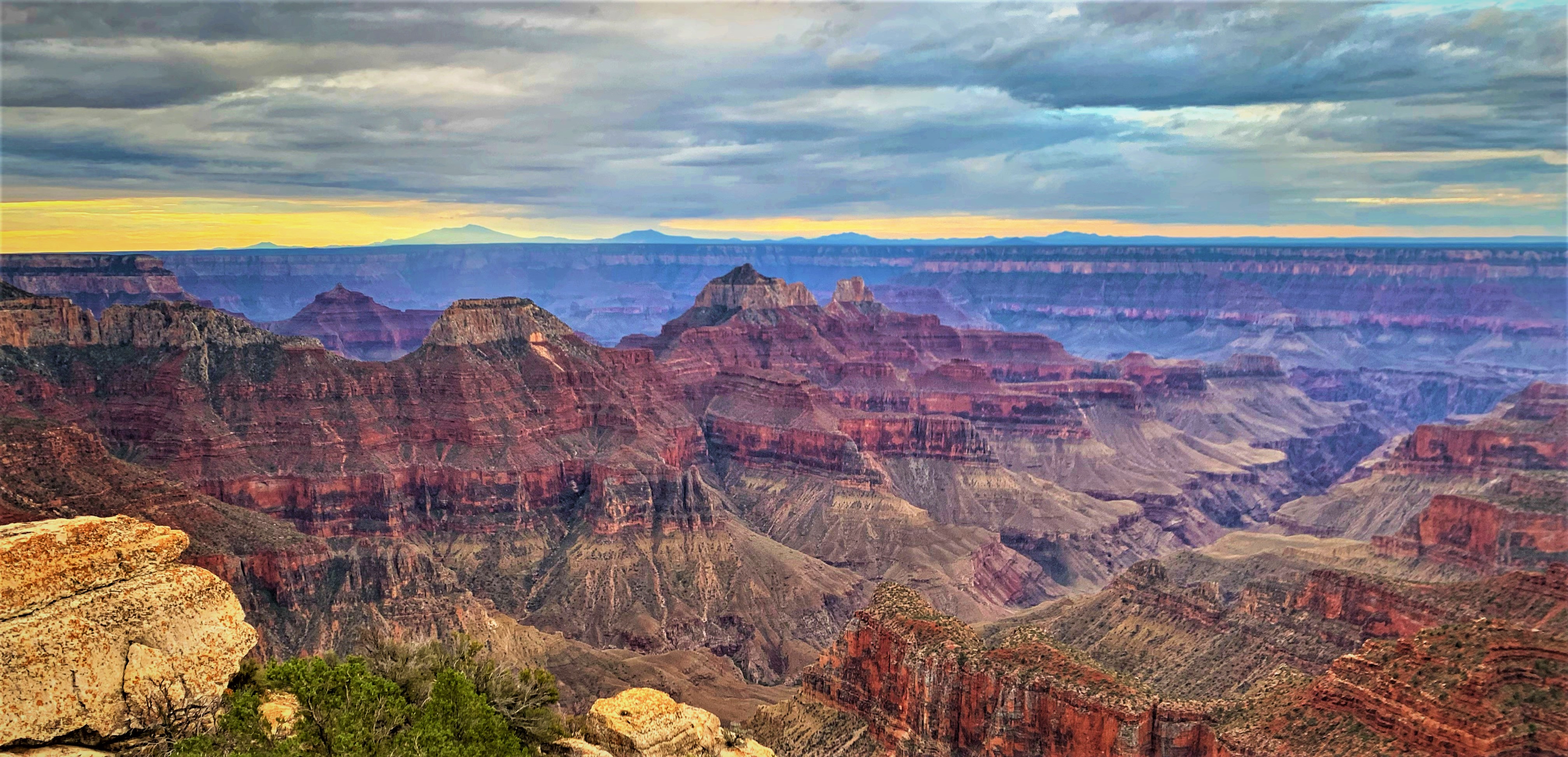 News Release Date:
May 17, 2023
Contact: Joëlle Baird, 928-606-3154
GRAND CANYON, Ariz.—The North Rim of Grand Canyon National Park will open as scheduled, on June 2, with limited visitor services and water conservation measures due to a break in the North Rim water pipeline. A landslide from  winter storms destroyed more than 300 feet of the North Rim water pipeline.  
Visitor Services  
The Grand Canyon Lodge, an Aramark property, will operate day-use services with limited food and beverage service beginning June 2. No overnight accommodations will be available until at least July 23, 2023.  
"The decision to suspend overnight accommodations at the Grand Canyon Lodge was not taken lightly and we recognize the inconvenience this has for visitors planning a trip to the North Rim," said Grand Canyon National Park Superintendent Ed Keable. "We are working in partnership with our North Rim concessioners, Aramark Sport and Entertainment Services, LLC, and Grand Canyon Trail Rides-North Rim, as well as partners such as the Grand Canyon Conservancy, to determine an appropriate operating strategy without the availability of pumped water to the area." Effective immediately, water conservation measures are being implemented by the park staff and all partners on the North Rim. 
The North Rim Campground, managed by the National Park Service, will operate as scheduled beginning June 9 with potable drinking water and toilets available. The public laundry and shower facilities will not be open at least through July 23, 2023. The North Rim General Store, gift shop, and gas station will be open. Grand Canyon Trail Rides-North Rim will offer rim rides only beginning on June 2. 

The North Rim Visitor Center and Grand Canyon Conservancy bookstore open as scheduled, 8 a.m. to 6 p.m. daily, with a variety of ranger programs offered. The backcountry information center will be open 8 a.m. to noon and 1 to 5 p.m. daily.  
Visitors exploring the North Rim this summer season should be self-sufficient and visitors should bring adequate food and water for the day as services are limited and may be subject to change. Nearby, lodging is available at the Kaibab Lodge and food services and fuel at the North Rim Country Store Year-round lodging, food services and fuel are located 45 miles north of the North Rim at Jacob Lake. Additional lodging and guest services are available in Fredonia, AZ and Kanab, UT. 
North Kaibab Trail    
As a result of substantial winter rockfall and landslides, trail repair work on the North Kaibab Trail continues. There is a trail closure in effect on the North Kaibab Trail and will officially reopen on June 16, 2023. 

The closure area is from north of the Manzanita Rest Area to the North Kaibab Trailhead. No hikers will be allowed to pass through this area under any circumstances. Following June 15, the North Kaibab Trail will reopen with intermittent trail closures in effect to clear remaining rockfall areas.    
The National Park Service emphasizes the importance of staying on designated trails at all times and hikers should not attempt to go over or around a closure. Trail users should pay attention to directions from park rangers, volunteers, and signs placed along the trail.  
For updated trail information about the North Kaibab Trail, please visit https://www.nps.gov/grca/planyourvisit/conditions.htm or follow us on Twitter @GrandCanyonNPS. For additional information about trail access and permits, call the Backcountry Information Center at 928-638-7875.  
Road Access  
Beginning June 15, Cape Royal and Point Imperial Roads will reopen to the public. Snow removal, damage assessment, and road repairs necessitate the closure of these roads until this date to ensure visitor and worker safety.  
Beginning July 1, vehicle and bicycle access to the W1, W1a, W4, and the Fire Point Road which access the Widforss Trail, Point Sublime, the North Bass Trailhead, and other destinations on the Kaibab Plateau within the park, will reopen to the public. Hikers will be allowed to travel these routes by foot until the travel restrictions are lifted. These closures are necessary to protect park resources and allow crews to remove downed trees currently blocking the routes.  
For more information on visiting the North Rim during the 2023 season, please visit: www.nps.gov/grca/planyourvisit/north-rim.htm.  
-NPS-
Last updated: June 21, 2023