News Release
Grand Canyon National Park Returns to Level 1 Water Conservation; Limited Water on Trails Due to Seasonal Shut-off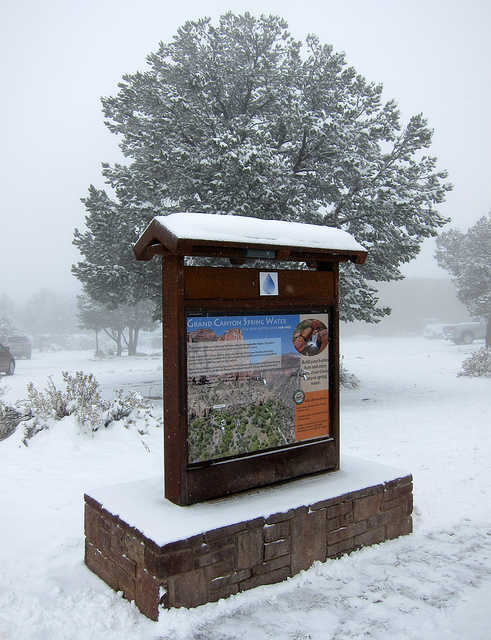 News Release Date:
October 31, 2018
Contact: Emily Davis, 928-638-7609
Grand Canyon, AZ— Following a series of breaks in the Transcanyon Waterline earlier this month, Grand Canyon National Park now has enough water in storage to scale back to Level 1 basic water conservation measures.
Unless indicated otherwise, Grand Canyon National Park always operates in Level 1 water conservation. In Level 1, park residents and visitors should take an active approach to conserving water by turning off the faucet while brushing teeth or shaving, limiting showers to five minutes or less, selectively flushing toilets, running dishwashers and washing machines with full loads or in eco-mode, and reporting drips, leaks, or other water loss to appropriate offices.
Drinking water has been turned off at trailheads and inner canyon locations for the season. Water is not available at the Bright Angel, South Kaibab, and North Kaibab trailheads, 1½-Mile and 3-Mile resthouses on the Bright Angel Trail, and Supai Tunnel on the North Kaibab Trail. Hikers should be prepared to carry all their water or methods to treat water. For winter hiking information, visit https://www.nps.gov/grca/planyourvisit/winter-recreation.htm.

-NPS-
Last updated: October 31, 2018